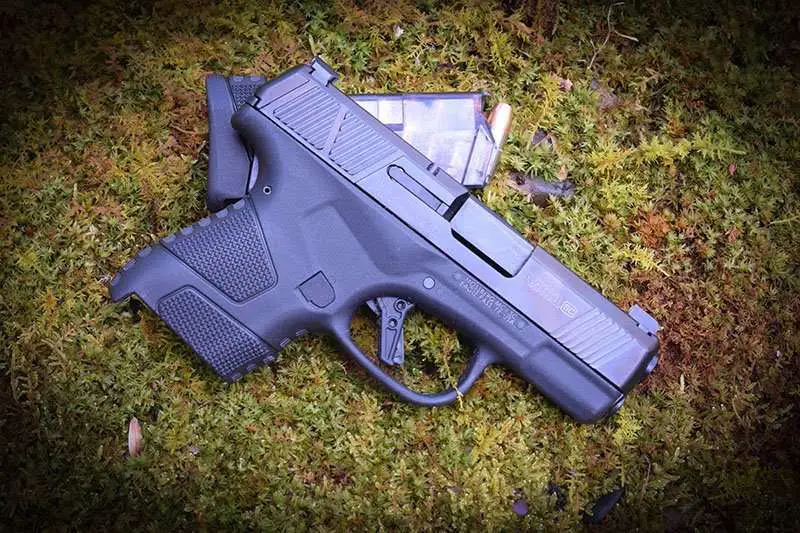 Mossberg MC1SC Review
Mossberg shocked the gun industry earlier this year with the announcement and release of their 9mm striker-fired pistol, the MC1SC. We were there at SHOT Show when it was released and were one of the first groups in the entire industry to fire it.
While many folks were confused with why Mossberg would make such a firearm after making nothing but shotguns and rifles for about 100 years, it makes sense to us.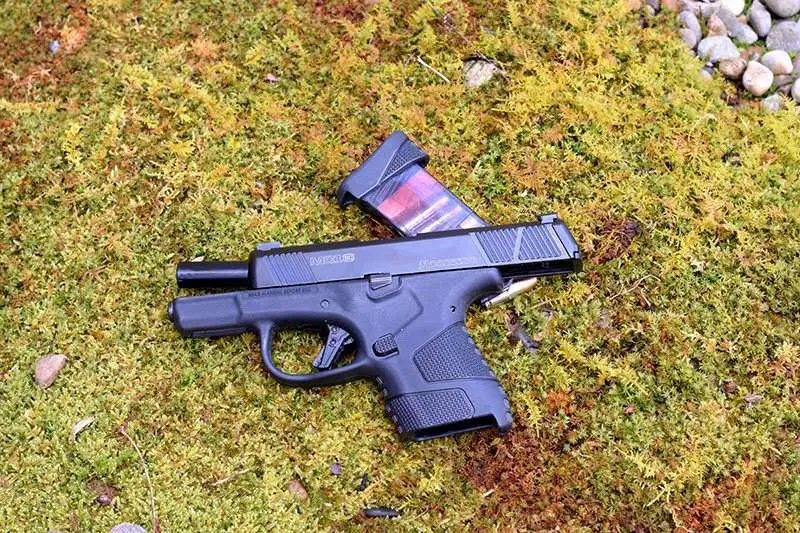 Mossberg wanted a bigger slice of the pie. I can't say as though I don't get it. Most of us want a bigger slice of the pie, right?
I've got a few hundred rounds of ammo through a couple of these guns, and what follows is my Mossberg MC1SC Review.
I'm a huge fan of anyone displaying innovation in gun manufacturing. In recent years, gun companies have had to try to stand out that much more to win the lion's share of sales.
What can I say? Mossberg hit a home run here. The MC1 comes with premium options like an excellent trigger at affordable prices not seen in a gun of this caliber before.
And no, I'm not just talking about the shape of the trigger, though I am a fan of its shape, too. It has a short amount of takeup, maybe about a half inch though I haven't measured it, hits a hard wall, and then breaks with a crisp snap.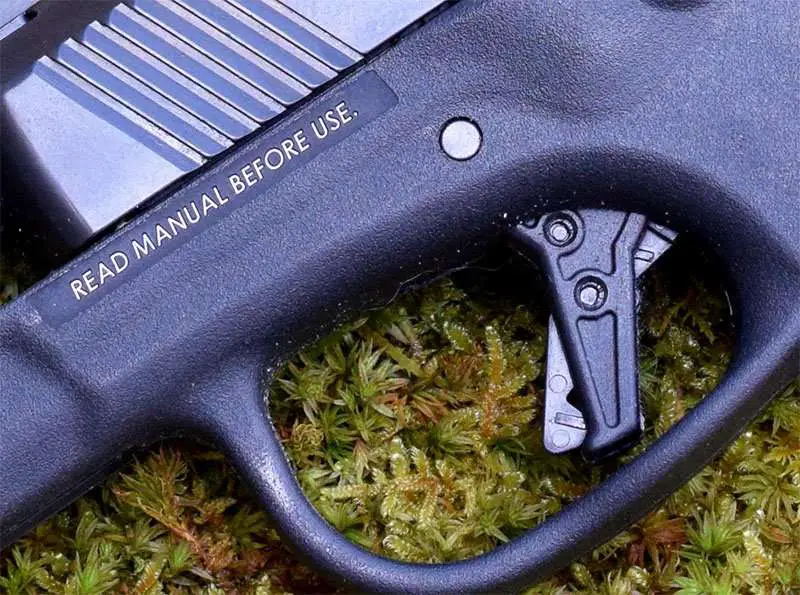 It returns back with a click that is both felt and heard during reset.
In hand the MC1SC just feels like it's supposed to be there. It is almost as if it's an extension of my body–just the way I like it. This pistol does not come with any backstrap inserts, nor do I feel that it needs them.
It just belongs there.
It is a small gun, though and I do have a hard time getting my entire grip on the gun–even with the pinky extender 7-round mag. Then again I'm 6'4″ and 300 pounds with proper hands to match.
Still, the gun feels right at home in my hand and it shoots great.
Some folks may not like the grip texture that much and while Mossberg calls it an aggressive grip, I don't really think it is. I'm personally not a huge fan of aggressive stippling on my guns so it's actually perfect for me.
However, some shooters won't find it grippy enough for them.
Also, take notice of the magazine release which is perfectly positioned and sticks out just far enough to be hit by my thumb. This is something that I have a hard time with on many guns.
You've likely often thought that bigger people have fewer problems. While we can reach the stuff on the back of the top shelf at the grocery store, that's about the extent.
My thumbs are shaped in such a way that I'm prevented from effectively hitting the magazine release on many guns out there. That's not a problem, here.
Here is another picture of the magazine release from the other side. It sits flush, here, but is reversible: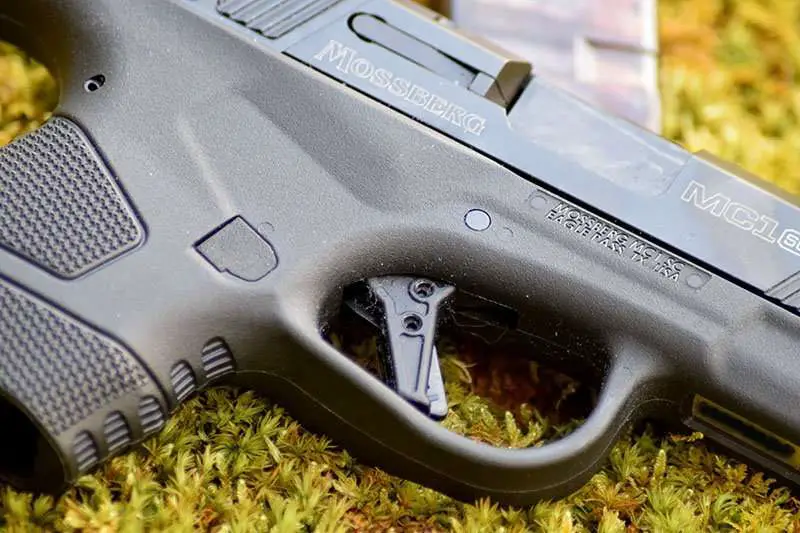 Update: Mossberg discontinued the MC1SC
It looks like Mossberg discontinued the MC1SC in favor of the higher capacity MC2SC pistol. The two are very similar. That said, there are still a lot of these handguns floating around for sale.
There are multiple different models of Mossberg's MC1SC out there currently: a cross bolt safety model, a base model, a model with night sights, etc. The one they sent out to me is the one with the night sights.
They asked me which I'd like and I offered up "first available" to them. I have to admit that I'm glad I didn't get the safety model as I wouldn't use it.
While I do think that the cross bolt safety is an interesting option that is likely more intuitive than a manual thumb safety would have been, it's just not for me.
I was secretly hoping for the base model in case I loved it so much that I'd buy it from them. That way I could do so at the lowest possible price. I'm happy they sent me the one they did, though. The night sights are of high quality and the rear sight allows for one handed slide racking.
A moment ago I mentioned the sights, and here is a picture of the back of the gun showing off the rear sights as well as takedown: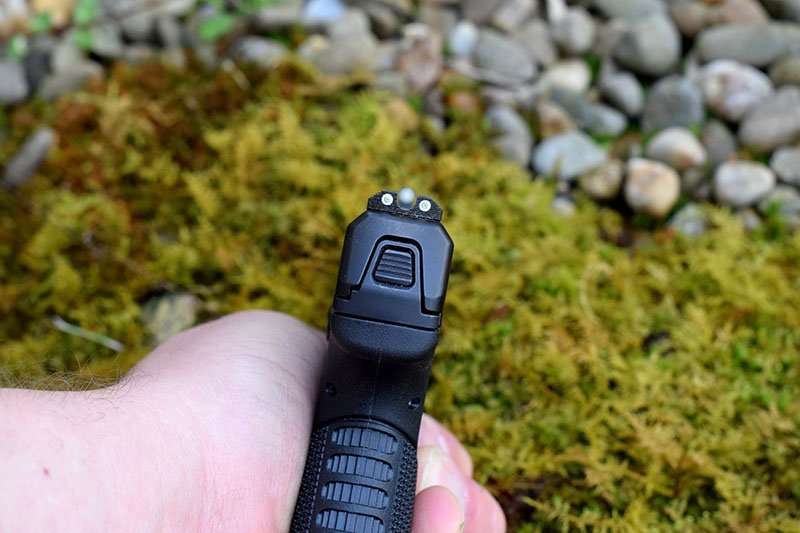 The dots work well, and the sights do light up nicely in lower light conditions. I have yet to fire it at night though, so I'll report back when I do.
Takedown is not what you're used to, but very intuitive. Simply lock the slide to the rear, remove the magazine, check the chamber to make clear, and press the button on the back of the slide (the area with the horizontal lines).
That button/plate then slides downward (and out) allowing the firing pin to slide outward toward the back. Finally, while grasping the slide, release the slide and it comes right off without requiring the trigger pull.
One area where I wish more gun manufacturers put thought into, besides the trigger, is the serrations on the slide. I feel as though there are many people out there who'd benefit from a more aggressive slide serration profile than what many manufacturers are actually giving us.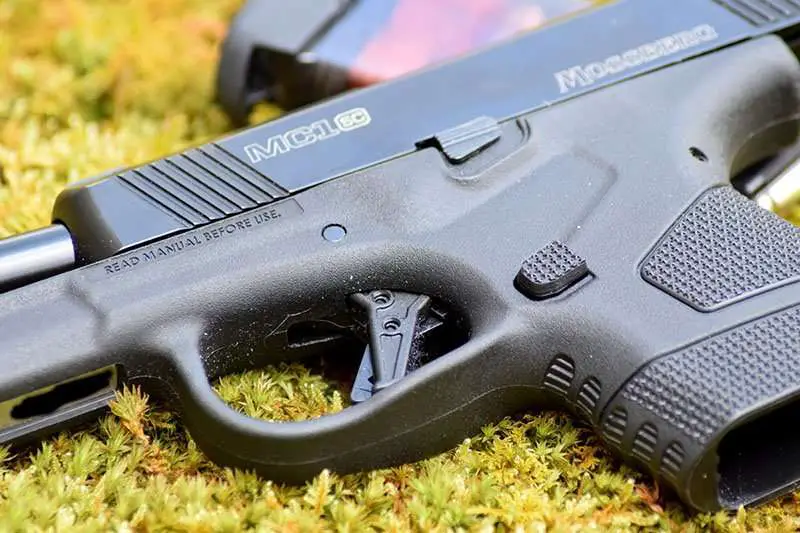 Mossberg actually has pretty decent, not to mention attractive, slide serrations cut into this slide. They provide a decent amount of grip to help chamber a round under stress, and when not. Overall, I think they put a good amount of thought into this and it shows.
They provide both fore and aft chamber serrations, depending on your preference. Here is an extreme up close shot of the rear serrations: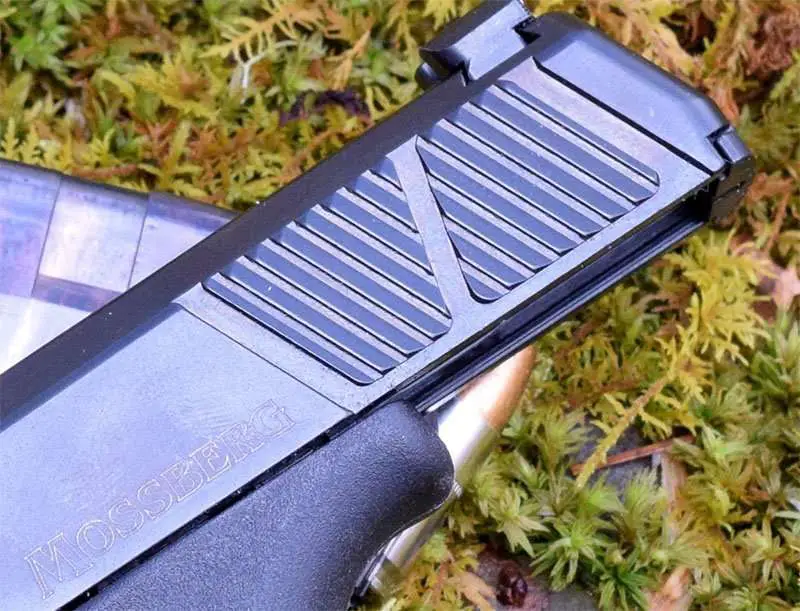 Where it gets tricky for the MC1 is in support. As of right now, more holster manufacturers are joining up to help the concealed or open carrier with options to carry this gun for protection, but the selection isn't huge.
For this review, I used two different holsters. I had requested that Clinger send me one of their V3 No Print Wonders, as well as a Desantis Gun Hide holster.
Both companies sent me great options to carry, both are very different, and both have a review coming your way in the very near future. Here is a picture of the Mossberg pistol in the Clinger Holster: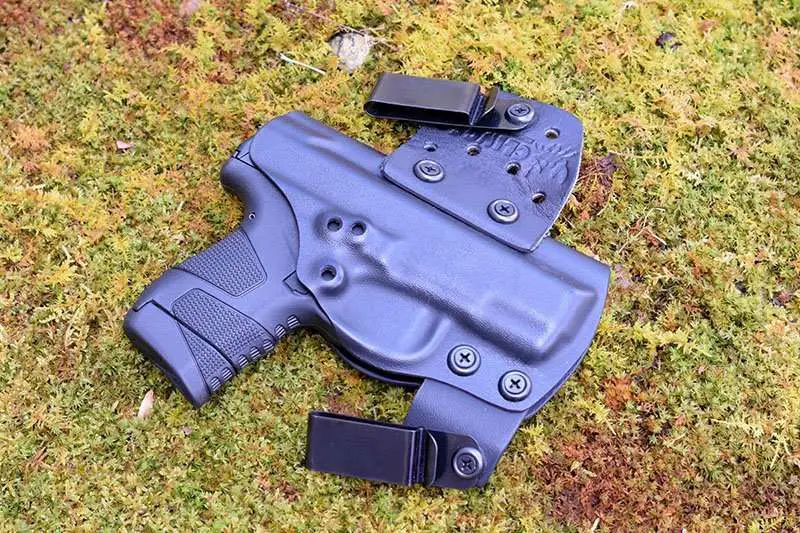 At just over one inch wide (1.03 to be exact) it conceals well. The barrel is 3.4 inches and it's 4.3 inches tall. Overall, it conceals well. I had no issues concealing this gun on my body at the 3-3:30 position in a Desantis Gun Hide Leather OWB holster and a baggy t-shirt.
The base model has an MSRP of $425.00, and I've heard people saying they've been picking them up for between $350-375. Overall, this is an affordable gun that seems to be uber reliable up to this point with a few hundred rounds downrange. It ships with two clear, plastic magazines.
The flush mount mag holds six rounds, and the pinky extender holds seven. And, overall, the 19 ounce, empty, gun doesn't recoil as badly as you think it would shooting any number of ammunition from 115 grain reloads and Federal American Eagle, to 135 grain Hydra Shok JHP ammo.
It handled and felt great while shooting. I even took it out to 20-25 yards and put some rounds on steel one-handed. It was great. Again, like an extension of my body.
The only thing I wish it had, was the capacity to hold a few more rounds. Not a deal breaker for me, especially when you take into account that I carry a revolver on a semi-regular basis, but it'd be nice to add a few more rounds here.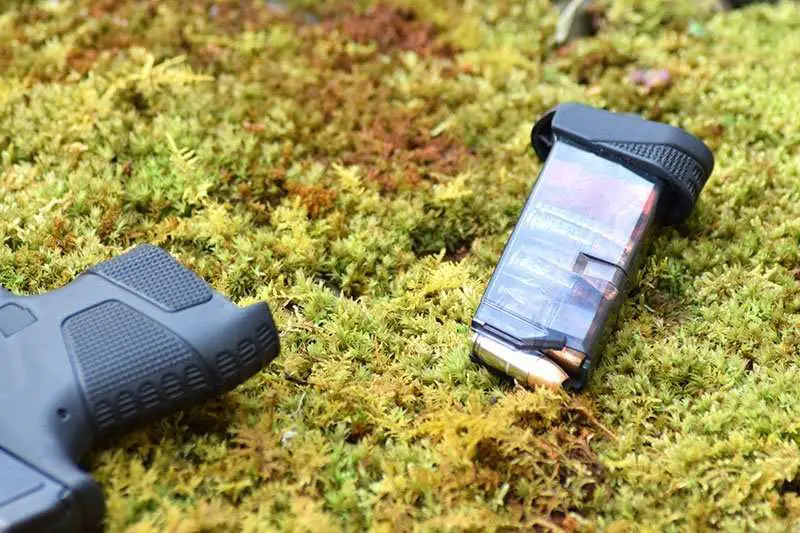 Still, I'll be buying this MC1SC from Mossberg if given the option, even as I send other guns back to their respective manufacturers. This one is too good, conceals too well, and handles too perfect to give back.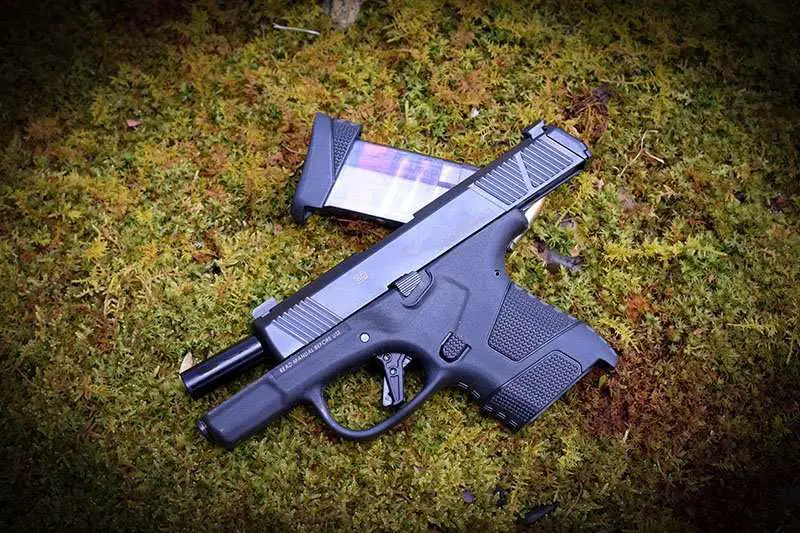 Here are some more pictures of the Mossberg MC1SC pistol that I just didn't know where to put in the review but didn't want to leave out because I spent the time taking them and adjusting the sizes and whatnot —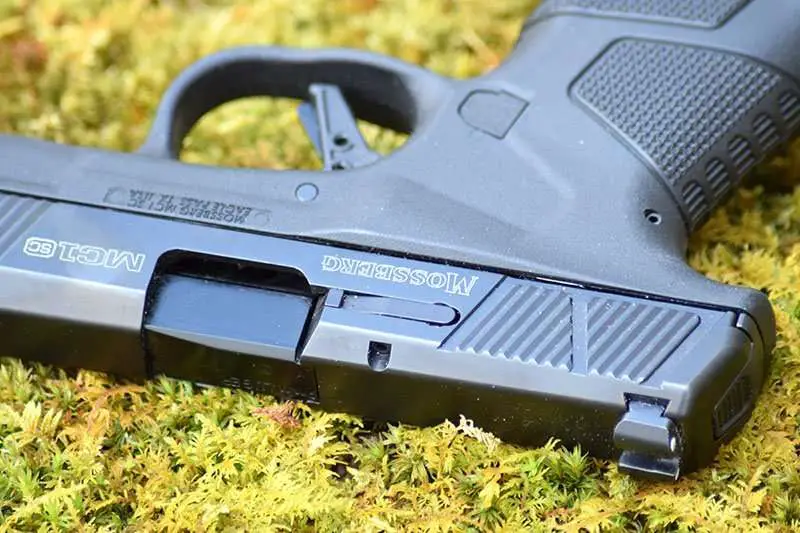 Check out our handgun ballistics chart next.