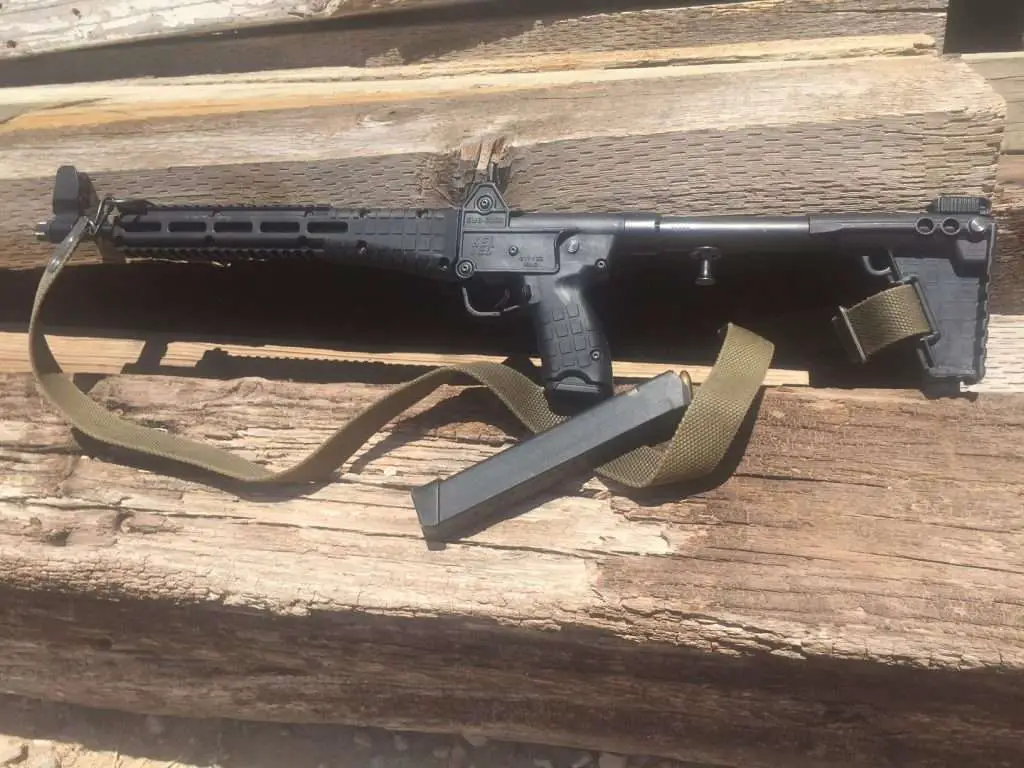 The chance that you can come under attack while you're out and about seems to be on the rise these days. It's in your best interest to make sure you're ready for any kind of incident, and I like to stack as many boxes on my side as possible.
This is why I opt to carry a more effective weapon in my truck, ensuring that I'm not outgunned if it hits the fan while I'm on the road.
Top 5 Best Truck Guns:
AR-15 carbine or pistol
Trapper model lever action
KelTec Sub2000
M1 30 Carbine
KelTec CMR 30
It would be an understatement to admit that I am a great admirer of the carbine. But the fact is that I am, and carry one daily in my vehicle. Having said that, remember it is your responsibility to know the gun laws of your state and how those laws relate to carrying a firearm in your vehicle.
One excellent resource for you to refer to is: www.handgunlaw.us. Although the site is named for handguns, it has information about carrying guns in vehicles in all 50 states. If in doubt, do your research!
For the purposes of this article, I define a carbine as a short rifle with an 18" or shorter barrel. The stock may be fixed, collapsible, or of folding design. I do not limit this discussion only to semi-auto actions as you will soon discover.
Additionally, I do not exclude pistol-caliber carbines from my discussion here, nor do I exclude rifle-caliber pistols.
What is the purpose of a truck gun?
So why carry a carbine in your vehicle? Because anything I can do with a handgun I can do better with a rifle. In a defensive scenario, having a rifle is a much better option than a handgun is, due to better ballistics, greater accuracy, and being an all-around better setup for self-protection.
In a vehicle, there's limited space in which to move around. If I must fight or defend myself from within or around my mode of transportation, the ability to move with ease can become challenging with all but a pistol or carbine.
I give myself a huge advantage with the extended barrel length, stock weld to my shoulder, and sight radius the carbine offers.
Plus, in most cases, greater distance and accuracy capability is gained in part due to the high velocity rifle cartridges of most carbines. That's not to negate most of the same advantages of a pistol caliber in a carbine as well.
There are countless applications for a carbine when it comes to a survival or bug out situation. So in my estimation, the carbine has a place in every single vehicle I own. Understand I have carried a carbine for decades while traveling roadways in this country. Also understand that I currently reside in a western state that has no law prohibiting any gun, loaded and accessible, inside my truck.
With all the above in mind, let's take a look at some possible choices for carbine carry in a vehicle. By no means is this short list to be considered the only list. Just my top 5 best truck guns.
1. AR-15 Carbine or Pistol
For our purposes here, we're specifically talking about shorter AR-15s like the above-pictured pistol with a then-legal brace from SB Tactical.
There are also some excellent choices in the 7.62×39 caliber such as the Krebs PD-18 Pistol with an 11-inch barrel. While there have been some discussions as to the legality of either pistol being fired from the shoulder like a carbine, in an immediate threat environment most folks opt to do what needs to be done.
For those who want to remain within the confines of the rules put forth, a 16 inch barrel with a stock will also certainly suffice. The ability to use a standard 20-, 30-, or even 40-round magazine makes these systems ideal for vehicle carry as you make sure you're not outgunned.
My condolences to citizens of those states that are under such extreme government control that you are not allowed standard magazines for your own defense!
2. Trapper model lever action
Between various manufacturers (Winchester, Henry, and Rossi, to mention a few) there are many caliber choices here including the 357 and 44 magnum. My choice has always been the ole 30-30 Win. In the short Trapper (16-inch barrel) model, this little lever gun is ideal for carrying inside a vehicle. It's also very flat-sided and easy to position between the seats for quick access.
I carried this carbine many miles in this manner, and still do on occasion. In 30-30, it's an effective cartridge out to around 200-300 yards. Even the best truck guns can have a downside, for this package, it's the tubular magazine capacity of five rounds in the 30-30 cartridge.
3. Kel Tec Sub2000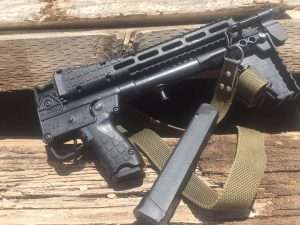 Moving into a pistol only cartridge in a short carbine (16.25-inch barrel) it would be hard to argue with the maneuverability and ease of access this little package offers. Standard offering is 9mm and 40 S&W.
The Sub2000 uses Glock magazines and consequently will accept the extended 33-round 9mm and the 22-round 40 S&W versions. Another handy feature is the ability to fold it in half for extreme covert carry. It's very easily carried between the seat and console right next to you while driving. Kel Tec has updated the original Sub2000 and I very much enjoy my "Gen 2" chambered in 9mm.
4. M1 30 carbine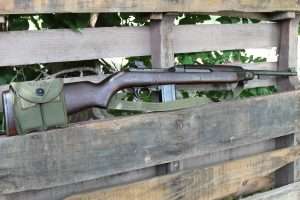 This carbine platform has been around since World War II. With an 18-inch barrel and magazine capacity of 15 or 30 rounds, this 30 caliber semi-auto has a muzzle velocity of about 1,990 feet per second. It has seen military and police service around the world.
While perhaps not the most ideal cartridge, it certainly fits the bill for a quick access carbine inside a vehicle and is quite enjoyable to shoot.
5. Kel Tec CMR-30
Another innovative offering from Kel Tec is the CMR-30 in 22 Magnum, with a 16-inch barrel. This hot little rim fire cartridge has been used over the years for everything from bringing in the camp meat to self-defense. I like the CMR-30 because the stock telescopes all way flush with the back of the receiver.
It comes with a 30-round box magazine. Aside from a great vehicle carry gun, if you are thinking survival, couple this with the Kel Tec PMR-30, the accompanying pistol that takes the same mag, and you have an excellent bugout package.
Conclusion:
As I previously stated, this is a short list of the best truck gun carbine options available. I do have personal experience with each of the above-listed platforms and know they carry well inside a vehicle and will likewise easily be deployed outside the vehicle with ease if the need arises. Bottom line, carbine carry in my everyday transportation is the rule, not the exception.