The rimfire rifle is an American tradition, and no gun collection is complete without at least one. The good news is you have options if you have a hole to fill. To help you choose your next, or even first, rimfire rifle–we've gathered what we consider to be the top six best 22 rifles and put them together in this handy little list.
What are the best 22 rifles for 2021?
CZ 457
Henry Lever 22
Kel Tec CMR 30
Mossberg Blaze 22
M&P 15-22
Ruger 10/22
CZ 457 
The CZ 457 is the most recent iteration of bolt action 22 rifle from CZ. Previously on this list was the CZ 455 Ultra Lux, that in its own right is an excellent rifle.
From the ground up it's designed to be an accurate, precise, and ergonomic 22 LR rifle. There are several different versions of the CZ 457, but you can see our footage of the Pro Varmint in the below video.
The 457 is an obvious choice for our best 22 rifle list because of superb reliability and excellent ergonomics. And, it's our only bolt action 22 on this short list, because it excels at what it is for.
Henry Lever Action 22 
Henry Repeating Arms offers up a few different models in 22. They've got some in 22 mag, some in 22 LR, and each are available in various finishes. The below pictured rifle is mine, and it's a ton of fun to shoot.
As with all 22 LR rifles, recoil is minimal, but this one features the smooth lever action that only Henry produces.
The Henry is a great little game getter and makes short work of rabbits and other small game. These rifles are made in America and are one of the best 22 rifles to own, to help you scratch that lever action itch.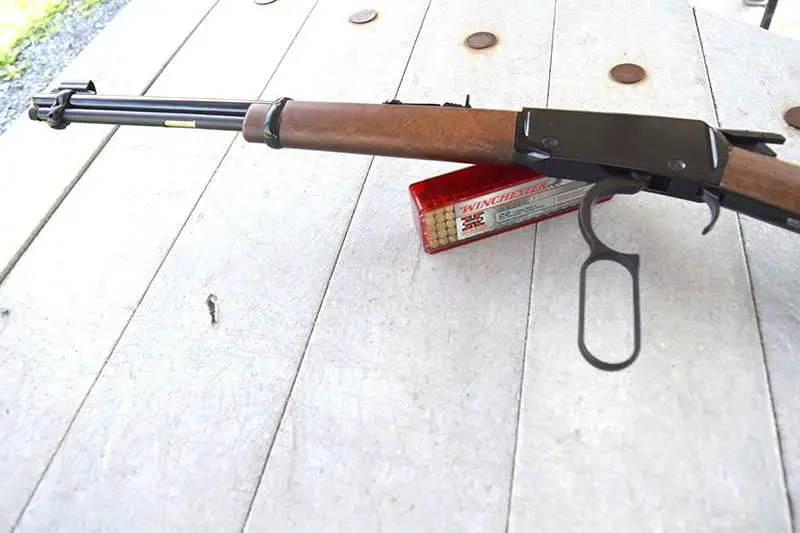 It is complete with robust, but simple, iron sights. The dark wood forend and stock on top of the dark black finish give it a subtle, but noteworthy appearance.
The Henry Lever Action is a smooth shooting little rifle that gives you a lot of different options, depending on your preferences. No matter what you choose, you can't really go wrong with a Henry.
Stay tuned as we work on the review on the above-pictured rifle.
Kel-Tec CMR-30
The Kel-Tec CMR-30 is easily the most modern 22 Magnum in the world. Is it the best 22 mag semi-auto rifle? That's hard to say because it has stiff competition. But it is undoubtedly unique. This little guy is based on the Kel-Tec PMR 30 and incorporates several of that handgun's features, to include sharing the same 30 round magazines.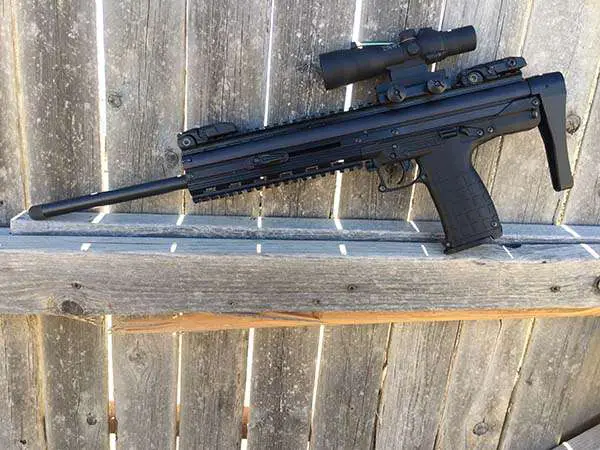 It looks more like an SMG than a 22 rifle. It packs 30 rounds of 22 Magnum in its pistol grip and gives users a collapsing stock, a threaded barrel and plenty of Picatinny rails for accessory accommodation.
The CMR-30 is a rifle that will capture your rimfire space gun fantasies well and give you a modern platform for all your 22 Magnum needs.
You can check out Terry's Review on the CMR-30, by clicking on that link.
Mossberg Blaze 22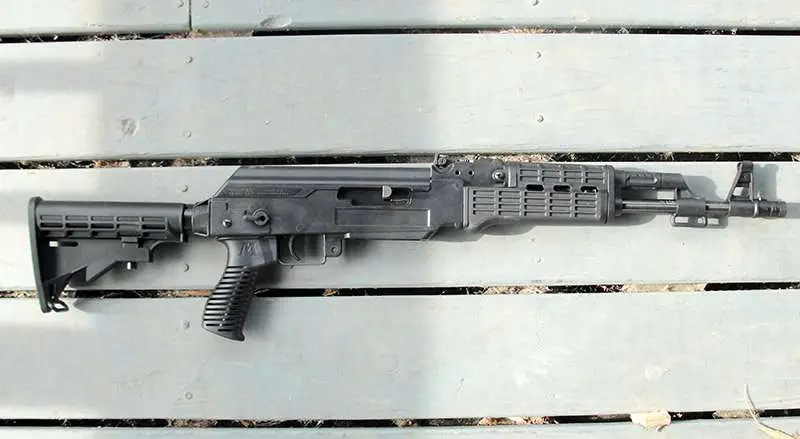 There have been different iterations of the Mossberg Blaze 22 since it has been released, each one being the same basic rifle.
The current model is a lot different, aesthetically, than the one I tested, but they function the same.
In fact, the below video review is mine from when I worked at Guns dot com as a staff writer. It is no longer available in that configuration on the new market but it is still the same gun as what they're currently making and selling.
And of course, you can always find a used one in the configuration I show mine in.
The Blaze 22 is essentially a semi-automatic 22 LR rifle available with a 25 round magazine that is a ton of fun to shoot. I shot the heck out of the one I had on loan from Mossberg for the review, and it was very accurate, reliable, and a blast.
Not to mention that the MSRP is only $224, making it uber affordable.
M&P 15-22
There is no way we could make this list without a single 22 LR AR-15. The S&W M&P 15-22 takes the cake as the best 22 rifle in this space for many reasons. First, it's proven to be a reliable and fun little rimfire platform. It's easy to find, and affordable.
As an added bonus, it also replicates the controls on an actual AR-15 to a "T." This makes it not only a fun little rifle, but also an excellent tool for low-cost training and practice. The gun uses the same charging handle, magazine release, safety, and more. They also feature M4 style collapsible stocks and several models now feature M-LOK handguards.
Magazines are easy to find, reliable, and affordable. These guns are perfect for the younger crowd who wants to handle a gun like Dad's or for the budget shooter who wants to keep their skills sharp.
The sights are surprisingly robust, and the gun is outfitted with rails to add accessories or even a red dot optic. The barrel is threaded, and with a suppressor, this little gun could be exceptionally quiet with subsonic rounds.
Ruger 10/22
The Ruger 10/22 is the 22 to buy if you only ever want/need one rifle. To me, this is the best 22lr rifle out there. It's been made in dozens of different configurations including takedown models, target models, and even a pistol known as the Charger.
The Ruger 10/22 is a superbly reliable gun that feeds from a unique rotary-style magazine. Due to the 10/22's popularity, you can upgrade it a dozen different ways with new triggers, new magazines, magazine releases, stocks, barrels, and more.
When I say that it's popular, I'm talking about the Ruger 10/22 ranking up there with the Glock 19 and AR-15 regarding popularity, modularity, and universal appreciation. It's not the fanciest gun, but it's a reliable, well respected, and much-beloved rimfire rifle.
Conclusion:
The 22 rifle is an American pastime. It's about as American as apple pie or baseball, only having a rifle chambered in 22 isn't only fun, but can put food on the table if needed.
Every household needs at least one, and if you don't, you're missing out. What is your best 22 rifle? Let us know in the comments below.