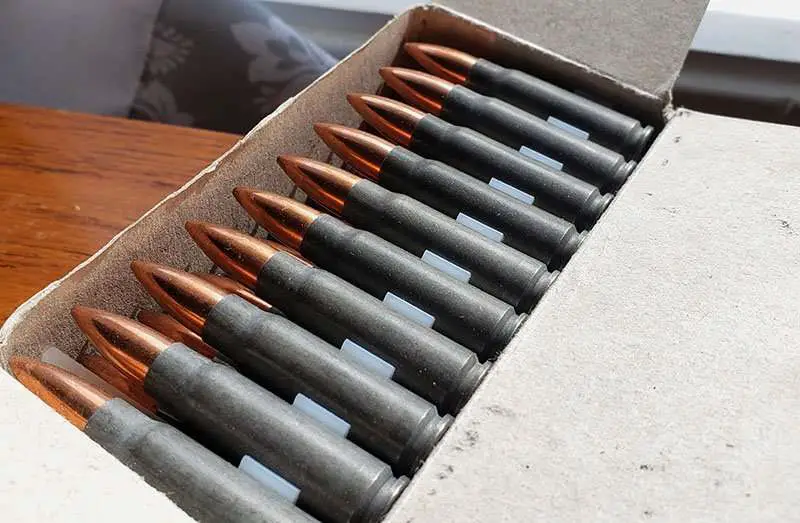 Originally designed in 1943 by Soviets and then used heavily as a service rifle cartridge around the globe, the 7.62X39 is one of the most popular rifle cartridges in existence.
It owes its performance in sales to the popularity of the rifles that shoot it.
This short, 30 caliber cartridge has chamberings in rifles such as the AK-47 and SKS — two of the most popular rifles around the world, even in the United States.
One of the biggest draws to this particular cartridge is its affordability. Because 7.62X39 is often a steel cased cartridge, they are much cheaper than their brass counterparts.
And because the rifles that shoot this caliber are designed to shoot steel cased ammo, they function flawlessly with this cheaper ammunition.
Brass 7.62X39
Something that many people are unaware of is that there are also brass cased 7.62X39 cartridges available. These brass cased 7.62X39s are excellent for the tighter tolerances on AR-15s chambered in this Russian cartridge.
And, chambering AR-15 rifles in this cartridge is a growing trend, as can be seen on websites like PSA's.
What's great about the brass cased rounds is that they can be reloaded much easier than their steel cased brethren. So while they're technically more expensive than the steel, they can be reused several times.
7.62X39 Ballistics:
The 123 grain Barnaul 7.62X39 reach a velocity of 2,543 feet per second and 1,766 foot pounds of energy at the muzzle.
7.62X39 Ballistics Chart:
This 7.62X39 ballistic chart shows Hornady 123 grain Black SST:
| | | | |
| --- | --- | --- | --- |
| | Muzzle | 100 YDS | 200 YDS |
| Velocity (FPS) | 2350 | 2040 | 1755 |
| Energy (FT/LB) | 1508 | 1136 | 841 |
| Drop (Inches) | / | +3.5 | 0 |
7.62X39 Uses:
This cartridge is typically thought of as a defensive tool. And it does really excel in this regard. When this cartridge is chambered in a short AK-47 it works really well in home defense or as a truck gun in a backpack.
More than that, however, and something that a lot of folks don't think about, is that this cartridge can be successfully used for hunting purposes up to about 300 pounds worth of animal.
So, whitetail and mule deer are good candidates for this cartridge.
Conclusion:
The 7.62X39 is one of the highest selling rifle cartridge around the world. It still sees military service and is also an extremely popular civilian round. It is effective for defensive purposes and can be used for hunting as well.
Next, check out my 7.62X39 VS 300 Blackout ballistics page.