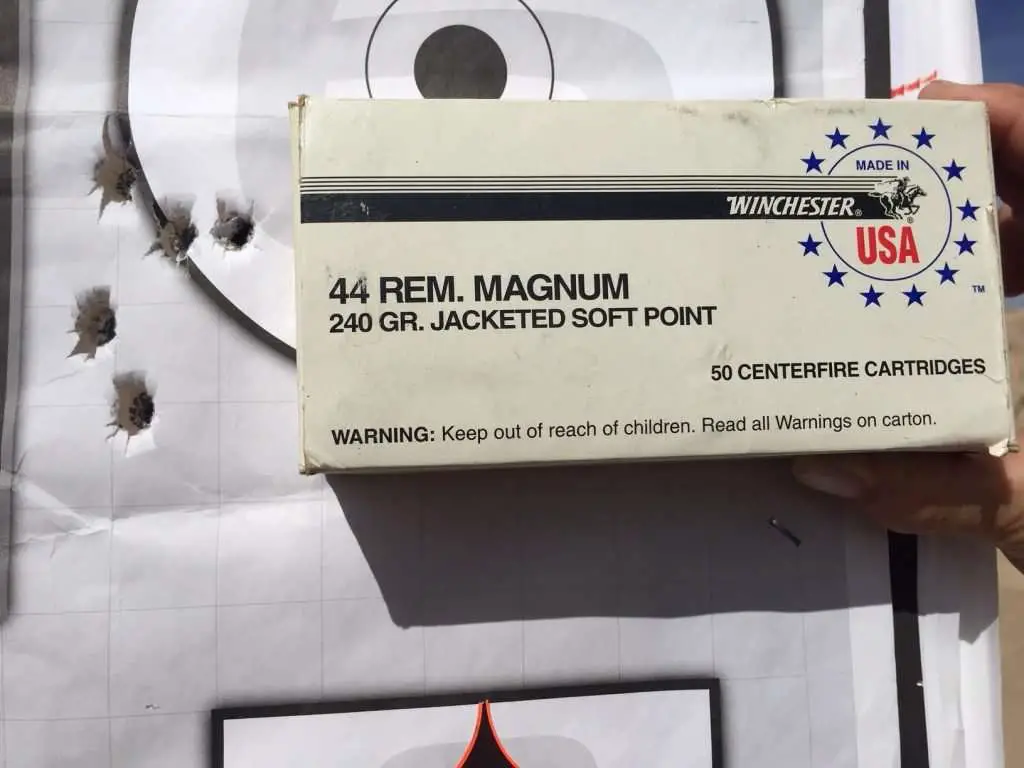 These two magnum cartridges are some of the most versatile we've ever compared on this website. And believe me when I say that one of our primary focuses is on ballistics studies.
Both of these calibers are used in handguns and rifles. Both platforms can be used for hunting or self-defense.
And while the goal here is to compare these two hard hitting cartridges to each other, please note that the only reason why I'm even having this conversation is because people have asked the question:
357 Magnum VS 44 Magnum, which is better?
In terms of which is better in terms of power alone, the 44 magnum will win hands down. Some loads of 44 magnum produce nearly 1,000 pounds of energy at the muzzle, while the 357 Mag load produces a scant 500 pounds.
These two calibers aren't really comparable to each other. They both serve completely different purposes.
Don't get me wrong, 500 pounds of energy is nothing to sneeze at. The 357 is still a powerful cartridge. It's just that they're totally different.
357 Magnum VS 44 Magnum, stopping power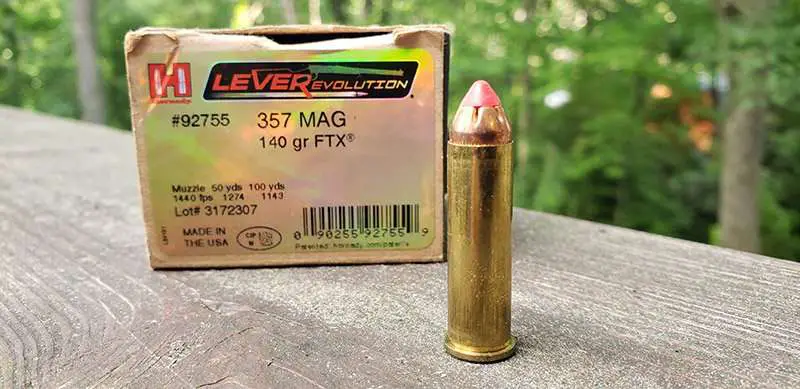 This is usually the point in the comparison where I state that there is no such thing as stopping power. And, this is usually true. Stopping power is largely a myth, but something that can be attained.
When you take a cartridge that is heavily used for hunting or defending against bear, you do end up with some of the fabled "stopping power."
The 44 mag is a powerful cartridge, but as we'll see later on, this does come at a cost.
And even though the 44 Remington Magnum is a powerful cartridge, there is absolutely zero guarantee that it'll stop an attack from either a two legged attacker, or one with four legs.
357 Mag Stopping Power
The 357 Magnum is a powerful medium sized handgun cartridge. With the right setup, the 158 grain Hydra-Shok produces 540 pounds of energy at the muzzle which is fantastic at producing the internal damage needed to stop a bad guy from continuing his attack. As a bonus, 158 grain full power 357 Magnum cartridges are also a lot easier for the average person to shoot than a full load 44 magnum is.
44 Magnum Stopping Power
The 44 Magnum is a big bore handgun cartridge, capable of producing nearly 1,000 pound feet of energy at the muzzle. This is a lot of energy and the projectiles are moving at fast speeds. They are utterly devastating to a human body. The main problem is that the average gun is big, and isn't easy to shoot due to the felt recoil. Because they're harder to shoot, they're not ideal for defense.
357 Magnum vs 44 Magnum Ballistics:
The below ballistics charts are scaled down versions of the bigger ballistic tables we have associated on each caliber's dedicated page.
If you require more information I suggest you check out each individual page found by clicking on the below links:
357 Mag Ballistics
This 357 Magnum ballistics chart shows 158 Grain Federal Fusion Soft Points:
| | | |
| --- | --- | --- |
| | Muzzle | 50 YDS |
| Velocity (FPS) | 1240 | 1139 |
| Energy (FT/LB) | 539 | 455 |
44 Mag Ballistics
This 44 Magnum ballistics chart shows 240 grain Federal Fusion Soft Points:
| | | |
| --- | --- | --- |
| | Muzzle | 50 YDS |
| Velocity (FPS) | 1290 | 1162 |
| Energy (FT/LB) | 887 | 719 |
The above chart doesn't really do the 44 Magnum justice as it is capable of a lot more. For example, the 225 grain Hornady FTX LeverEvolution reaches 1,410 FPS and 993 FT/LB of energy at the muzzle when fired from a 7.5 inch barrel.
357 Magnum VS 44 Magnum Recoil and other info
Up until this point, the winner has been the 44 mag, based only on ballistics and power. This is where things start to veer toward the 357 Magnum.
It tends to recoil less than the 44 magnum does and is therefore much easier to shoot.
44 Magnum vs 357 Mag Cost
A box of 50 Federal American Eagle 158 grain 357 Magnum target loads will currently cost you $41.99. And a box of 20 Federal Hydra-Shok 357 Magnum rounds will be $35.99.
A box of 50 240 grain Federal American Eagle 44 Remington Magnum target rounds will currently cost you $70.99. And a box of 20 Federal Hydra SHOK 44 mags will cost you $51.99.
Those numbers were taken from Federal's website at the time of this writing, and chances are excellent that the price will or has already changed.
357 Magnum VS 44 Mag, Availability
Both of these cartridges are fairly popular as both can be used for self-defense and for hunting purposes. This is really a draw.
357 Magnum VS 44 Magnum Hunting
Both of these are heavily used in hunting, and both of them are also heavily chambered in lever action rifles.
We have a review on a Henry Lever Action Rifle chambered in 44 Magnum and I have a video review of a 357 Mag Henry here:
Both cartridges can be used to hunt deer, and the 44 mag can also be used to hunt animals bigger than deer, like bear.
44 Magnum VS 357 Magnum, Which One Wins?
This is a hard one to pick a winner on, and really depends on what your goals are. If you're in grizzly territory, a 357 mag is not recommended as a trail gun.
But if you're in black bear territory it'll be fine.
I also don't think I'd recommend a 44 magnum gun for concealed carry, though you certainly could use one for self-defense and I have some friends who do carry Ruger Redhawks in 44 Remington Magnum.
At the end of the day, I can't choose a winner on this one because the calibers are so very different with such a wide range of uses that it's nearly impossible to do.
Read Next: Best 357 Magnum revolvers.