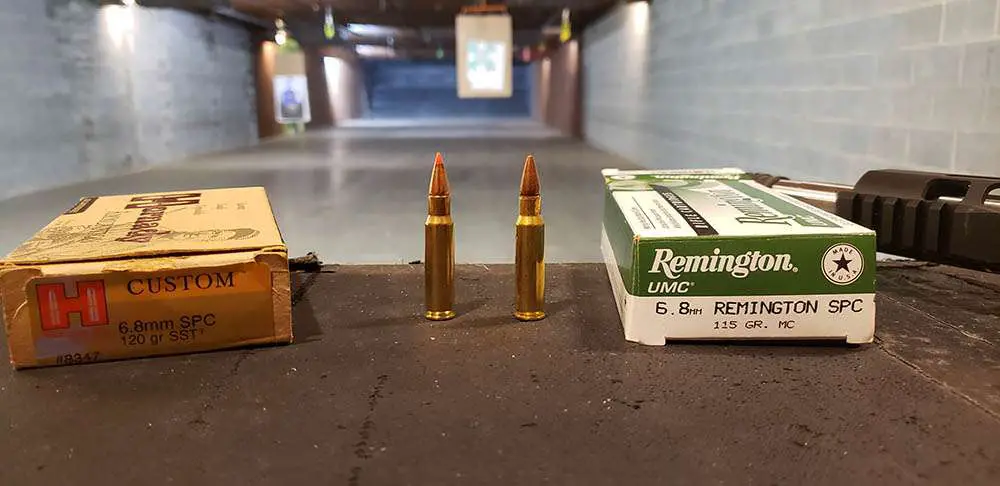 6.8 Remington SPC Ballistics charts:
This 6.8 Special ballistics chart shows 90 grain Federal Premium Fusion MSR rounds:
| | | | |
| --- | --- | --- | --- |
| | Muzzle | 100 YDS | 200 YDS |
| Velocity (FPS) | 2850 | 2524 | 2221 |
| Energy (FT/LB) | 1623 | 1273 | 986 |
| Drop (Inches) | / | 0 | -4 |
Our next 6.8 Remington SPC ballistic chart shows 115 grain Federal American Eagle:
| | | | |
| --- | --- | --- | --- |
| | Muzzle | 100 YDS | 200 YDS |
| Velocity (FPS) | 2675 | 2442 | 2221 |
| Energy (FT/LB) | 1827 | 1523 | 1260 |
| Drop (Inches) | / | 0 | -4.4 |
This ballistic table for the 6.8 Special rifle cartridge shows 115 grain Remington UMC Centerfire Rifle rounds:
| | | | |
| --- | --- | --- | --- |
| | Muzzle | 100 YDS | 200 YDS |
| Velocity (FPS) | 2625 | 2329 | 2053 |
| Energy (FT/LB) | 1759 | 1385 | 1076 |
| Drop (Inches) | / | 0 | -5 |
6.8 Remington SPC, what's in a name?
A lot of people have never heard of the 6.8 SPC centerfire rifle cartridge before and when they do hear of it, one of the first questions to follow is, what is an SPC? 
Well, the first fact we're going to discuss is what does the SPC stand for, and then we'll move on to what the other numbers and words mean.
The 6.8 is basically the size of the bullet, also known as the projectile. Technically speaking, though, it isn't 6.8mm; it's actually 7mm. 
Remington is the name of the company who developed this centerfire rifle cartridge, while the SPC basically stands for special purpose cartridge. 
I've heard this cartridge called several different things, and each of them are technically correct:
6.8
6.8 SPC
6.8 Special
6.8 Remington
6.8 Special Purpose Cartridge
Remington SPC
What is a special purpose cartridge? 
This is where things really start to get interesting. The cartridge was designed specifically with our troops in mind, even though it never really caught on with our military, due to reasons we'll get to in a bit. I'm a Marine, and while I never saw combat I have friends who did. 
One of their complaints was that while the widely-used military 5.56 NATO cartridge was lightweight, offering the operators the ability to carry more of them than the military cartridge it replaced, the 5.56 NATO lacked the energy needed to keep an insurgent down once shot. 
Some stories claim that insurgents could be hit numerous times by the 5.56 cartridge before ever even slowing down. As you can imagine, that's a problem. So a small team of special forces operators requested a newer, harder-hitting cartridge.
On average, the 6.8 produces about 40% more energy at the muzzle than the 5.56 does, and it still delivers more than 100 pounds of energy all the way out to 500 yards. But the main reason for its development was for close-quarters combat, or CQC, and that's where this cartridge excels. 
It actually performs better out of a shorter barrel than other cartridges do from a longer one.
We'll touch more on that in a moment, but first, let's go over some more history.
6.8 SPC History:
Fact number 2 discusses more about the history of the cartridge, as well as how it was developed. 
Almost all modern handgun and rifle cartridges have what is known as a parent case. 
A parent case is nothing more than the case a manufacturer started out within the design of the cartridge they're working on. 
You can think of it kind of like a donor. In this instance, the donor, or parent, case for the 6.8 SPC is the .30 Remington. 
The 30 Remington was slightly modified and shortened so it could fit in the rifle's chamber with a .277" bullet. In fact, the 6.8 SPC uses the same diameter bullet found in the .270 Winchester, but with a different grain weight. 
What was the purpose?
As stated a moment ago the need came about from Army special forces when they requested that Remington make a harder-hitting round for fighting overseas, to replace their 62 grain M855 green tip 5.56 NATO that some soldiers considered to be insufficient for stopping insurgents. 
One of the main requirements is that the cartridge work in the M4 Carbine.
While the cartridge produces considerably more power at the muzzle and in short-distance firefights, it actually had some problems in that Remington rushed the process and couldn't get the chamber pressures stable. 
Because the chamber pressures spiked they had to load the 6.8 SPC to lower pressures, causing the round to have less than desirable ballistics, even though it was 40% more powerful than the 5.56 NATO. 
And of course, this caused the 6.8 SPC to not be widely adopted for military use.
But what about for civilian use? The 6.8 Special is actually a pretty decent little hunting and self-defense cartridge, which brings us to the pros and cons portion.
6.8 SPC Rifles:
For our first con, we talk about the popularity of the cartridge, or, actually, the lack thereof. The 6.8 SPC never really caught on as much as some other recent cartridge developments have, causing lackluster support from the industry. 
When I say lack of support, I basically mean that, besides ammo, there aren't a lot of rifle variants chambered in this exceptional mid-range round. 
In terms of the rifles this cartridge is used in, it is primarily used in the AR-15 variants, though there are a few other platforms, and Remington even produced a model 700 bolt gun for a while, and they can still be found from time to time.
While I list this out as a con to this cartridge, there is a silver lining in that many of the parts are interchangeable between AR-15s that shoot 5.56 NATO and 6.8 SPC.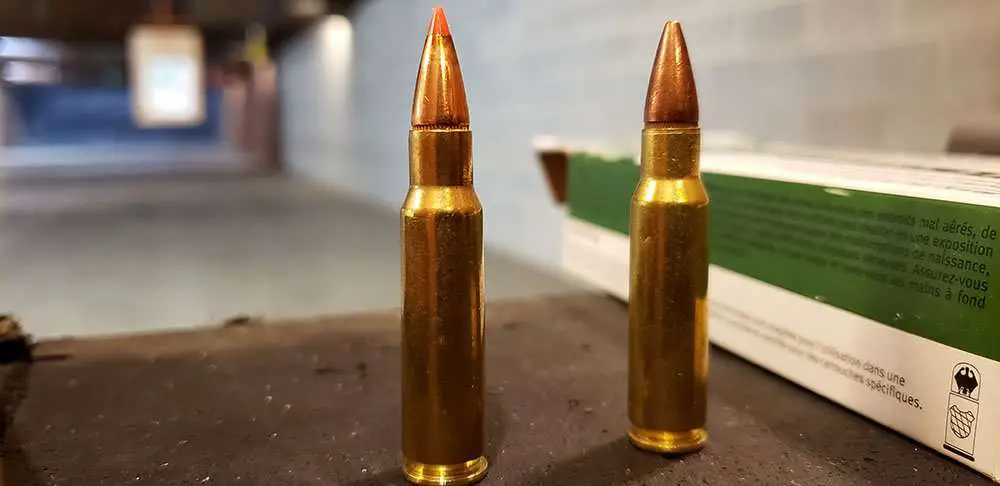 The main benefit to this is that if you are on a tight budget you can buy one lower receiver that will technically shoot either caliber, and just swap out the upper receiver. This is great if you're looking for a harder-hitting hunting cartridge for medium-sized game like hogs or deer, where you fear that a 5.56 won't deliver a quick, clean kill. 
Or, in those states that say you cannot hunt with a .22 caliber rifle cartridge (like .223) and need something bigger on a lower budget, you can just buy the upper receiver, some ammo, and anything else you may need like a scope, and ride off into the sunset.
6.8 SPC Uses:
Now we move into one of the main pros of the 6.8 SPC rifle cartridge, and that is that it can be used for just about any purpose. In fact, when talking about cartridges like this, I often use the term "dual purpose." 
Dual purpose to me is something that can be used for more than one task, and perform those tasks well. For our purposes here, both 5.56 and 6.8 can be used for hunting or defensive uses. And in fact, I'd go a step further and state that anything a 556 can do, a 6.8 can do better.
There is lethality in the 6.8 SPC that isn't found in the 5.56 NATO. That's not to discount the 556, because I love that cartridge, too, just for other reasons.
The 556 is just not as effective as a stopper, whether that's from an attacker breaking into your home or a deer-sized animal 200 yards away.
In fact, at the muzzle there is an increase of energy by 40% in the 6.8 SPC over the 5.56. That lethality increases when the barrels are shorter. 
So, if you're looking for a rifle with a 16 inch barrel, the 6.8 is one of the top contenders in terms of being effective. This also makes it an excellent home defense, or CQC firearm, in terms of maneuverability.
In terms of hunting, the 6.8 SPC is quite capable of cleanly taking any medium-sized game in North America. These are animals like feral hogs, antelope, white, and black tail deer.
There are plenty of instances where hunters have taken smaller black bears and even elk with this rifle cartridge, but I would advise against using 6.8 Special for such big, thick-skinned animals. And, as with anything, bullet choice is key, as is your shot placement and distance. 
 Affordability of the 6.8:
Moving back into another con of the 6.8 Special Purpose Cartridge, we start to talk about its affordability. 
Overall, the 6.8 is not the most affordable AR-15 cartridge out there. In fact, when compared with other similar AR-15 cartridges like 5.56/223, 6.5 Grendel, 300 BLK, and others, it is the least affordable, more often than not. 
Ammunition cost is one of the biggest factors for people not training with their chosen firearms because it directly correlates with how often you go to the range. If you can't afford to shoot something that is nearly two bucks per round, you won't shoot often.
If you don't practice shooting, you'll be less effective in both hunting and in defensive situations, and may not deliver clean kills on your animal, or may miss the attacker who breaks into your house. 
Either way, that's not a good scenario to find yourself in. How expensive is it?
Right now with Ammopocalypse taking place, you can expect to pay nearly $2.00 per round, but can still find it for much less than that. But as of right now, it is certainly not the most affordable AR-15 round. 
This isn't without its own set of benefits, however. Because this is a relatively expensive round to shoot and isn't as popular as some of the others, that means you won't be fighting as much competition at the store or even online if you're in need of ammo.  
Certainly nowhere near as many people shoot 6.8 SPC as they do 5.56, .223, 7.62X39, 300 Blackout, or even 6.5 Grendel — all of which are available in the AR-15 platform. Because there aren't as many shooters for it, I can still find it in the store, when other ammo is sold out.
In other words, right now during ammopocalypse 2020, I'm having a very hard time finding calibers like 5.56 and .223, but can still find 6.8 Special on the shelves. 
While it's expensive, that's good news because you can still go to the range.
6.8 SPC Recoil:
Next we move on to another pro in the form of felt recoil. Now, I do want to make a disclaimer here.
The felt recoil of the 6.8 SPC will be dependent upon several different outside factors that will vary greatly from one rifle to the next. 
For example, one thing that many people forget is that a heavier gun of any kind will help absorb much of the felt recoil, and that doesn't matter if it's a pistol or a rifle. Therefore, you can shoot a much bigger caliber that may cause your recoil to feel the same or similar to a smaller one just based on the weight alone. 
Something else that many people don't think about is that felt recoil can actually depend on the projectile and load that you're using. 
I found this out several years ago when shooting a different caliber of rifle in my old Henry Lever Action. I found that a cartridge with a 325 grain bullet recoiled harder into my shoulder than the cartridge with the 405 grain bullet did. 
That seemed counterintuitive to me at the time, but the way a cartridge is loaded can certainly affect the amount of perceived recoil you'll feel.
So how heavy is the recoil on the 6.8 SPC? I don't like subscribing an arbitrary number to describe this because it is often going to be inaccurate. As we mentioned a moment ago, each shooter, each gun, and each specific cartridge is going to be different. 
Therefore, what I'll do is try to compare it to other common cartridges in similarly functioning firearms. I'd consider the recoil from 6.8 Special to be light to moderate, somewhere between a .223 chambered AR-15, and 308 Winchester chambered AR-10. 
Though, I would consider it to be closer in feeling to the 223-chambered AR. Overall, the 6.8 SPCII I have on loan for review from Palmetto State Armory is a pleasant rifle to shoot for long periods of time.
What is 6.8 SPC II:
Now moving on to our final fact, we come to some of the confusion regarding this cartridge. If you were to go buy a rifle chambered in this round, you'd most likely be coming up with search results for 6.8 Remington SPC II, which is technically different, but not by much.
What is 6.8 SPC vs 6.8 SPC II? We need more history in order to find out.
As we already briefly discussed, back in 2004 when Remington got approval from SAAMI, the original cartridges had to be downloaded, pressure-wise. The reason why is because the chambers of the Remington rifles had a poor design that led to pressure spikes. 
The reason why this happened is basically because Remington wanted to get the round tested and in the hands of the military, but ended up rushing the process before everything was even actually tested properly by them.
I do want to say that the SPC II is an updated chamber design, not necessarily a change in the ammo itself. This means that any rifles you were to purchase today would be capable of handling the pressures Remington wanted to use in the cartridge when they designed it. 
The factory ammunition you are likely to buy at the store is actually still the first generation of 6.8 specs because they never received the go-ahead from SAAMI. This means that any rifle you buy today will shoot the stuff you buy in the store just fine, but will also be able to shoot hotter hand loads you may load yourself.
And where the 6.8 really starts to shine is if you're a hand loader capable of loading your ammunition to the SPC II specifications. 
While the factory ammunition you can buy is good for many purposes ranging from self-defense to hunting medium-sized game, the ballistics get even better when you load your own.
When you can do this, the full potential of the 6.8 SPC, which is what Remington was trying to accomplish, is opened up 
Hopefully, this cleared up any questions you had about the 6.8 SPC.
Check out our full rifle ballistics chart, next.