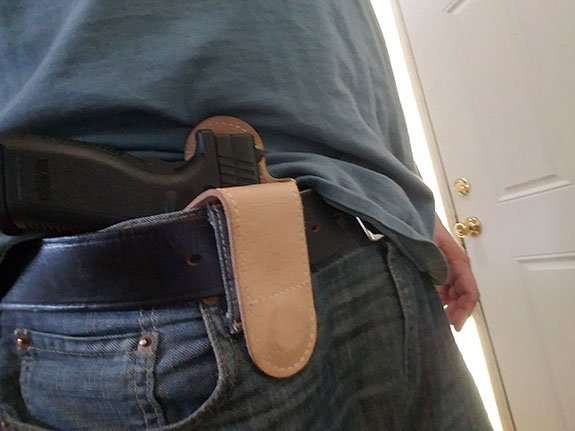 Recent history has proven that there are more concealed carriers now than ever before in the past. This means that we need to step up our game as the more experienced gun owners to help these new gun owners out as much as possible.
The topic of this article is to offer tips up on how to get into the concealed carry habit so that you actually are wearing your gun, not only when you leave the house, but whenever you're awake.
Yes, that includes when you're home, which also just happens to be the time I recommend you practice carrying your gun. And even though I've been carrying concealed for several years, I still practice carrying whenever I get a new gun, holster, belt, etc., because I just don't know how it'll all go together until I try it.
But even when I am not trying out a new piece of gear, I still carry my gun at home. Let's tackle this first.
Why carry your gun even when you're at home?
Statistics show that homes are burglarized about 1.5 million times each year. In other words, your home is not the bubble you think it is.
Because you may be home when your house is targeted, we've come to the conclusion that it's better for you to be armed when you're home, than unarmed.
In fact, I'd argue that there is a bigger chance that you can be victimized in your home than out in town. Of course, this is heavily dependent upon where you live, but the chance is always there regardless of where you live.
Here is data regarding burglaries from the FBI's website:
In 2017, there were an estimated 1,401,840 burglaries.
Burglaries accounted for 18.2 percent of the estimated number of property crimes.
By subcategory, 57.5 percent of burglaries involved forcible entry, 36.2 percent were unlawful entries, and 6.3 percent were attempted forcible entry.
Victims of burglary offenses suffered an estimated $3.4 billion in property losses in 2017. The average dollar loss per burglary offense was $2,416.
Burglaries of residential properties accounted for 67.2 percent of all burglary offenses.
And because your home has a high likelihood of being burglarized while you're there, you may want to carry in your house, which also just happens to be where you practice carrying your gun.
How convenient?
By the way, I highly recommend you get some kind of home defense training to help you work your way through how best to not only prevent a burglary, but also how to defend yourself if needed.
I highly recommend this course from my friends at ConcealedCarry.com.
A side benefit of carrying at home, is that it allows you to practice carrying your gun in a place you know and are comfortable in, before you ever leave, which brings us to the next point.
Practice concealed carry —
Before you ever go out into town with your gun on your hip, or wherever you carry it, you should practice carrying around your house. Or, another way to look at it, is get used to carrying around your house.
You're looking to do a few different things here. First, you want to put yourself into different positions. Standing is one thing, but sitting is something totally different.
Then again, so is bending over like if you had to get something on the bottom shelf at your local grocery store.
Also, go out to your car, sit down, and buckle up to see how that feels.
The point here is that concealed carry can be uncomfortable and is something that you need to get used to doing before you take it outside.
If any part of what you tried is so uncomfortable that you can't stand to do it, you need to figure something out to get to the point where you are comfortable enough to carry.
It may take some trial and error on your behalf in terms of trying out different holsters, belts, guns, etc. That's okay because just about everyone goes through this period.
This ultimately brings us to the next consideration, which is gear.
Choosing your holster position —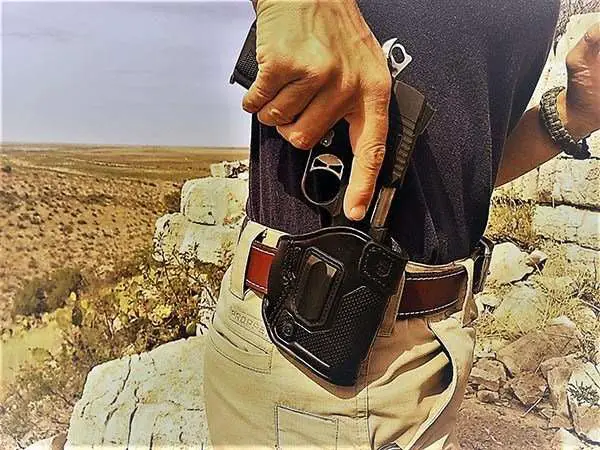 The chances that you'll be able to be comfortable right off the bat are slim. The goal here is to find a balance between comfort and effectiveness. What I mean, is that it's not practical to think that you'll ever be 100% comfortable while you've got a gun on your body if you plan to use it properly.
But, with a balance and some practice you can make it comfortable enough that you actually do it.
Don't get me wrong, it is possible to achieve a level of comfort, but you almost always have to give up some functionality for your comfort. For example, I've found that pocket carry, in my front right pants pocket is the most comfortable method for me.
But when I carry here the only way I can be fast on the draw is if I see the attack coming and can prime myself by putting my hand in my pocket to grab my gun. This means, then, that I cannot effectively protect myself or family when I carry this way, and I have to sacrifice some comfort for the ability to protect.
I have been known to carry a small snub nosed revolver (<– Top 5 snub nosed revolvers) in my front pocket in a pocket holster around my home.
Most of the time, though, I'm not carrying in my pocket but at 3 or 4 o'clock (if you pretend your belly button is 12 o'clock, 3 would be the hip and 4 would be just behind it).
Here is my article on concealed carry for fat guys like me.
Holster Considerations —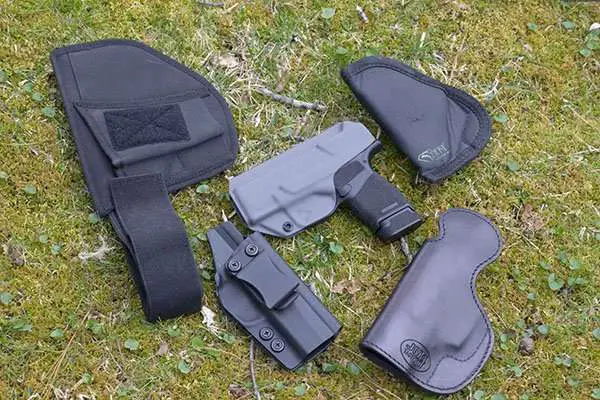 Your gun's holster is meant to protect your gun from you, and you from your gun. The average holster is going to be made either of a polymer material like Kydex and Boltaron, or leather. One of the most important parts about choosing a holster is that it is made of a strong material that prevents you from being able to pull the trigger while it's holstered.
Also very important is that you choose a holster that's not going to move around on you while it is on your waist.
If you put your gun in a spot on your waist in the morning but it has shifted so much by the end of the day that you will be ineffective on your draw, that's a bad sign. Buy a holster that doesn't allow your gun to move.
And of course, you may need to try a few different holsters out before you find one that works well for you and is comfortable enough that you're inspired to actually carry your gun.
What I don't want to see happen, is for you to get discouraged and leave your gun in the sock drawer at your house, or decide to make the move to carry your gun in a bag.
Here is a list of decent holsters.
A Word About Off Body Carry —
We highly recommend that you do not carry off body unless you absolutely have to (like because of a disability or similar). The reason why is because it's generally not as safe. When you carry a gun you have to keep your gun on your body so it's there when you need it.
Carrying in a purse or other bag is generally not a good idea because you may put it down and walk away from it. Or, you may need to get it out really quick and might snag it on something. The list goes on.
This is true even for when you're in your car. We recommend that you never take your gun off your hip. This is one of the reasons why the first step is to practice concealed carry and to find a holster that you're comfortable in the car with.
Imagine you were in your car once with your gun next to you and you get into an accident. What happens to stuff that's not belted or bolted into place? It goes flying around the car.
Then, after everything settles and you're hopped up on adrenaline what happens when you go to grab your gun in the back seat? You might grab the trigger causing an unintended discharge.
But if the gun never leaves your body you won't have this problem.
Don't even get me started on the sheer number of kids who find their mom's gun in their purse …
Here is an excellent article we have that Eve Flanigan wrote about women and holsters.
Concealed Carry Gun Belt —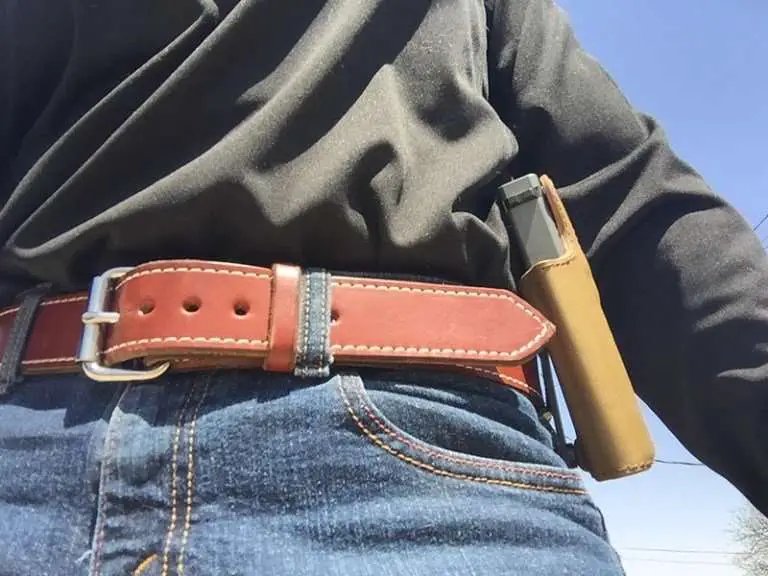 A gun belt is one of the most important buys you can make right after your gun, proper self-defense ammo, and holster.
Yeah, if you're going to carry a gun on your waistline this is a must. I didn't use a proper belt for the first year or two of my concealed carry journey but then when I was given one it clicked. The benefits of having a belt designed to hold the extra weight of a gun far outweigh the extra cost you will have to pay.
And, since you'll be carrying most of your awake life anyway, its importance is amplified even more.
The belt you bought at walmart or whatever store you got it at is only designed to be pretty or only designed to hold your pants, sans gun and other gear, up around your waist. It is NOT meant to hold your gun up around your waist.
And, truth be told, while it will hold it up to a degree, the difference is night and day when you put a gun belt on.
Even truer, is the fact that you'll be more comfortable with your gun on, if for no other reason than you have confidence in your gear.
A real gun belt is going to be sturdy and won't sag or roll. When your gun is heavy on your non-gun belt, it can sag or roll, which can cause discomfort as well as allow the gun to print (which is the outline of the gun showing through your clothing).
When that happens you stand a greater risk of losing your tactical advantage of being the only person in the room who knows you're carrying a gun.
A real gun belt, from any company that sells them, will be miles ahead of the crappy belt you're wearing right now. I promise.
I have quite a few gun belts in my possession. The first one I use is a Nexbelt that is for my everyday attire. The second one is a JM4 Tactical Belt that is leather and super sturdy that I use when I need to put on something a bit nicer.
Here I talk about both of them.
No matter what you go with, you need a gun belt. The key is that they need to be able to hold extra weight, or it'll suck.
Conclusion:
The truth of the matter is that concealed carry takes practice, just like anything in life. You may not be comfortable at first, but if you work at it and try new things you'll eventually get to the point where you are more comfortable and will have confidence in your gear.
And when that happens, you'll be more likely to actually carry your gun.
Next up, check out what I consider to be the best concealed carry 9mm pistols.