3 Best Gun Belts
I've been working for the gun industry for a little while now, 5 years to be exact, and I've been able to form my own opinions on things based on actual experience. What follows are the best gun belts from my own point of view, based on actual experience I've had using them–not based on some internet research as others have done.
Two of these are products that I use on a daily basis depending on what I'm wearing/carrying for that day, and the other is based off of a friend's opinion based on a gun belt review she did for me about a year ago.
But first, why do we need a gun belt to begin with?
I'll answer that with a simple statement that I've used numerous times when talking to people about this very topic: You won't understand until you use one.
Or, maybe another way of saying it, is that a belt designed to be used with your carry rig will actually work better than that little sliver of junk you're using currently.
Let me explain —
A regular belt is designed to either be a fashion accessory or to hold up your pants around your waist. It isn't designed to hold up anything heavier than that.
What this means is that your regular belt, regardless of the material it's made of, sags or twists under the weight of your gun. This, in turn, causes your gun to not be as secure as it should be.
This means it could flop around, move a bit, or print showing the outline of the gun on your shirt's fabric.
The worst case scenario for me, is the gun moving around. The last thing I'd ever want to have happen is for my family or I to get attacked by someone, only to reach for my gun and it be in a slightly different spot from where I put it on in the morning.
It may sound stupid, but I train drawing my gun multiple times DAILY and it's all about muscle memory. When that gun is in a different spot, even slightly, it could cause me to miss on the drawstroke, and thus, not be successful in rescuing myself or family.
That's not okay.
The solution to that, is to buy a belt that actually holds your gun up in such a manner that doesn't allow it to move.
I want to say right now that any gun belt is going to be better than the turd you've currently got on your waist, unless you already have a gun belt. So, while I think the ones I list here are the best gun belts out there, this isn't an exhaustive list by any stretch.
The point, is that a proper one won't twist or sag anywhere near as much as a much flimsier version will. No gun belt is completely rigid or we wouldn't be able to move or breathe.
Here are the best gun belts I've found, to date:
JM4 Tactical Double Shot —
I've had one of these for almost two years and it's still holding up well. When I get a product for review I usually stop using it after the review is done unless it's that good.
This leather gun belt is that good. I still use it but it took a little bit to get used to because it is THICK. But, it being so thick is one of the reasons it works so well. It doesn't sag or move at all, in any direction. I've carried a full size service pistol with a magazine loaded to the brim and it didn't move.
In fact, here is a picture from my review showing off how rigid it is:
If I did that with a regular belt, it would sag like crazy.
This belt from JM4 Tactical is the best leather gun belt I own, and I have a few. I even have one that's made of two different materials: leather with a steel core. It works fine, but not as good as the Double Shot Belt from JM4 Tactical.
The best way to buy is right off their website.
Klik Belt —
The other belt I use is a more recent addition for me. I've only had it about 6 or 7 months and am in the process of writing up the review for y'all to read. But, I'm confident in saying that it's also a go-to belt for me.
The Klik Belt is a nylon riggers type belt with a Cobra Belt Buckle. I've owned a few like this in the past, all but one were acceptable for holding a gun up around my waist. But, I find the stitching and quality of craftsmanship on the Klik Belt to be exceptional.
There are plenty of options to go along with the Klik belt. The one I chose is the black double ply with the Velcro stitching. In my opinion the Velcro is a necessity, otherwise the belt's tail can come undone flapping in the wind.
The great thing about these belts is that they're thin and still rigid, and as mentioned a moment ago, make use of the industry standard Cobra Belt Buckle.
These are best bought directly from their website. or from Amazon They've got a great selection and multiple colors to choose from.
Exos Gear Gun Belt —
This is the one reviewed by Eve Flanigan. The following few paragraphs were taken from the review she wrote. The rest of it can be found here.
It can't help but be sturdy too, with .205 inches in thickness and 1.5 inches in width, comprised of two layers of 14-ounce bridle leather.
It's fastened to the buckle with something any western riding enthusiast will appreciate—Chicago screws. They guarantee a solid bite, unlike snaps which can tend to come undone.
The steel roller buckle makes adjustments easy. Even after a year of wear using various holes depending on the rise of my pants and how much pizza I'd consumed, there are no crease marks on the holes of my brown stitched belt.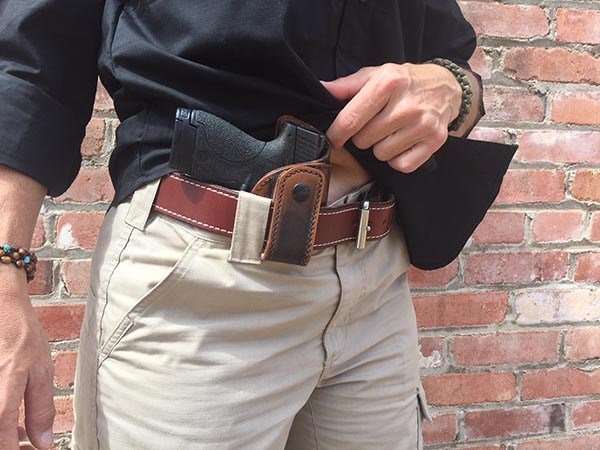 I have not tried one of these Exos Belts because I like my others too much. I do, however, trust Eve's opinion on this one, which is why I've included it, here.
These gun belts are are the cheapest on this list and are best bought from Amazon.
What's your best gun belt? What's your go to? Do you use one? Let us know in the comments below. And, feel free to click on any of the links in the article to buy your belt. They're affiliate links but it won't cost you anything.