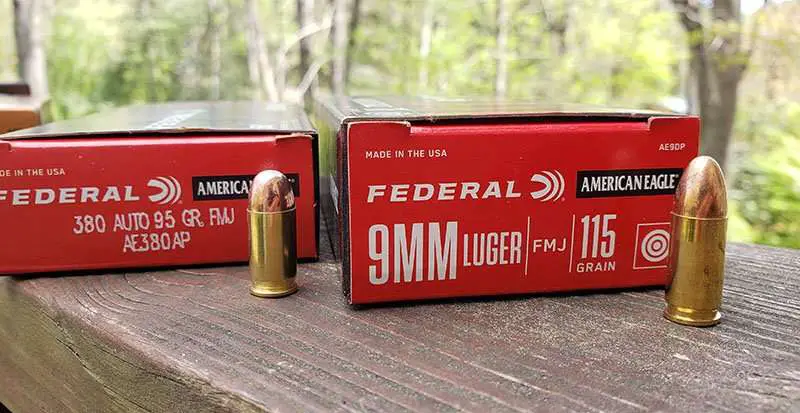 Welcome to the caliber wars. We don't handle these cartridge comparisons like everyone else does. Our goal is not necessarily to pick a winner, though I will tell you which I prefer.
My goal is to help you figure out which caliber you should buy for your next or first gun.
All of what I say here is based on actual experience as I own guns in both calibers. I'll tell you which I prefer for self-defense and where the other one fits into my strategy.
Let's get started.
380 ACP VS 9mm, Which one is better?
In terms of ballistics the 9mm produces more energy needed to stop an attack from happening, quicker. Energy transfer is a necessity to drop any animal or attacker, and the bigger projectiles moving at faster speeds usually have more of it.
In fact, the 9mm still has more energy at 100 yards than the 380 Auto has at the muzzle, which is impressive.
That's not to discount the 380 ACP, however. There is a place for 380 especially for those shooters who require a lighter recoiling firearm.
380 Auto VS 9mm Luger, Stopping power
The term "stopping power" gets thrown around a lot in our industry. In terms of handgun cartridges, stopping power is really nothing more than a myth.
This is a myth that can be achieved on a case by case basis. Any properly placed single round fired by any caliber of gun has the ability to stop an attacker in his tracks.
The problem arises when people rely on this single shot to stop an attack from coming.
In terms of this fictional stopping power, 9mm has more of it and stands a better chance at stopping an attacker with less rounds fired. Part of the reason why is because certain attributes are needed.
One of those attributes is energy transfer. Energy happens when the projectile is moving. The faster it moves, and the heavier it is, both to a certain point, the more energy transfer happens.
The 380 and the 9mm are both moving at similar speeds to each other, depending on the design and weight of the bullet, but the 9mm is generally a much heavier projectile.
380 Stopping Power
In terms of the energy transfer alone, the 380 Auto transfers 200 pounds of energy to the target at the muzzle, dropping quickly.
9mm Stopping Power
In terms of energy transfer, the better 9mm Luger cartridges (124 grain Federal HST) transfers 364 pounds of energy to the target at the muzzle.
9X19 VS 380 Auto Ballistics
In order to keep space nice and tidy, I've had to condense the ballistics charts down to show less information.
If you'd like to see the full ballistics chart for each caliber please click on each link below:
380 Auto Ballistics
This 380 Auto Ballistics chart shows 90 grain Hornady XTP hollow points:
| | | |
| --- | --- | --- |
| | Muzzle | 25 YDS |
| Velocity (FPS) | 1000 | 953 |
| Energy (FT/LB) | 200 | 181 |
9mm Ballistics
This 9mm Ballistics chart shows 147 grain Hornady XTP Hollow Points:
| | | |
| --- | --- | --- |
| | Muzzle | 25 YDS |
| Velocity (FPS) | 975 | 954 |
| Energy (FT/LB) | 310 | 297 |
Add an ammo can to your next Amazon cart.
9mm VS 380 ACP Recoil and other info
Up until this point things have been skewed heavily toward the 9mm Luger being the clear winner. This is where things start veer slightly toward the 380 ACP.
In terms of recoil, when all things are equal (size of handgun etc.), the 380 is easier to handle. In recent days with the advent of the smaller micro compact high capacity 9mm handguns, the 380 guns have taken a different turn.
They have gotten somewhat bigger.
This has given defenders who have recoil sensitivity issues or problems racking the slide on a semi-automatic, to be able to carry 380 guns like the S&W Shield EZ or SCCY CPX-3.
These are both light recoiling handguns that are easy to operate.
380 VS 9mm Cost
The 9mm is a much cheaper round to fire. And we hopefully all understand that when ammo is cheaper it's easier for us to justify training with it.
One of the reasons why 9mm tends to be so cheap among all of the calibers is because it is the most popular semi-auto round and because it's the NATO chambering for handguns.
There is such tremendous competition for not only the mainline ammunition manufacturers, but also smaller boutique companies, that it drives the price down.
As of right now with the ammo shortage confusing things a lot, a box of 9mm will still be somewhere in the neighborhood of 3-5 dollars cheaper for a box of 50.
When things cool back down the price difference gets even bigger.
There is an inherent issue with this popularity, however, and the 380 ACP also suffered during this ammo shortage. The issue is that because these two calibers of ammo are so popular that it makes the ammo hard to find during a shortage.
40 S&W was on the shelf for a lot longer than 380 and 9mm were.
9mm VS 380 ACP Capacity
9mm handguns tend to hold more ammunition, but that's not necessarily because the 380 guns can't. Generally speaking the 380 auto guns have almost always been considered to be pocket sized guns.
Because they were, they have always lacked in the capacity department.
The SCCY CPX-3 (my review is linked above) is a 10+1 gun, meaning that it holds 10 in the magazine and one in the chamber. It is one of the biggest capacity 380 guns out there (at least that I'm aware of).
9mm VS 380 Auto Availability and Aftermarket
Both of these cartridges are very popular. The 9mm beats out the 380 in this one just because it is the most popular handgun round in the country and I cannot even begin to count the number of companies make guns and ammunition in 9mm.
The 380 is no slouch, though, and is still a popular handgun round.
And in fact, with the 380 guns getting a bit bigger, which means lighter felt recoil, there is a recent surge in this chambering as well. It's still nowhere near the level of 9mm, though, and likely never will be.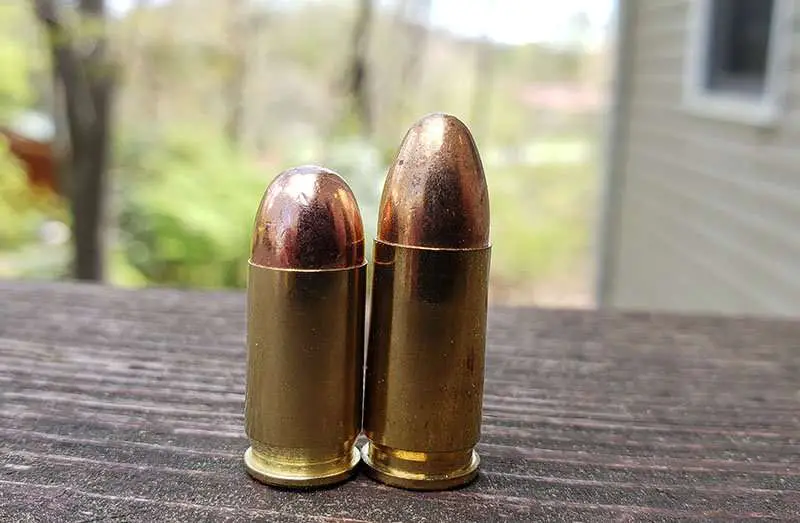 380 ACP VS 9mm, Which One Wins?
For me, the 9mm is the better caliber. I shoot the guns chambered in it well, and the guns have gotten smaller and easier for me to conceal.
And because it transfers a lot more energy to the target I choose it for my concealed carry gun.
For example, my main carry gun is the SIG Sauer P365XL (that's my review). I have also carried the Springfield Hellcat a few times recently as well, and have just gotten the P320 AXG Classic which is a much bigger gun.
What about the 380 guns I have? Well, one of them, the Taurus Spectrum (which is an utter turd by the way) sits away in a room on a floor of the house that I'm in less often than others.
The SCCY CPX-3 belongs to my wife who is recoil sensitive and unable to rack the slide on most semi-auto guns because of some nasty medical issues.
Next, check out our big pistol ballistics chart.