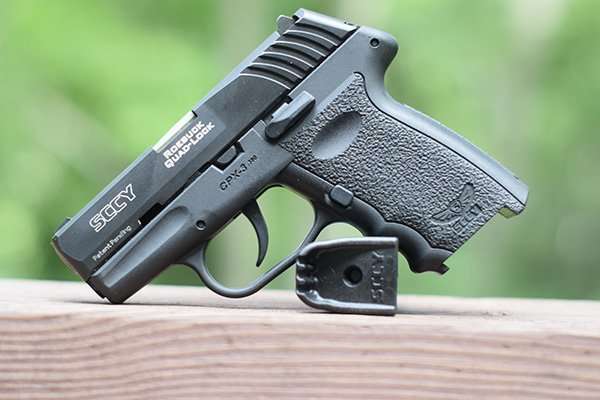 There are generally two camps of people when it comes to SCCY's firearms. You either like them, or you don't. There really is no in between. I've had the pleasure of having two of SCCY's pistols now, and both of them have run like champions without malfunction after hundreds of rounds.
I currently have a 9mm CPX-2, and the 380 ACP chambered CPX-3. While my 9mm eval is certainly in the works, what follows is my SCCY CPX-3 Review.
I've long said that the 380 ACP cartridge is likely the smallest you'd want to carry for self-defense. The reason being, there are generally two thoughts when it comes to the type of round your gun should be chambered in.
First, is the big projectile that's moving slow. It leaves a big wound simply because of the mass of the bullet itself, as it travels through the human body. Of course, I'm thinking 45 ACP.
Second, is the medium-sized, faster moving projectiles. When an expanding bullet is used these bullets, say in 9mm, still do a tremendous amount of damage but also move faster so the wound channel is extended further.
The 380 ACP doesn't really fit into either of those categories and is kind of in between. While it's not slow by any means, it does lose a lot of velocity. And while it's not the smallest, it does lack in energy transfer. However, I do want to say here that the 380 ACP is sufficient for self-defense, and with the right gun and self-defense ammo, it does very well.
The problem, is that even though 380 is technically a lighter recoiling cartridge than all of its bigger brethren, the guns were always small and hard to manage. That is, until recently.
While the 9mm guns get smaller, the 380 guns seem to be getting bigger, which affords people with weaker hands an excellent opportunity.
The perfect 380 ACP gun is one that is easy to pull the slide back on, has a full-size grip, has a bit of heft to it, and instills confidence in the shooter. The CPX-3 meets all of those criteria, but for a moment, let's discuss why these things are important and to whom this gun is great for.
SCCY CPX-3, great for arthritics
My wife has a chronic illness that causes her to have rheumatoid arthritis and she struggles to manipulate the slide on just about any firearm I'd ever handed her. It's been a real struggle up until recently with the advent of the full-grip, sub compact-sized handguns chambered in 380 ACP, like the CPX-3.
One of the reasons why this is a good self-defense pistol for someone with arthritis, is because, generally speaking, the 380 doesn't recoil as hard as the 9mm does.
Because that is true, it doesn't require a recoil spring as stiff. And now that the recoil spring is lighter, it also just happens to be easier to pull the slide back.
I actually handed the pistol to my wife and asked her if she could rack it, to which she happily replied, "I can!"
Shooting it may be a different situation, with the DAO (Double Action Only) trigger, but at least half the battle is won, and, to be honest, this trigger is much better than even the CPX-2 trigger is, or the 38 Special Snubby I bought for her one year.
SCCY CPX-3 measurments
Barrel Length: 2.96″
Height: 4.90″
Length: 5.70″
Width: 1.26″
Weight: 15oz (Unloaded)
SCCY CPX-3 at the range
SCCY pistols are nothing great to look at. And truth be told, there are some absolute horror stories out there about them. However, all I can do is report on the gun I have. All I can do is review the pistol I have in my posession.
The pistol SCCY sent out to me works. And, as you'll see in the below video, it works very well.
In fact, with the sheer amount of ammo I've put through it with hollow points and target ammo I haven't had a single malfunction. The pistol just works.
SCCY CPX-3 Recoil
The recoil on the CPX-3 is very manageable. There are a couple of reasons why this is. First, is the caliber. The 380 ACP is a lighter recoiling cartridge than the other mainline self-defense cartridges are.
It lobs a smaller projectile downrange and holds less powder than the 9mm does.
Second is the fact that you can get your entire hand on this gun. When you can get your whole hand on a gun, meaning that your pinky finger isn't hanging off the grip, it helps the shooter manage recoil that much more.
SCCY CPX-3 Controls
The CPX-3 has properly placed controls to help the shooter manage manipulations. And in fact, I'd go as far as to say that the slide stop lever is one of the best I've seen to send the slide back into battery. That is, if you use your slide stop in this manner, which I tend to do about 30% of the time in my training.
After all, I believe it's better to have the ability to do something just in case you need to do it. What I mean, in case you aren't sure, is to hit the slide stop lever to push the slide back into battery after a reload.
Here is my video review:
The magazine release is also intuitive and properly placed for people to hit. Also good is that the magazine drops free, just as it should.
SCCY CPX-3 Trigger
The trigger, while a double action only (DAO), is actually not that hard to pull. When you get to the trigger you really start to see where SCCY was going with this pistol. It's almost as if they sat down and decided to make a carry piece for people with weaker hands.
Above I mentioned that my wife has weak hands with arthritis. She has a hard time manipulating the controls on most guns. Things that you and I may take for granted, like pulling the slide back and squeezing the trigger, are really hard for her.
Not so with this pistol, which is why I put it on the list of the best pistols for weaker hand individuals or those with recoil sensitivity.
In the above video I manipulate the trigger for you to see how it works.
Conclusion:
The SCCY CPX-3 isn't going to be a pistol for everyone. However, if you like 380 ACP and struggle to shoot guns that recoil more or are harder to manipulate, this may be a good option for you. The 380 is potent enough, and this gun is easier for weaker hands and recoil sensitive shooters.
Being that you can get these for under $300 and the SCCY warranty is great, you can't really go wrong. Learn more on their website, here.