One of the most popular reasons for people not carrying the most effective gun they can is because they cannot handle its recoil. Everyone feels it differently, and these tips will not be able to help everyone.
Part of the reason why they won't help everyone is because some people have medical issues. I'd like to encourage you to still try, if that's you.
I'd also like to say that it's nearly impossible to get rid of recoil, completely. All you can do is lessen its affect on your shooting, either mechanically or by changing the way you shoot.
And no matter what you do to some guns, their recoil will always be more than you might be able to handle.
Why controlling your recoil matters:
When you're shooting your gun, it will do a couple of things that will make it harder to shoot. One of those is that the muzzle will flip up. Another is that the gun pushes back into your hands a bit.
This is called recoil.
Recoil is the gun's response to being fired. Reach back to your school days and recall Newton's Third Law: that every action has an equal and opposite reaction.
The action starts when you pull the trigger. The result of that first action releases a hammer or striker into the primer of your ammunition case.
The result of the primer being struck is the ignition of the gunpowder propelling the bullet out of the muzzle at 800 to 1,400 feet per second.
The result of that projectile is the equal and opposite reaction into the gun. The muzzle flips up some and the gun pushes back a bit into the shooter's hands.
This is called recoil, and the way you control it will make or break your shooting ability.
How do I reduce recoil on my handgun?
Reducing your recoil is done by changing the way you hold your gun. You want to use a two hand, thumbs forward grip that is tight. It also helps to shoot a gun with a full grip, to get your whole hand on.
Let's discuss this further —
Grip your way to better recoil management: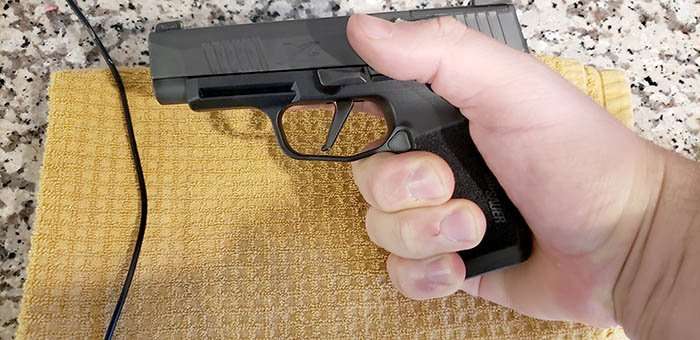 It's almost always about the shooting fundamentals. Just about every single mistake can be traced back to something you did wrong.
But there is one shooting fundamental that is supreme above the rest, and that is the way you hold your gun when shooting it.
I've heard some shooting instructors say that the rest of your fundamentals can be garbage but if your grip is good you're 90% of the way there.
In other words, the way you hold or grip your gun is more important than where you put your finger on the trigger. It's more important than your stance. It's more important than proper breathing.
The main reason why, is because without a proper grip, you can cause not just excessive recoil, but also pistol malfunctions.
How to form a proper grip:
The key to a proper grip is to use the thumbs forward method, as seen here:
But going a step further than that, is that you have to grip your gun as tight as you can. I want you to clamp down on your gun. Grip it hard until you start to shake, and then back off ever so slightly until you stop shaking.
That is the tightness in which you need to be gripping your gun.
I took a class once from a guy who competed in the Top Shot competetion. He came in second place, twice. I asked him how hard with each hand should I grip. Is it a 50/50 split?
He looked at me and said 100/100. Each hand needs to grip the gun with all of its strength, before it starts to shake.
The way you grip your gun matters more than any other fundamental for recoil control. Another important aspect to grip, is where you grip your gun.
Grip as high as possible:
The important thing to remember, and something that I see a lot of people doing wrong, is that you want to grip your gun as high up on the frame as you possibly can.
Notice Terry's grip in the below picture. There is no space between the gun and his hand. This really helps mitigate recoil:
If there is any space left between the web of your hand (where your thumb and forefinger come together) and the beavertail of your gun, your gun will recoil violently.
You want to eliminate that space buy putting the web of your strong hand in contact, even mashing it in there if you have to, with the beavertail of the gun.
When there is space between your hand and your gun, the gun can take up that space during recoil and it moves even more than it should.
When that space is occupied by your hand, the gun has nowhere extra to go.
Things to remember are as follows:
Thumbs forward is best because it allows both hands to help manage recoil (this will be a bit different if you're shooting a revolver).
Grip up as high as possible because the higher it is on the grip, the less space there is for the gun to move during recoil.
Practice getting your good grip from the draw. This is called a combat or fighting grip and the earlier you can master this the better off you'll be if you ever need to defend yourself.
Your gun's grip:
Up until this point it's all been about you and what you're doing wrong. But I'd be lying if I said that your gun can't help, because it can.
I rarely ever carry a gun that won't allow me to get all of my fingers on the gun. I have a few that are reserved for those days that are deep concealment days and I need to carry in my pocket. Aside from that, all of my guns are full sized-grips.
For the most part, most of my guns allow the pinky finger to grip the gun. There is an important reason for this, namely, that this little finger does wonders to help you control your gun's recoil.
Many don't realize it but your gun kind of pivots in your hand when you're shooting. The muzzle flips up a bit, and the bottom of your grip goes forward just a bit.
When you can get all of your fingers on your grip and clamp down on them with the tight grip we spoke about in the previous section, it helps to prevent some of that pivoting.
Sure, you'll never be able to eliminate it completely, but getting your pinky finger adds opposite force to help mitigate the recoil.
That opposite force caused by the pinky does a lot more than you might think, being that it's at the very bottom of the thing that's moving (your recoiling gun).
If you can, add a pinky extension to your pistol to gain a mechanical advantage on your recoiling gun, and make sure you grip it down as tight as you can. It'll do wonders for your shooting.
Conclusion:
I plan to put together a short video on this at some point in the near future. Make sure you stay tuned for that, and I really hope this article helped you out a bit.