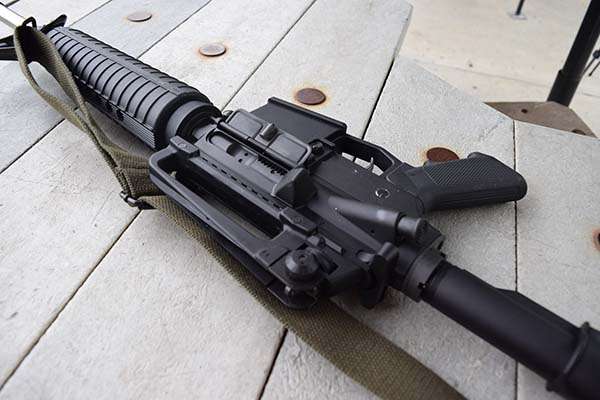 The AR-15 is the most popular rifle in the United States. And, it may be the most popular gun, period, out of any gun in the United States simply because they're readily available as pistols, too.
While it's true that the AR-15 is the most popular gun in the country, it's also one of the most misunderstood. One of the most prominent falsehoods we hear about the AR-15 is that it is a "high powered" rifle.
More goes into it than that, and most of the time it's actually underpowered when properly compared to others.
Let's tackle this more in depth.
What caliber is an AR-15?
A standard AR-15 can come in any of the mainline calibers (6.5 Grendel, 6.8 SPC, .300 BLK, .224 Valk), but more often than not the AR-15 is chambered in 5.56 NATO / .223 Remington.
5.56/223 is the most popular chambering of the AR-15 for many reasons:
It's the cheapest to shoot
It has manageable recoil
5.56 is used by the military as a NATO round
5.56 chambered rifles also shoot .223 Remington, giving more options and affordability
Available in a wide range of bullet weights ranging from hunting varmint to medium game
Only minor work needs to be done to the AR-15 to get it to shoot one of the other mainline calibers. Usually, a barrel and chamber swap, as well as using the right bolt and magazine, are the main parts needed.
For this reason, I have an upper receiver dedicated to shooting 6.8 SPC that I can put on any of the AR-15 lower receivers that I have. If I need something that hits a little harder than the 5.56 NATO, because it is kind of weak for certain scenarios.
I can be up and running with a new platform in minutes.
All of the above usually leads to the next question we'll answer —
Is the AR-15 a high powered rifle?
Technically speaking, the AR-15 is not a high powered rifle, especially when shooting the most popular cartridge, 5.56 NATO / .223 Remington because it is a small, lightweight, relatively fast projectile that loses a lot of its lethality at longer distances.
Most of the cartridges that are available in the AR-15 are under powered, especially when compared to some of the other available rounds out on the market like 308 Winchester, 30-06 Springfield, 300 Win Mag, etc.
Part of the reason why this is true, is because the overall platform itself is only capable of shooting cartridges with a certain length. Thus, the amount of powder one can put into the case will always be limited by how fat a cartridge case can be.
So, while you can have cartridges like 450 Bushmaster in an AR-15, they're still technically underpowered when compared to their big bore brethren like 444 Marlin or 45-70.
Is an AR-15 a .22 caliber gun?
Technically speaking, the .223 Remington / 5.56 NATO versions are 22 caliber. But, it's not that simple because when most people think of a .22 caliber, their mind drifts to plinking with their old lever action .22lr.
But yes, the most popular caliber that the AR-15 is found in is essentially a .22 caliber, but with a lot more powder than your .22lr has. Therefore, it is much more lethal than your average .22 long rifle rimfire is.
Having said all of that, there are also .22 long rifle (22lr) versions of the AR-15 made by big manufactures like Smith & Wesson and CMMG that are great for target practice on the cheap.
Conclusion:
The AR-15 is not technically a high powered rifle because it has certain limitations in design that only allow cartridge cases of a certain length. The most popular AR-15 caliber is .223 Remington / 5.56 NATO because they're cheaper to shoot, which is technically a .22 caliber round with a lot more powder than your average rimfire 22.