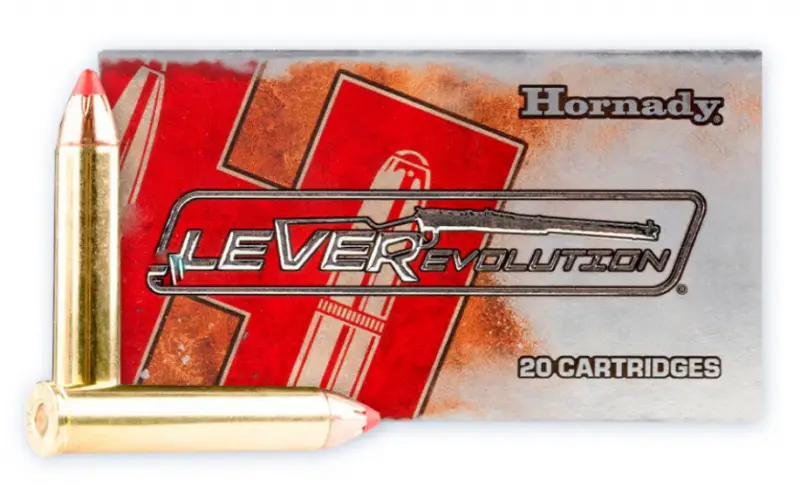 The ultimate hunting caliber, depending on what you're after of course, depends a lot upon a multitude of different aspects. Both the 444 Marlin and the 45-70 Government are great medium to big game hunting cartridges.
Let's take a more in depth look at each caliber, the ballistics they offer, as well as some history for each one based on the rifle setup we used and the specific rifle cartridge weights. But before we move on, let's give a brief overview —
444 Marlin VS 45-70 Ballistics
Out of a 24″ barrel with a 160 yard zero, and a 265 grain projectile 444 Marlin has a muzzle velocity of 2,325 feet per second with 3,181 pound feet of energy. At 100 yards bullet velocity slows to 1,971, with 2,286 pounds of energy. Comparatively, out of a 24″ barrel with a 142 yard zero and a 325 grain bullet, the 45-70 GOVT has a muzzle velocity of 2,050 with 3,033 pounds of energy. At 100 yards velocity slows to 1,730 feet per second and energy drops to 2,159 pound feet.
444 Marlin VS 45-70 Trajectory
Overall, the 444 is the flatter shooting of the two and has less of a drop, overall. The main difference between the two really starts when you begin to stretch them out more, say, past 150 yards.
With the 24″ barrel the 265 grain 444 Marlin drops about 3.5″ at 200 yards. The .45-70 with a 24″ barrel and the 325 grain projectile drops 6.5″.
This effectively means that the 444 is an overall flatter shooting bullet at longer distances. Also not taken into account or shown here is that this ballistics test shows the projectile sizes are on the extreme end for both calibers.
What I mean, is that this is one of the smallest 45-70 bullets available, and one of the biggest 444 Marlin bullets available. Therefore, the bigger .45-70 projectiles, like the original 405 grain, drop at a much faster rate.
444 Marlin VS .45-70 Recoil
Recoil is one of those things that is hard to calculate because there are a lot more things to consider than the cartridges themselves. There is a lot that can change the way a rifle feels when the shot breaks.
Things like the size and weight of the rifle, the size and weight of the projectile, and any rifle recoil pads will all change the way the recoil is felt.
Furthermore, it is a common misconception that a bigger projectile automatically produces more recoil. When I tested a Henry .45-70 rifle, the 325 grain FTX hit my shoulder harder than the 405 grain PPU did.
.45-70 VS 444 Marlin Ballistics Chart
Below is a modified and shortened version of our ballistics chart on each caliber with the cartridges we've been discussing thus far.
| CALIBER | MUZZLE VELOCIY | MUZZLE ENERGY | 100 YD VELOCITY | 100 YD ENERGY | 200 YD DROP |
| --- | --- | --- | --- | --- | --- |
| 45-70 GOVT 325 GR | 2,050 | 3,033 | 1,730 | 2,159 | -6.5″ |
| 444 Marlin 265 GR | 2,325 | 3,181 | 1,971 | 2,286 | -3.5″ |
To find out more information on each caliber and to see other, more in depth ballistics charts for each, you can find the 444 Marlin here, and the .45-70 here.
.45-70 History and Use
What follows here is the rather incomplete and brief history of the .45-70 Gov cartridge. For more information make sure you click on the above links.
The 45-70 can be used to hunt just about any sized game in north America and is a popular for hog hunting in Texas, as well as just about any other animal starting with large deer. There are also 45-70 handguns that can be used for hunting or dangerous animal defense.
Officially designated the 45-70-405 when produced starting in 1873, this cartridge has an original use for the military, hence the "govt" suffix.
The 45 is for the caliber of the bullet used, the 70 is for the amount of powder used to propel it measured in grains, and the 405 stands for the original bullet weight in grains.
We like to recommend snap caps like these from Amazon when practicing with your rifle.
444 Marlin History and Use
The 444 Marlin, on the other hand, is a much newer cartridge being developed in 1964 in a collaboration between Remington and Marlin.
The 444 Marlin offers excellent capability from medium sized animals up to big game and is quite capable of handling just about anything North America can throw at it.
The original rifle offering for this cartridge was the 336 lever action, which still sees a lot of use today.
444 Marlin VS 45-70 Gov – Which is Better?
It all depends on what you're trying to accomplish. Either cartridge is suitable for medium to big game hunting in North America out to about 200 yards, maybe further if you're a great shot.
While I prefer the .45-70 Gov to the 444 Marlin, the latter does shoot flatter and is an easier shooting cartridge than the .45-70 tends to be. Ultimately it's up to you, but I don't think you can go wrong with either.
One thing to take into account when deciding which rifle cartridge to go with is the availability and price for ammo.
444 Marlin generally tends to be more expensive and can be harder to find, costing an average of about 35-50 cents more per round than 45-70 does depending on the ammunition manufacturer.
Next, check out our big rifle ballistics chart page, featuring dozens of different calibers.