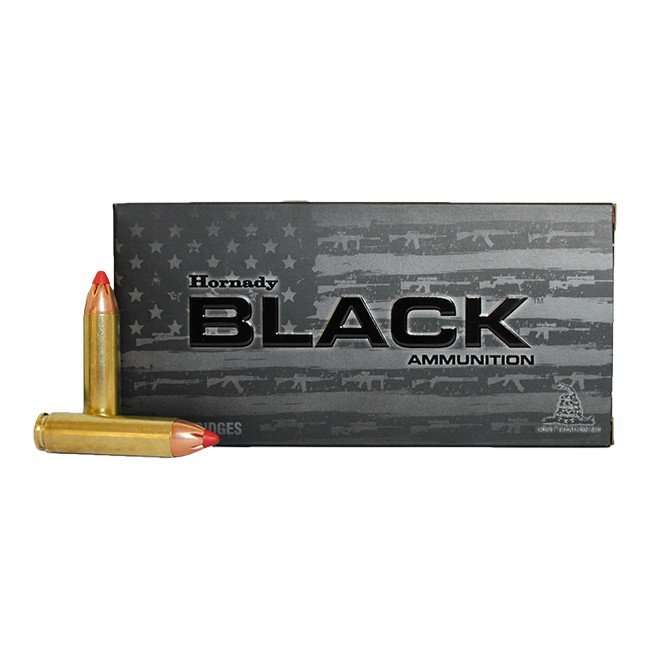 The 450 Bushmaster rifle cartridge was developed because people like Jeff Cooper remained unimpressed with the ballistics of the .223/5.56 cartridge. While fast, it lacked the oomph needed to take down big game at longer distances.
Cooper was a famous Marine who did wonders for the gun industry at large, and we owe many things to him — to include the idea behind the 450 Bushmaster.
He often described what he wanted as "the thumper." The thumper was essentially a big bore rifle cartridge (typically of 44 caliber or larger) that could be used in an AR-15 pattern rifle that was able to take large game out to 250 yards with one hit.
While Jeff Cooper had the thought, he didn't technically design the 450 BM center fire rifle cartridge. The history behind its development is also rich.
It starts with Tim LeGendre of LeMag Firearms. This first iteration of the hard-hitting thumper starts its life with a cut .284 Winchester casing, and loaded with a 250 grain 45 caliber bullet. He called it the .45 Professional.
It just so happened that, after LeGendre developed the first iteration of this big bore cartridge, Bushmaster was also looking for something similar for their short-action AR-15 pattern rifles. They ended up licensing the cartridges used from LeMag Firearms and eventually teamed up with Hornady for further development.
Hornady made some modifications and reworked some of the specs and re-released the brand new cartridge, now called .450 Bushmaster.
The rest is history.
The 450 Bushmaster, while technically developed for big game hunting with an AR-15 platform rifle, is quite the versatile cartridge. Bolt-action rifle manufacturers have since also stepped in and developed guns around it with moderate success.
And, it's also versatile because this thumper can be used for personal protection in the AR-15 pattern rifle or used for hunting as originally designed.
Specs on this cartridge are also impressive. At the muzzle the .452″ caliber, 250 grain projectile is moving at about 2,200 feet per second and at 100 yards is still effective with 1,835 FPS.
Muzzle energy is also impressive, though less than other big bore cartridges, at 2,686 at the muzzle.
Below is a ballistics table for 250 grain Hornady Black 450 Bushmaster:
| | | | |
| --- | --- | --- | --- |
| | Muzzle | 100 YDS | 200 YDS |
| Velocity (FPS) | 2200 | 1835 | 1515 |
| Energy (FT/LB) | 2686 | 1868 | 1274 |
| Drop (Inches) | / | +4.1 | 0 |
For more, check out our main rifle ballistics page:
Conclusion:
The 450 Bushmaster is a versatile cartridge. And, while expensive to shoot frequently, is more than capable at big game hunting, shooting at the range, or as a home defense gun.
We compare big bore cartridges 444 Marlin and 450 BM here.
Check out this page for 23 things you need to know about the AR-15.