XS F8 Night Sights Review
As a longtime concealed carry practitioner and instructor for the past several years, I've seen lots of gadgets on guns. Most, in my estimation and in the eventual admission of the people who spent hard-earned money on them, are a waste of said money at the least.
At worst, these add-ons, replacement parts, and what-nots are a hindrance to safe or effective operation of the gun. But there is one gadget I've experienced to be worth the investment—night sights.
Well-known night sight maker XS Sights recently sent me their newest product for trial—the F8 Night Sight set. These sights are a step ahead of some others on the market, keeping up with consumer demands and product evolution.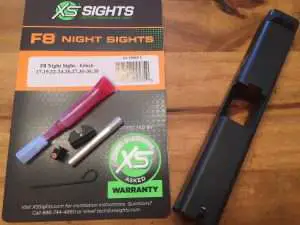 F8 Tritium Night Sights are currently offered for many popular models within brands, including Glock, Sig Sauer, Smith & Wesson, FN, Springfield Armory, and Walther. For this test, I tried them out on a Gen 4 Glock 19, to see how these night sights would stack up.
Installation was straightforward. I installed the front sight myself. A front sight tool is included with the sight kit, but I find a competitor's tool, the Truglo Glock/Walther front sight tool, has a grip surface that's bigger and easier to use.
The entire front sight removal and installation took five minutes, most of which was consumed with obsessing over whether the rather long F8 sight was straight. A bubble level would've been a good thing to have on hand, but it came out fine.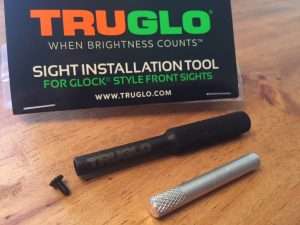 A friend with a sight pusher tool installed the dovetail rear sight. That was a 10-minute process not including getting out and putting away tools.
XS Sights includes a resealable vial of thread locker in the package, making the kit complete. There's enough in the container for multiple sight jobs.
With the sights installed, I was struck by how tall they are in comparison to the stock ones. The F8 Glock 19 Tritium night sights should easily manage the transition to suppressed shooting; they'll easily clear the larger footprint of a suppressor. But my interest is mostly defensive shooting; and that's the dedicated purpose of my Glock 19. Would these sights work for that too?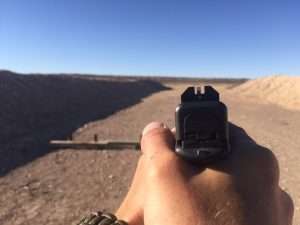 Turns out, they beat stock sights for defensive purposes, despite the bulky appearance. Those who like to practice racking the slide using the rear sight for leverage, i.e. if the shooter only has one working hand, should be pleased.
The extra-wide gap in the rear sight's U-shaped notch facilitates fast target acquisition. XS Sights claims it also allows more ambient light in to illuminate the non-tritium but reflective outline material of the front sight.
Speaking of the front sight, it's quite unique. Around the tritium center is a large, blaze orange ring. It's impossible not to have fast focus on the sight with it in daylight, and impossible to mistake which sight is which. The single dot at the bottom of the rear sight makes figure eight shape when the sights are correctly aligned.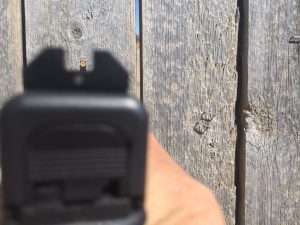 Because the sights are rather tall, I expected a significant change in point of impact when holding center on target. I needn't have worried about that. Just like the sights on most combat-ready pistols, a six-o'clock hold for precision shots becomes necessary only at distances longer than 15-20 yards.
I was also pleasantly surprised that the sights fit just fine into molded holsters, including the G19-specific Spetzgear holster I like for this handgun.
In the dark, the XS F8 Glock 19 Night Sights are suitably bright and easy to distinguish from one another. The front sight appears as a green orb and the rear is a vertical line. They glow green, with the front sight appearing more the size most are accustomed to seeing, not the over sized circle that's visible in the light.
F8 Night Sights by XS Sights are a great choice for anyone considering a sight upgrade on their defensive pistol. With a 10-year, no-questions-asked warranty, the $142 price carries a lot of value.
Read Next: Top 12 best 9mm handguns.