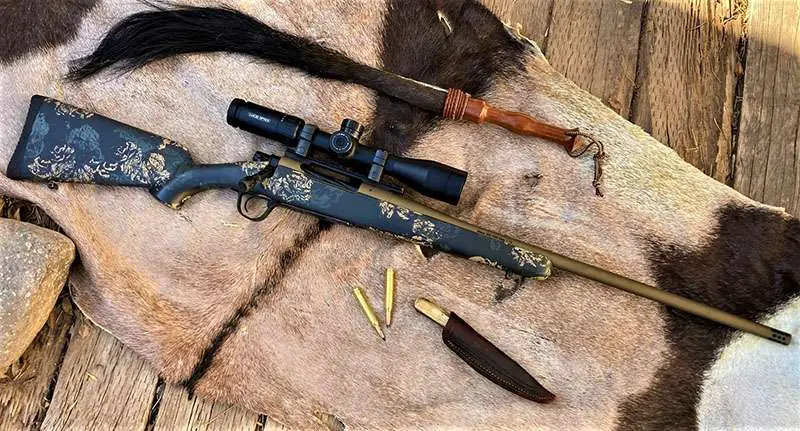 If you like to hunt and tend to be in the field all day on foot, then you most likely seek out and appreciate a rifle that is lightweight and very accurate. Enter Christensen Arms, established in 1995 and based in Gunnison, Utah.
The company stands on their claim of always made in America, from the first prototype to their state-of-the-art current production models.
Christensen is "focused on incorporating top-tier aerospace materials and processes into production – resulting in some of the most lightweight, precise, and accurate firearms in the industry and around the globe," according to a company spokesman.
Recently I was fortunate to get my hands on the Mesa FFT in .300 Winchester Magnum from Christensen Arms for an extended tryout.  
The Mesa FFT was introduced in the first half of 2022. In case you're wondering, "FFT" stands for "Flash Forged Technology." Just what does this technology consist of?  The construction of the stock and other components utilizes the latest advancements in carbon fiber composites.
Mesa FFT rifles are light in weight and heavy on precision, strength, and innovation. Its sporter style stock, floor plate, and bolt knob all share in helping to eliminate up to one pound of weight compared to other carbon fiber composite rifle stocks.
The Mesa FFT features a Christensen Arms 416R stainless steel barrel with a Featherlight Contour, stainless steel "Seamless" radial muzzle brake (removable), 1/2 × 28 threaded muzzle for an optional suppressor, a precision machined receiver, and as mentioned earlier, a carbon fiber FFT Stock.
Accuracy is backed by a sub-MOA guarantee.
The particular Mesa FFT I have in hand is a handsome rifle with Burnt Bronze Cerakote finish on the barrel and action. Its carbon stock is dark green with tan accents, a camo pattern ideal for almost any hunting venue. Sling studs are included and the receiver is tapped and drilled for scope bases.
Other action and camo finishes include: Tungsten Cerakote with gray accents, Optifade Subalpine camo stock with Black Nitride barrel & action, and Optifade Elevated II camo stock with Tungsten barrel and action.
Aside from the Mesa FFT there are several additional Christensen Arms models that are also enhanced with the Flash Forged Technology including the Mesa FFT Titanium, Ridgeline FFT, Ridgeline FFT Titanium and Ridgeline FFT Scout. Besides the test gun in .300 Winchester Magnum, the Mesa FFT is also available in no less than 15 other chamberings, as shown below.
Range Time with the Mesa FFT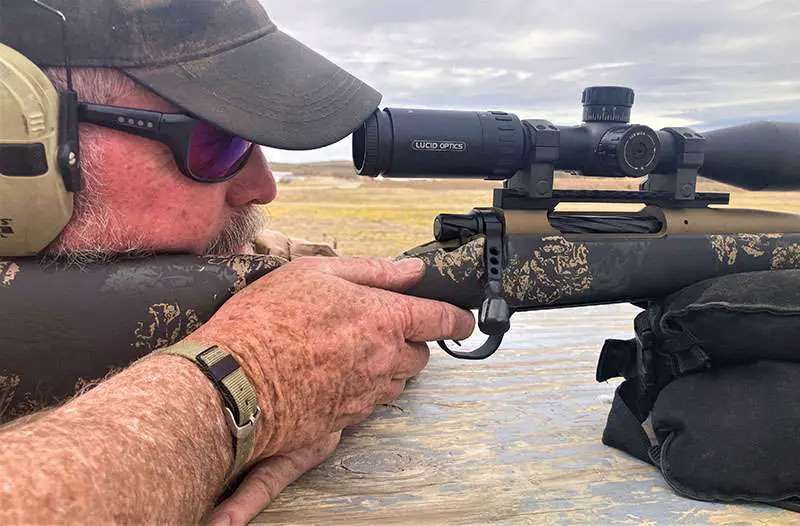 Once the Mesa FFT was in hand, I went through the barrel break-in procedure recommended by Christensen Arms. Proper barrel break-in consists of a series of shooting and cleaning sequences.
Although many different break-in sequences exist, Christensen's procedure has been developed over the last 15 years, is very simple, and has a track record of providing excellent results.
Factory-recommended break-in involves firing numerous three-shot groups with cleaning and scrubbing the bore with a nylon bore brush and solvent patches between every six rounds fired. These steps are well defined on the barrel break-in section of the Christensen website.
Once I completed the barrel break-in, I began testing various manufacturers' ammunition. Here is a good time to interject that the extended tryout of the Mesa FFT mentioned above will include a hunt for plains game in the Kalahari region, Northern Province of South Africa.
While my hunting excursion will probably not include game larger than Wildebeest or Kudu, I elected to test ammo with 180grain bullets only. Enter the online ammo retailer, Lucky Gunner. They were gracious enough to provide three brands of ammo for testing.
Those included Sierra Game Changer 180gr TGK, Winchester 180gr Copper Impact, and Remington 180gr Core Lokt. Additionally, I tested Hornady's 180gr Precision Hunter and Remington's 180gr Core Lokt Tipped.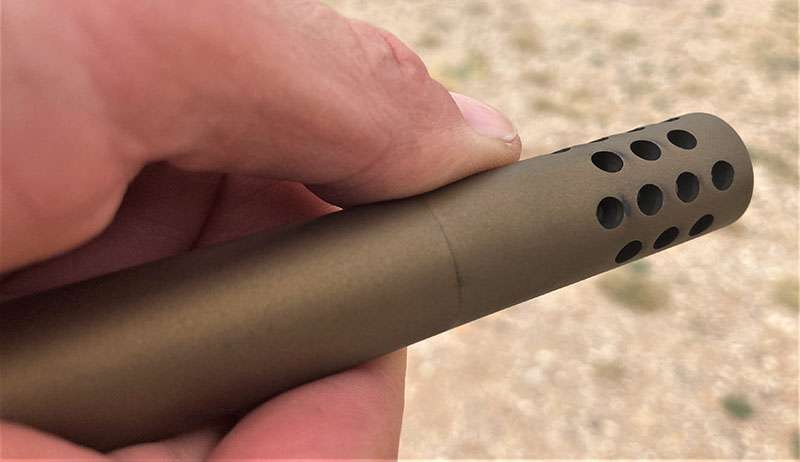 While all the above ammo shot groups no larger than 1.5 to 2 inches at 100 yards, the most accurate load as of this writing proved to be the Sierra Game Changer with its 180 grain TGK (Tipped Game King) bullet. I fired numerous three-shot groups that were no larger than ½ MOA (half-inch at 100 yards).
A close second was the Remington Core Lokt Tipped 180gr that was producing groups of 1 inch. The crisp trigger of about 3 pounds on the Mesa FFT is conducive to making accurate shots.
You may want to question the felt recoil I experienced with the 300 Win Mag cartridge in this rifle being it is so lightweight. However, with Christensen's seamless and removable radial muzzle brake, I can report the recoil is in the same class as .270 Win or 30-06. 
Field testing of the Mesa FFT began by outfitting the rifle with the LUCID L5 4x-16×44 rifle scope. Leupold medium height Mark 4 Rings were used to attach the Lucid L5 to a standard Remington long action steel Picatinny one-piece base.
The Lucid L5 rifle scope with 30mm tube offers precise 1/8 MOA windage and elevation adjustments on lockable, tactical-style turrets. A side parallax adjustment along with the ocular diopter adjustment provides for a crisp target image over the entire magnification range of 4x-16x.
The L5 Reticle also serves as a precise MOA measuring device with 2 MOA increments below the rifle's zero along with viable windage values built in.
Available calibers and configurations for the Mesa FFT are outlined below:
* Available in left hand
† does not qualify for our Accuracy Guarantee, Drop Box Magazine
As of this writing, the Christensen FFT, Sierra Game Changer ammo, and Lucid optic with all components performed well and will be taking the long journey across the Atlantic to the Kalahari region of South Africa this coming May.
There is little doubt the Mesa FFT is built with the hunter in mind. Considering its light wight, quality components and engineering along with exceptional accuracy, this rifle is made to hunt. Want more info on the Mesa FFT or other Christensen Arms offerings? Check them out at christensenarms.com.
Stay tuned for a complete report on the Mesa FFT from the African hunting field!