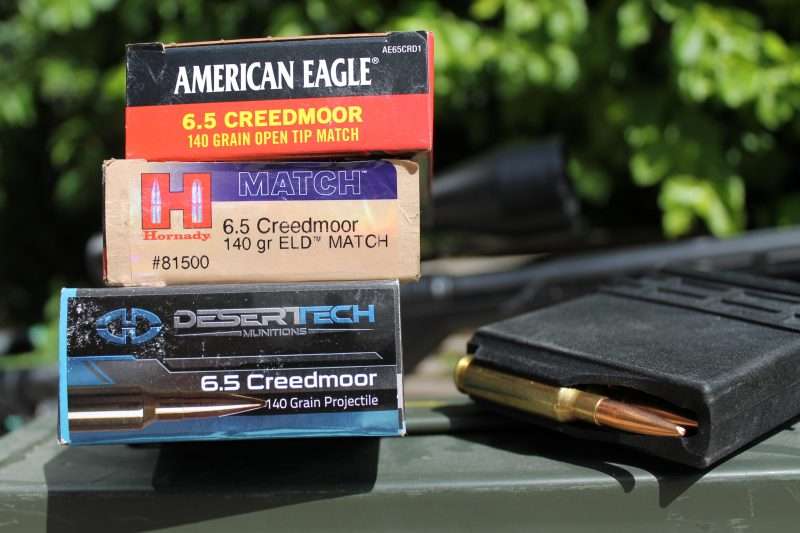 6.5 Creedmoor Ballistics and Other Info
The 6.5 Creedmoor is a recent phenomenon in the gun industry. Originally developed all the way back in 2007 by Hornady and Creedmoor sports, the cartridge offers a .264 inch diameter bullet with great long distance qualities.
The case is a rimless bottleneck, center fire rifle design, and the fast moving projectiles are excellent for long distance shooting. Projectiles tend to range in weight from 110 to 140 grains, though there are some lighter and heavier outliers.
What is the maximum distance for 6.5 Creedmoor?
The 6.5 Creedmoor is a long distance cartridge that is capable of accurate shooting out to and past 1 mile in distance.
In fact, a couple of years ago I had the chance to hit a 1 mile target with one at an event I went to where I earned the following challenge coins: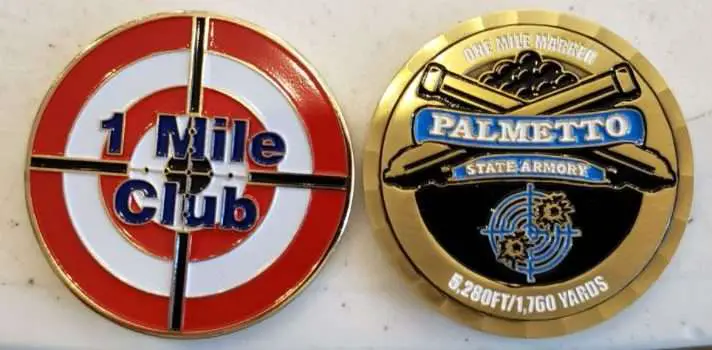 That rifle was a Palmetto State Armory AR-10 chambered in 6.5 Creedmoor. Semi automatic rifles like that AR-10 are often thought to be less accurate than bolt action rifles are for reasons I won't get into here.
When a quality bolt action rifle is used with a high quality scope, accuracy is increased.
What is the maximum effective range of 6.5 Creedmoor?
The 6.5 Creedmoor has a maximum effective range, meaning it is capable at taking medium sized game, at about 700 yards. But this is dependent upon the shooter's ability as well as how the rifle is setup (barrel length, bullet weight, etc.).
Having said that, most shooters need to keep it under 400 yards because bullet placement is everything, and nobody wants an animal to suffer.
What is the 6.5 Creedmoor good for –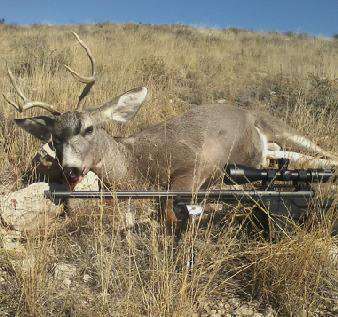 The 6.5 Creedmoor has achieved a cult-like following as precision rifle shooters and hunters alike have noticed its capabilities. And it does perform very well. The 6.5 CM is known for its flatter trajectory than most, as well as its wind-bucking ability.
This is a flat, straight shooting cartridge. But don't get it crossed, this is NOT the end all cartridge. You can take deer, antelope, and hogs with this cartridge, but it'll start to struggle with elk and you can forget about moose unless you've got everything on your side.
As with all things, common sense is the biggest winner and those bigger animals usually need a heavier bullet.
6.5 MM Creedmoor Ballistics:
A 120 Grain Hornady GMX reaches a velocity of 2,925 FPS at the muzzle, with 2,280 pounds of energy. At 100 yards, velocity slows to 2,718 and energy drops to 1,968. At 300 yards, this projectile drops 7.1 inches.
6.5 Creedmoor Ballistics Charts:
For comparison purposes, I have listed out a couple of different loads for the 6.5 Creedmoor ballistic charts. My goal is only to help paint a clear picture on the capabilities of this round.
Below is a 6.5 Creedmoor ballistic chart for Hornady 120 grain GMX out of a 24″ barrel. Ballistic coefficient is .450.
| | | | | | |
| --- | --- | --- | --- | --- | --- |
| | Muzzle | 100 YDS | 200 YDS | 300 YDS | 400 YDS |
| Velocity (FPS) | 2,925 | 2,718 | 2,520 | 2,331 | 2,150 |
| Energy (FT/LB) | 2,280 | 1,968 | 1,693 | 1,448 | 1,232 |
| Drop (Inches) | -1.5 | 1.6 | 0 | -7.1 | -20.6 |
This next 6.5 Creedmoor ballistics chart is for Federal Premium Gold Medal Berger 130 grain (pictured below). Ballistic coefficient is .560.
| | | | | | |
| --- | --- | --- | --- | --- | --- |
| | Muzzle | 100 YDS | 200 YDS | 300 YDS | 400 YDS |
| Velocity (FPS) | 2,875 | 2,709 | 2,550 | 2,396 | 2,247 |
| Energy (FT/LB) | 2,386 | 2,119 | 1,877 | 1,657 | 1,457 |
| Drop (Inches) | 0.6 | 1.6 | 0 | -6.9 | -20 |
How expensive is 6.5mm Creedmoor?
We are in the middle of an ammunition shortage right now and ammo of all calibers are both hard to find and more expensive than usual. That said, as of right now a box of 20 rounds of 6.5mm will run you between 2 and 6 dollars per round.
Availability of 6.5 Creedmoor –
The availability of the 6.5mm Creedmoor has improved drastically over the past several years. What was once difficult to find anywhere, can now be found in most of the bigger stores, as well as in online ammo shops.
The first rifle I did a review on in 6.5, a Ruger Hawkeye M77, was in 2015 for the first gun publication I ever worked for. I couldn't find this ammo anywhere and it could only be special ordered.
This is no longer the case, however. When there is no ammo shortage, it is plentiful.
6.5 Creedmoor recoil –
It's hard to assign an arbitrary number to felt recoil, especially since your rifle is likely a lot different than mine is. That said, 6.5mm Creedmoor is a lighter recoiling rifle cartridge, that hits the shoulder less than 308 Winchester does, but more than 5.56 NATO does.
And in fact, that lighter recoil is one of the reasons why it's now one of the most popular rifle cartridges out there. Because it can go the distance and hits your shoulder about 40% lighter than 308 will, it's a no brainer.
Conclusion:
The 6.5mm Creedmoor is one of those cartridges that garnishes a lot of hate. And while it's not as good as the fan boys claim it is, it certainly has its place in both the long distance shooting world, and for hunting purposes.
What do you think about 6.5 CM? Let us know in the comments below.