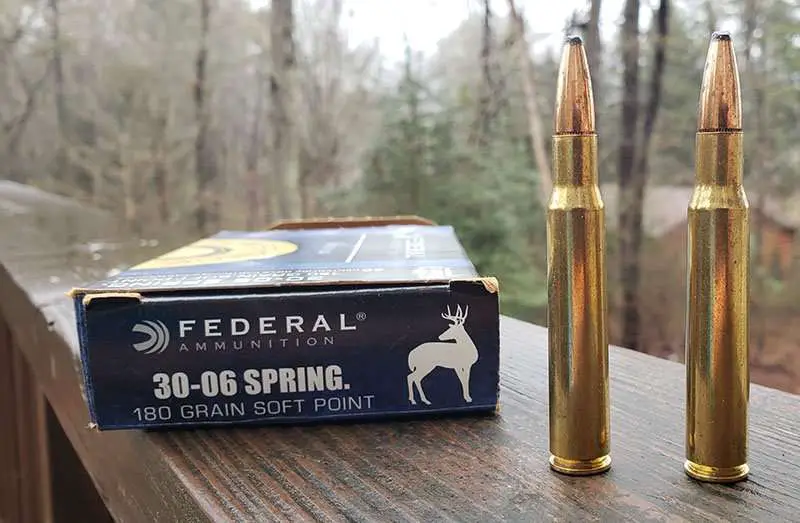 .30-06 Springfield
A complete history with facts, uses, pros, cons, and ballistic information.
---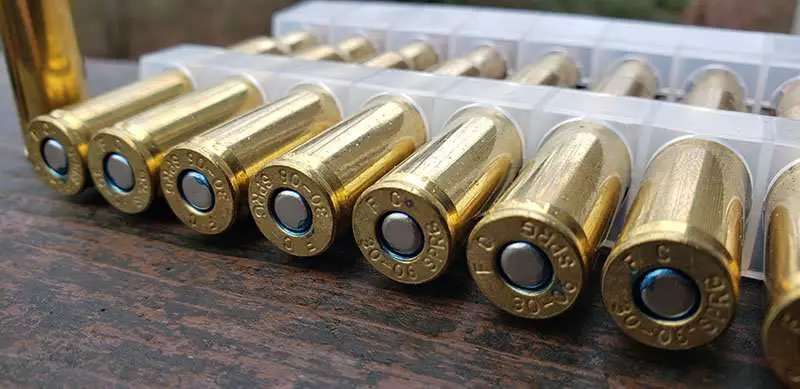 .30-06 Springfield, What's in a name?

The .30-06 is a centerfire rifle cartridge. It can be pronounced more than one way. The preferred method of pronunciation is to say thirty ought six. However, some folks will call it thirty oh six. Either is correct.
---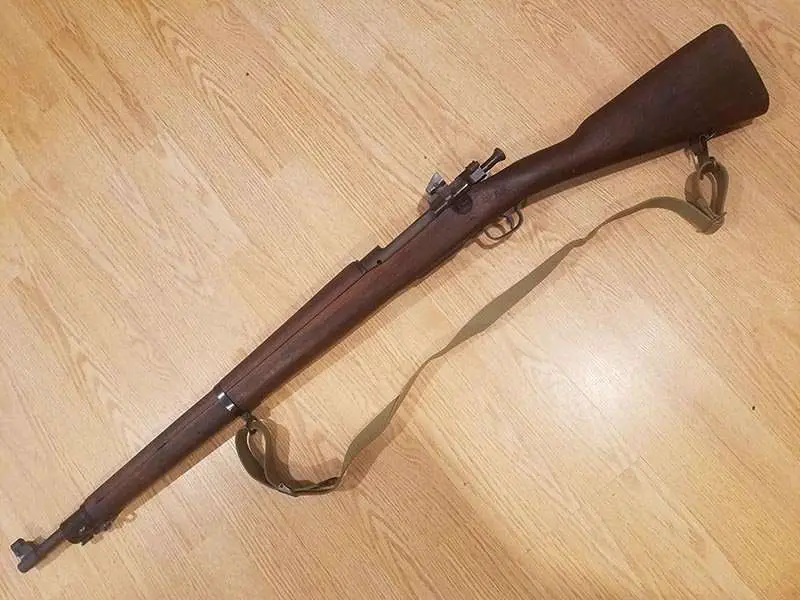 Here is my WWII-era 1903a3 Springfield which is a bolt action rifle chambered in 30-06 Springfield.
.30-06 History
The 30-06 was developed by the United States military and commissioned for use in 1906. It was originally used in bolt action 1903 Springfield rifles (pictured), and the M1 Garand. It would also be used as an effective medium machine gun round.
.30-06 Projectile
The projectiles range in weight from 55 grains (uncommon) up to 220 grains, and take a .308″ bullet. The projectile is a flat-shooting, fast-moving bullet that offers excellent downrange energy to the target.
30-06 Reloading
The 30-06 really shines bright when reloaders start to test out different loads.
30-06 Cartridge measurements:
Bullet Diameter: .308 Inch.
Maximum Case Length: 2.494 Inches.
Trimmed Case Length: 2.484 Inches.
Primer Size: Large Rifle.
Maximum Cartridge Overall Length: 3.340 Inches.
---
.30-06 Springfield Ballistics Chart:
Please note that this chart features a different load than we have on our rifle ballistics chart. These numbers are performed from a 24″ barrel utilizing the Hornady 165 grain SST, which is one of my favorites.
| | | | | |
| --- | --- | --- | --- | --- |
| | Muzzle | 100 Yds | 200 Yds | 300 Yds |
| Velocity (FPS) | 2960 | 2750 | 2550 | 2358 |
| Energy (FT/LB) | 3210 | 2770 | 2382 | 2037 |
| Drop (Inch) | -1.5 | 0 | –3.1 | -11.6 |
I put more .30-06 ballistics charts below with more information, but are sadly harder to read, which is why this one only goes to 300 yards.
---
.30-06 Recoil
The .30-06 is a heavier recoiling cartridge.
Instead of inventing our own arbitrary number to tell you how much recoil you're going to feel when shooting the 30-06, what we like to do is compare the cartridge in question to other common cartridges and the guns shooting them. Depending upon the application and rifle being used, the .30-06 recoils somewhat heavier than your typical 308-chambered rifle will. It is at the peak of what most will be able to tolerate.
.30-06 Cost
The 30-06 is more expensive than similar cartridges.
Right now as of this writing, we're in a massive ammunition shortage that is only going to get worse as we get closer to the election. So calculating how much 30-06 Springfield costs to shoot is a bit more challenging than it would have been this time last year. As of the time of this writing, you can expect to pay between $2.00 per round and $4.00 per round for factory ammunition. Again, this is much higher than it usually is.
---
.30-06 Hunting Applications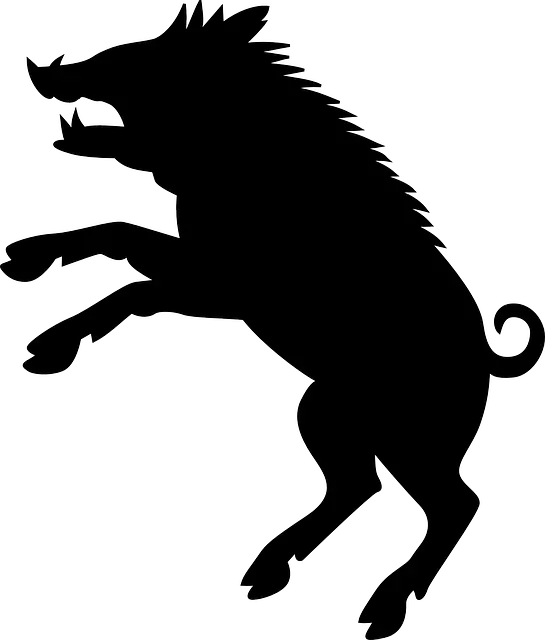 The .30-06 Springfield is an excellent hog round, providing quick, clean kills.

The 30-06 is more than capable of taking deer including elk and moose.

Plenty of folks shoot coyotes and similar-sized varmints and predators with the lighter bullets.

The .30-06 is capable of taking things that can eat you ranging from big bears, and possibly up to T-Rex.
---
30-06 Springfield FAQ:
Here are short and to-the-point facts for your consideration.
Below this section, you can read the entire article.
What is the effective range of the 30-06 Springfield?
The effective range of the 30-06 Springfield will vary depending on your given load and what you're attempting to do with it. For most hunters, the effective range is 400 yards and under, depending on what you're hunting, even though the cartridge itself is more than capable of taking deer at much farther distances possibly out to 1,000 yards. Most shooters don't posess the needed skill to land a quick kill at these ranges.
What is the 30-06 Springfield good for?
The primary purpose for the 30-06 Springfield today is as a big game hunting cartridge. That said, plenty of precision rifle shooters also utilize this cartridge for their sport, and it could be spun back up for war purposes again if ever needed with the guns out there.
What are some military rifles that use 30-06?
The 30-06 Springfield has a rich history and got its start as a military round. It was used in military rifles like the bolt action 1903 Springfield, the semi-automatic M1 Garand, and numerous different automatic machine guns like the Model 1919.
What cartridges did 30-06 parent?
The 30-06 Springfield is one of the most popular hunting cartridges in the world, capable of taking most game animals. The popularity alone helps it lend itself out to be modified into other cartridges. Some of the more popular ones are 280 Remington, 270 Winchester, and 25-06 Remington.
What other caliber is the 30-06 equivalent to?
The 30-06 Springfield tends to be in a class all on its own, but does share some similarites with other centerfire rifle cartridges like the 308 Winchester, in that the projectiles are similar. The case length of the 30-06 is longer, however.
What modern civilian rifles can I find the 30-06 in?
There are many different options for anyone in the market for a new 30-06 chambered rifle. Some of those options are the Savage 11/111 Trophy, Winchester Model 70, and the Remington 783. Any of them is likely a great option to mount a quality scope and put some longer-distance rounds on target.
---
30-06 Springfield Pros, Cons, and Facts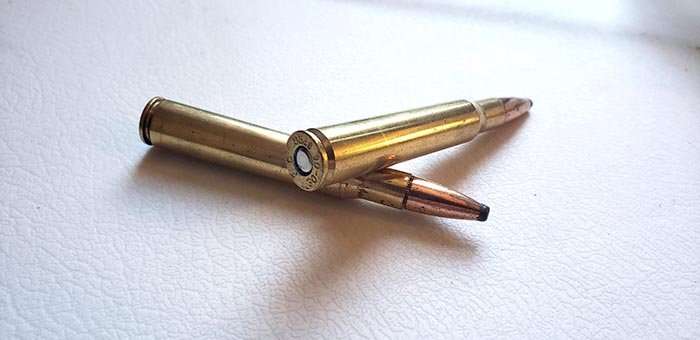 30-06 Springfield History:
The very popular 30-06 Springfield rifle cartridge was created by the U.S. military and commissioned into use in 1906. The 30-06 Springfield's official military name is "Caliber.30, Model 1906, Mark 1."
The 30-06 was used in the bolt-action M1903 Springfield rifle, the bolt-action M1917 Enfield rifle, the semi-automatic M1 Garand rifle and machine guns. Instantly the 30-06 cartridge was adopted into civilian use for sporting purposes and rapidly expanded into the world wide shooting community in which it was accepted with open arms.
The 30-06 is one of the most widely accepted cartridges in the world. The reason for such popularity is the availability of bullets which range in weight from 100 grains to 220 grains. The 30-06 cartridge case lends itself well to be altered into other calibers and cartridges, most of the cartridges that were developed are some of the best we have today.
The most popular are:
The 30-06 with the power it offers down range will recoil somewhat to the shooter's shoulder with heavier bullets in the 180 grain range (like the 180 Federal Power SHOK pictured above), the recoil is at the peak of what most shooters will tolerate, but adding a slip on recoil pad like this one will help mitigate much of the recoil.
Also, with achievements of the ammunition manufacturers in the past ten years, recoil has been reduced dramatically and this has moved the 30-06 cartridge into a stand alone position of the most versatile rifle cartridge in all of North American hunting.
With lighter weight bullets suited for varmints and heavy bullets suited for large bears, elk, and moose, the 30-06 Springfield is capable of handling all of the game animals in North America.
While those who handload their own ammunition for the 30-06 have been nearly duplicating 300 H&H Magnum ballistics for years with their 30-06 handloads. The ammunition manufacturers have picked up the pace with high-performance loads for the 30-06 as well. Remington's 55-grain Accelerator load with its 55-grain saboted bullet at 4080 fps for the 30-06 is quite an achievement.
Hornady's Superformance loadings offer standard loadings with an average of 200 feet per second velocity gains over standard 30-06 loads of equal bullet weights with the use of specialized gun powders. This ammunition all translates into very good hunting ballistics for 30-06 users.
We recommend safe practice with your 30-06 chambered rifle by using dummy rounds like these machined ones that can be found on Amazon and shipped to your door. They're well worth the cost.
Other factory 30-06 Ballistics data:
30-06 SPRINGFIELD
CARTRIDGE
MANUFACTURER
BULLET
WEIGHT
GRAINS
BULLET
BALLISTIC
COEFFICIENT
MUZZLE
VELOCITY
FPS.
MUZZLE
ENERGY
FT. LBS.
RECOIL
ENERGY
FT. LBS.
REMINGTON
55
.197
4,080
2,033
8.76
REMINGTON
125
.268
3,140
2,736
16.38
WINCHESTER
147
.421
3,020
2,977
19.15
HORNADY
150
.415
3,080
3,159
20.13
BLACK HILLS
155
.435
2,900
2,894
19.45
HORNADY
165
.447
2,960
3,210
21.60
WINCHESTER
168
.475
2,790
2,904
20.64
FEDERAL
170
.284
2,000
1,510
13.88
WINCHESTER
180
.527
2,750
3,022
22.12
FEDERAL
200
.395
2,540
2,865
23.17
REMINGTON
220
.294
2,410
2,837
24.80
This test utilized a 24″ barrel with Hornady 150 grain SST bullets. The ballistic coefficient was .415.
| | | | | | | | |
| --- | --- | --- | --- | --- | --- | --- | --- |
| RANGE | Muzzle | 50 yds. | 100 yds. | 200 yds. | 300 yds. | 400 yds. | 500 yds. |
| BULLET VELOCITY: | 3,080 fps. | 2,962 fps. | 2,848 fps. | 2,628 fps. | 2,418 fps. | 2,218 fps. | 2,028 fps. |
| BULLET ENERGY: | 3,159 ft.lbs. | 2,922 ft.lbs. | 2,701 ft.lbs. | 2,300 ft.lbs. | 1,948 ft.lbs. | 1,639 ft.lbs. | 1,370 ft.lbs. |
| BULLET DROP: | – 1.8″ | + 0.5″ | + 1.8″ | + 1.1″ | – 4.7″ | – 16.4″ | – 35.2″ |
Conclusion:
Truth be told, the 30-06 is one of the most capable cartridges currently offered with enough downrange energy to take big game at longer distances.