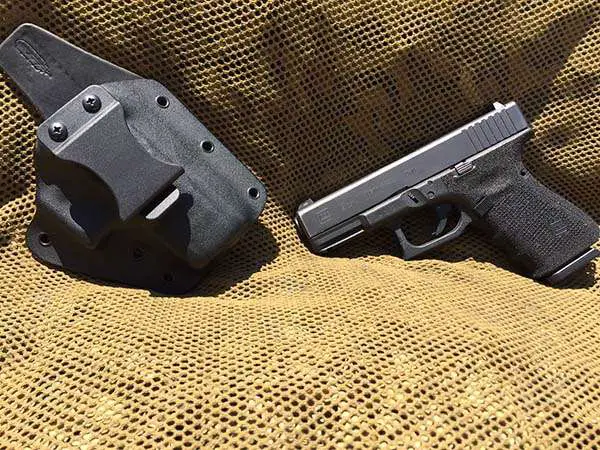 There are a lot of practices that are industry-wide that many would have you believe are correct. Not only are they not correct, they're sometimes dangerous.
These are things that, as far as I can tell, need to go away completely, or at least be fixed. Some of these are based in merit and have some validity, but are overemphasized in that it's all people focus on during diagnostics.
For the ones with merit, I'll discuss why as well as what needs to change.
Holster clips
I've already made a pretty big deal about this one on another page, which you can read there. Suffice it to say that our industry's holster manufacturers have made a terrible habit of utilizing horrible hardware that doesn't work right.
The main issue for me tends to be with clips that don't retain the holster to your waist during the draw stroke. In other words, if you go to draw your gun in self-defense and your holster remains attached to your gun you can have an epic failure during a self-defense incident.
The main culprit is with single, wide clips that don't produce enough clamping pressure on the belt to keep it attached to you during the draw. Not all of them are bad, and the above-pictured holster was taken by Terry a few years ago and I doubt he'd use a holster with a clip that didn't work right.
There can be other factors adding to the main problem, like a belt that is too thick that pushes the clip out from fully catching it, as well as the simple fact that people don't practice enough to see if they're going to have this problem.
In my opinion, the only way to fully eliminate this issue is to use a better clip system. The clip is the weakest part of the entire holster, and you should want to have the best clip you can get your hands on to resist failure as much as possible.
Carrying SOB or 6 O'clock
Ultimately, the way you carry your firearm for self-defense is up to you. I would caution you against carrying in the small of your back, though, for a couple of different reasons.
The main problem is that carrying like this can be dangerous for more than one reason, depending on how you do it.
If you happen to fall down and your gun hits your spine in just the right way, it's good night to the use of your limbs.
Carrying your pistol anywhere else on your body eliminates that completely.
The second falsehood is that those who do carry this way, often use the wrong side holster. This method of carrying was made popular by Hollywood, and people tend to mimic what they see.
When I say the wrong side holster, I mean that when they go to draw their gun, they have to slide their fingers down inside their waistline to grip the gun as opposed to your palm facing inward, like you would with every other carry position.
Palm out is the wrong way to do it.
You need to grip your gun with the palm facing inward toward your body, not outward away from it. It may feel unnatural, but it is the correct way to do it because you're not muzzling yourself during the entire draw.
It's dangerous because you can't help but muzzle yourself until you get around your body. When you draw with your palm facing inward, it mostly eliminates that issue.
Other issues with this position of carry are as follows:
You're technically weaker because your arm is bent in a position that cannot react quickly to threat
Small of back draws are some of the slowest because it's the furthest away from your target, which is in front of you
There are a lot of garment clearing failures during draw because your shirt is behind your arms and needs them to bend in awkward manners
The best thing is to learn how to carry in a different position.
Over emphasizing trigger finger placement
This one has some merit, in that having your finger perfectly placed on the trigger of the right gun will help you more than having it out of place. I also know that this one is going to upset some folks because there is a cult-like group of folks who try to diagnose others based on where their finger is.
The problem, is that this is the wrong way of diagnosing shooting deficiencies because where you put your finger matters a lot less than other fundamentals.
There is so much more that goes into it than where you put your finger, like:
The way you grip your gun
The way you pull your trigger
The way you isolate your trigger finger
Most important is the way you grip your gun. And, if you grip your gun in such a way that your finger rests on the trigger at the first knuckle, then so be it. Why? Because you can learn how to pull your trigger properly with your knuckle, but you mess up your grip if you adjust where you finger sits.
Grip always trumps trigger finger position. Always.
Case in point, I used to have a SIG Sauer P938 that I recently sold. My fingers are bigger than the average person's, so in order to shoot such a small gun properly, my first knuckle had to rest on the trigger face.
Could I have moved the finger so that it fit right in the center of the finger pad? Yeah, sure. But then I would have had to adjust my grip because that is a tiny, little pistol. The way you grip your gun is far more important than where you put your finger on the trigger.
Also more important than where you put your finger on the trigger is how you pull the trigger. You can properly pull the trigger with your finger anywhere on the face of the trigger with some practice.
So, I went with the better fundamentals and my accuracy never dropped because I know how to shoot.
The key, then, is to learn how to shoot guns of all sizes and types, as opposed to trying to fit into some generic shooting tip that may not apply to you.
Target practice will make me better
This one also has some merit. Target practice certainly helps your accuracy. The problem is that it only helps your accuracy, and not your preparedness to effectively stop an attack.
If your idea of training is simply going to the gun range to poke some holds in paper that's not enough. You need to do more.
We cover this topic much more in depth in the following articles.
Improve Your Readiness With These Five Defensive Shooting Positions
How To Practice Pistol Skills At Home
Why Training To Shoot And Move Could Save Your Life
Pistol Training for Self-Defense-Phase 1
Pistol Training for Self-Defense-Phase 2
Pistol Training for Self Defense-Phase 3
Higher quality or quantity of gear will make me better
Another one with some merit, but only for certain folks in the higher echelons of shooting sports, is that having more or better gear will help you shoot better.
You can buy the best gun, put the best optic, have the best holster, the best ammo, etc., only to die during a critical incident because you never took your training seriously.
The truth of the matter, is that you could hand the worst of everything to the best shooters and they'd still shoot circles around a middle of the road shooter with the best gear. It wouldn't even be close.
The reason why, is because the best shooters get to where they are with practice. I'm talking about target practice along side real training and force scenarios.
Those guys and gals are better than you and I are because they take it more seriously than we do. And, they know the ins and outs of guns, how they work, how to shoot them, what the deficiencies of each one is, etc.
I took a class a couple years ago with a world class shooter who took turns firing all of the weapons each student had. This showed us a couple of things. First, that we each had some serious work to do because he was able to pick the gun up and hit center mass each time even if he'd never shot that particular gun before.
Second, that there is a difference between the pros and the rest of us.
So again, the type of gear you have will only help you to a certain extent. If the above-mentioned pro was shooting in a major competition, chances are great that he'd use the best gear. At that level it matters. At our level, get the gear you can afford, buy ammo, and train.
Training will always trump gear.
Conclusion:
There are several more industry wide-falsehoods that we didn't get to today. We'll cover them at some point, but for today, I hope you take what I said above and put it to some use.