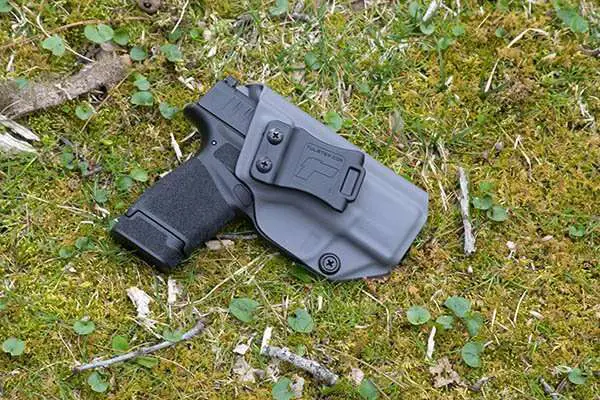 I'm a firm believer that the kind of holster you use matters. I'm not a holster snob, don't get me wrong. I don't believe that you need to have a custom fit holster if you are happy with your current setup.
But I do think that certain pieces of gear are garbage. I also think that most holster companies use a clip that is subpar, and this is important for you to understand because it is technically dangerous.
Why the clip matters
The holster clip matters because that's the thing that attaches your gun to your body. Imagine having a subpar holster clip that doesn't actually work the way it's supposed to.
Think about having to defend yourself, only to draw your gun from your waistline and the entire rig comes out, gun still in holster, because your clip was insufficient at providing enough clamping force to keep it in place.
That is the main problem with the single, wide clips that holster manufacturers put on their holsters.
Not all of them have this problem. I have a one from a company called Concealment Express that this doesn't happen to. And to be honest, it's not just the clip itself. There is more that goes into it, like the shape of the holster, the positioning of the clip, your belt's thickness, etc.
The bad clip design just exasperates the problem so that the gun and holster can come out together. A better clip will prevent that altogether.
People are lazy
In the not too distant past I was reading reviews on the popular Tulster Oath and on one of the reviews it said that person hated the clips because they were too hard to put on. Here's the brutally honest truth: That person is just lazy.
Because here's the thing, clips that are hard to put on are also hard to get back off again.
Trust me when I say that you don't want your holster to stay on your gun. When your life is on the line seconds count. Needing to remove your gun from your holster when you should be pulling the trigger is a no go.
By the way, the clips on the Tulster Oath are some of the best metal clips I've tested out and they offer excellent clamping pressure.
Are they a pain to put on? Yes.
Are they a pain to take off? Yes.
Am I worried that the holster will come out on the gun during the draw? Not a single bit.
Most people don't know because they don't practice
The people who aren't lazy are ignorant. And if that offends you, good. Use it to get better at your self-defense.
A lot of people don't know that the wide holster clips are junk. They don't know because they have never unloaded their pistol, holstered it, and then went through a drawstroke in dry fire practice to see what happens.
Most defenders have never tried this which is a mistake. Those who have tried it don't do it enough. Being able to draw your gun from your holster is a perishable skill. If you don't practice on at least a weekly basis, preferably more, you might not be ready to defend yourself when the time comes.
But back to the purposes of this article, if you are surprised that your holster clip is a turd, it's easy to fix.
Swapping it out is easy
On the plus side, if your holster comes so equipped and you just holstered your dry gun to check and see if it has this problem, and it does, changing the clip to something else is easy.
This means that you don't have to go out and buy a new holster. All you really need is a new clip system. Most decent clips will cost between 5 and 15 bucks making it a good, easy upgrade.
Something I highly recommend is the UltiClip because it is easy to get on and off for you lazy folks, and provides excellent clamping force so it stays where you put it.
Another option would be soft loops. Some of my best buds carry with these and swear by them.
Conclusion:
I'm a firm believer that all gun holsters that come with one of these clips should have it replaced at some point. It's not really worth chancing it.