Who Makes The Best Sig P938 Holster?
I've owned a Sig Sauer P938 for a few years now, and can say that it's the ideal concealed carry gun. It's small, easy to conceal, quite effective at the range and at halting bad guys in their tracks with 9mm Parabellum self-defense cartridges loaded in the magazine.
But, I can talk all day about this little micro pistol and how I love its 1911-esque ergonomics in a small package, but this isn't a gun review. The holsters I present here are not ordered from best 938 holster down in descending order.
Instead, I've listed a few holsters in a few different categories because I understand that everyone wears their guns in different positions. Here are the most popular methods of carrying, with what I'd consider to be the best Sig 938 holster for each category.
Best Sig P938 Pocket Holster —
Sticky Holsters:
The P938 is the perfect size to pocket carry, and I can say that I've pocket carried it on many occasions, and still do regularly. In fact, as I sit here and type this, I'm pocket carrying my Sig Sauer P938 in my Sticky MD-1 holster.
I've owned this holster as long as I've owned the gun and it's held up through thick and thin, and what's really great about it, is that if I need an even smaller setup, I pocket carry a small 2 inch snub nose revolver.
This pocket holster is one I'll never get rid of, and if it gets damaged I'll likely get another. I pocket carry this gun all the time and my life would have a void without it.
Best Sig P938 IWB Holster —
JM4 Tactical RELIC:
This one is relatively new to the market, but I can say that I love it so far and it's my current go-to for this gun when it's not in my pocket but prefer to carry IWB. It's far from cheap, but the quality is unlike anything else I've seen out on the market.
They took high quality leather and sewed it to the inside of molded Boltaron polymer. It's sexy and performs better than anything else on the market. Get used to me talking about this one, because I've got a review coming your way in a little bit.
This definitely wins my vote for top P938 IWB holster, and can be worn appendix if that works for your body type, or anywhere inside the waistband.
Best SIG P938 Holster for Working Out
Brave Response
This is the holster I've had the longest on this list. I've had it since Brave Response developed it and have carried just about every pistol I own in it at one point or another.
This thing is built for comfort and is perfect for running, going to the gym, going to work, or anything else. It is highly recommended, if not a bit strange. If I had to use one phrase to describe it, it would be "belly band." But, that's not even entirely correct because it's not like the other belly bands. It has to be worn to understand.
The reason why it's great for working out is because it is not dependent upon other clothing or a belt in order to work. Well, I strongly urge you to put clothing on, but other than that it is a self-sufficient system that utilizes Velcro to attach to your body.
Best SIG Sauer P938 Appendix Holster
Crossbreed Mini Appendix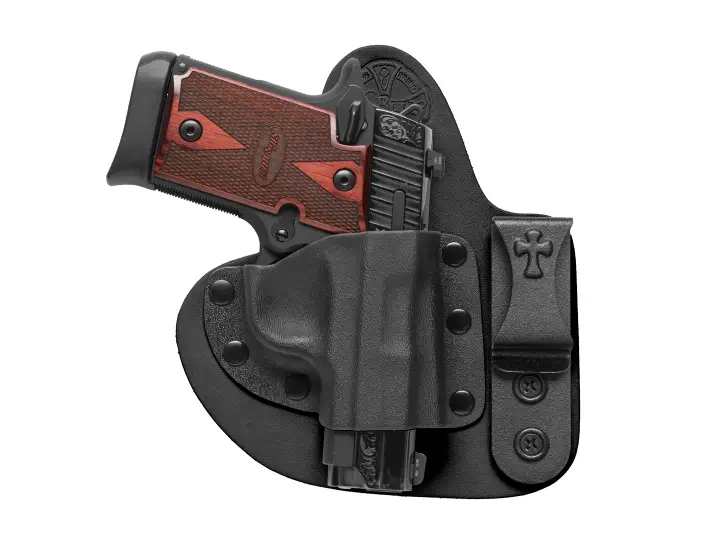 I admittedly don't have as much experience with this one because I have a hard time carrying in the appendix position based on my body structure. Still, I'd be remiss not to put something here for appendix carriers (think in front of your stomach) since the Sig Sauer P938 is such a great gun.
I have heard great things about this holster, so I'll call it the best SIG P938 appendix holster.
Best Sig P938 Holster for OWB —
Mission First Tatical
Some of you may be scratching your head on this one. I mean, why would I want to carry such a small gun OWB? I'm actually a big fan of carrying a small gun OWB and bigger guns IWB. I know it seems backwards, but bigger guns are easier to conceal inside the waist, and reverse for smaller guns.
Personally, I think MFT's OWB holster is the best Sig p938 holster that I've found for carrying in this manner.
The material it's made of is called Boltaron. It's much stronger than Kydex plastic is and just holds up better. I've owned one of these since the first batch MFT made. It's a solid option.
Who do you think makes the best Sig P938 holster? Let us know in the comments below.