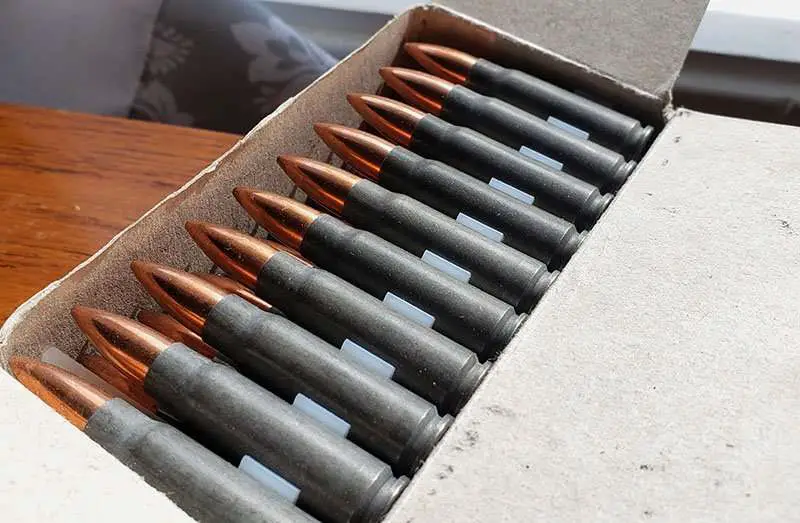 Here we are again, with another one of our cartridge comparison articles. Our goal isn't necessarily to say one is better than the other, but to help you figure out which is better for you based on certain facts that I've experienced firsthand.
7.62X39 VS 300 BLK Which one is better?
In terms of downrange energy and power, the 7.62X39 is the better performing cartridge. A 123 grain 7.62 Russian produces over 1,500 pounds of energy at the muzzle, while a 150 grain supersonic 300 BLK produces just over 1,200.
The 7.62 is also cheaper, more abundant, and chambered in the most popular rifle around the world the AK-47.
7.62X39 VS 300 Black Stopping power
This is usually the point in the article where I decry "stopping power" as some sort of mythical creature that doesn't really exist, even though it can be achieved.
But this isn't necessarily the case when we're discussing 30 caliber projectiles rushing down the barrel of a rifle, or even a pistol.
7.62 Stopping Power
The standard 7.62X39 weighs 122 or 123 grains, depending on the manufacturer. In terms of energy, the needed ballistic to stop a threat, the 7.62 generally has more of it. At the muzzle the 7.62 produces over 1,500 pounds of energy.
300 Stopping Power
The standard 300 Blackout tends to weigh in the neighborhood of 125 grains (supersonic). It is no slouch, producing over 1,300 pounds of energy at the muzzle with full power supersonic loads. It drops significantly with subsonic loads.
7.62X39 VS 300 Blackout Ballistics
We have dedicated articles for each of these calibers, and because of space have had to limit the size of each ballistics chart on this page. I'd like to encourage you to see the full ballistics chart for each on their pages.
I've tried to keep the grain weights similar between these two cartridges to show as fair of a comparison as possible.
7.62X39 Ballistics
This 7.62X39 ballistics chart shows 123 grain Hornady Black Ammo:
| | | |
| --- | --- | --- |
| | Muzzle | 100 YDS |
| Velocity (FPS) | 2350 | 2040 |
| Energy (FT/LB) | 1508 | 1136 |
| Drop (Inch) | / | +3.5 |
300 BLK Ballistics
This 300 BLK ballistics chart shows 125 grain Hornady Frontier FMJ:
| | | |
| --- | --- | --- |
| | Muzzle | 100 YDS |
| Velocity (FPS) | 2175 | 1867 |
| Energy (FT/LB) | 1313 | 968 |
| Drop (Inch) | / | +4.3 |
300 BLK VS 7.62X39 Trajectory
At 300 yards the above mentioned 300 Blackout drops 18.1 inches. At 300 yards the above mentioned 7.62X39 drops 14.8 inches and is slightly flatter shooting.
Neither of these cartridges should be considered as long range rounds, because they're just not. After the 300 yard mark each one drops like a brick.
7.62X39 VS 300 BLK Recoil and other info
In terms of recoil, I don't personally notice that much of a perceived difference between the two. I will also say that it heavily depends upon your chosen rifle or pistol, and how it is setup.
300 Blackout vs 7.62X39 Cost
300 BLK tends to be a much more expensive caliber to shoot. However, this is when compared to the common steel cased 7.62X39 ammo that most people think about.
When and if you ever try to shoot brass cased 7.62 Russian, the price gap gets closer. Still, most people don't buy brass cased 7.62, they buy steel. And, steel is leagues cheaper.
300 Blk VS 7.62X39 Accuracy
There is a lot that goes into the accuracy of any given projectile. This will depend heavily upon each specific round you're shooting, the way your rifle is setup, wind, elevation, and more.
7.62X39 VS 300 BLK Availability and Aftermarket
There is almost zero comparison here. As far as availability and aftermarket is concerned, the 7.62X39 is the most popular rifle cartridge around the world, and I believe it is the second most popular cartridge in the United States.
The 300 Blackout is a much newer cartridge only being approved by SAAMI in 2011 and has a long way to go before it reaches the popularity of the Russian round.
While the 7.62 is primarily used in popular rifles like the SKS and AK-47, it's also a popular round for AR-15 platforms.
The 300 Blackout is usually just chambered in AR-15 rifles, and while it is a top seller for the platform, it is not as popular as the 5.56 NATO is.
Suppressor Usage
Perhaps the most popular reason for the existence of the 300 BLK is the fact that it is so heavily used with suppressors. There are lines of suppressors manufactured with just this round in mind, as well as rifles and pistols.
And of course, there are also ammo companies who manufacture subsonic ammo for the 300 BLK. We have a subsonic 300 Blackout ballistics chart on that page.
300 BLK VS 7.62X39, Which one wins?
Both can be used for hunting and self-defense, but I personally have chosen the 7.62X39 over the 300 BLK. It just makes more sense for me because I don't plan to ever jump through the needed hoops necessary to buy a suppressor.
That, and the simple fact that the 7.62 is more popular, cheaper, and more powerful make it a no brainer for me.
For you? Only you can decide that. Hopefully I've given you enough information to make a solid decision on which caliber to go with.
Next, read my comparison between 7.62X39 VS 5.56 NATO.