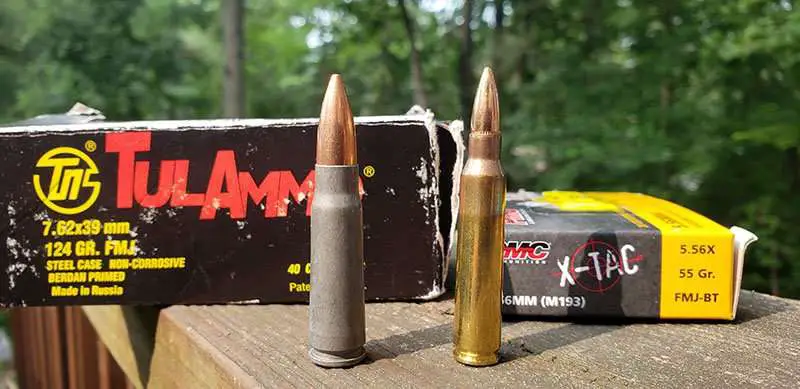 Welcome to caliber wars. It's not necessarily my goal to pick an all out winner. Instead, my goal with this cartridge comparison is to help educate you so you're better prepared to pick out what is best for you.
All of what I say in this article is based on actual experience as I own guns in both calibers. At the end I'll tell you what I prefer for defensive situations, but know that you can't go wrong with either of these calibers.
5.56 VS 7.62, Which one is better?
In terms of ballistics alone, the 7.62X39 is more impressive on paper. It produces more energy on target, and energy is one of the things needed to stop an attacker.
That's not to discount the 5.56 NATO, however, because it excels in different regards.
5.56 VS 7.62X39 Stopping power
I usually write this subsection a little different than I'm about to. This is the point in the article where I usually tell you that stopping power is nothing more than a myth that can be achieved under the right circumstances.
That's how I write this section for handgun calibers, like 9mm vs 45 ACP.
This isn't entirely true with rifle rounds, though. Rifle rounds transfer a tremendous amount of energy to the target when compared to handgun rounds.
So we have to look at this a little differently.
When it comes to these two rifle rounds, there are a lot of different variables to consider. One of the biggest variables is the caliber or size of the projectile.
The 5.56 NATO is essentially a 22 caliber, while the 7.62X39 is a 30 caliber. The 30 caliber projectile weighs more than twice as much and bigger things that are moving fast usually hit harder than smaller things that are moving fast.
Let's take a more in depth look at each caliber and their potential downrange power:
5.56X45 Stopping Power
The standard 5.56 weighs either 55 or 62 grains, with several other weight outliers on both sides. For the sake of this comparison, I'll look at the 62 grain projectiles more in depth. At the muzzle the 62 grain projectile delivers nearly 1,300 pounds of energy to the target.
7.62X39 Stopping Power
The standard 7.62 weighs more than twice as much as the 5.56 NATO does at 123 grains. This heavier projectile transfers a lot of energy to the target. The aforementioned 123 grain bullet puts just over 1,500 pound feet of energy to the target.
7.62X39 VS 5.56 NATO Ballistics
Whenever we do these comparison articles I have to cut down the size of the ballistics charts so that they fit on the page right.
If you want to see the full ballistics tables I urge you to check out each individual page associated with the caliber we're talking about by pushing on these links:
I'm attempting to compare apples to apples here, and am using ammo from the same company in the same series.
7.62 Russian Ballistics
This 7.62X39 ballistics chart shows 123 grain Hornady Black ammo:
| | | |
| --- | --- | --- |
| | Muzzle | 100 YDS |
| Velocity (FPS) | 2350 | 2040 |
| Energy (FT/LB) | 1508 | 1136 |
| Drop (Inch) | / | +3.5 |
5.56X45 NATO Ballistics
This 5.56X45 NATO ballistics chart shows 62 grain Hornady Black:
| | | |
| --- | --- | --- |
| | Muzzle | 100 YDS |
| Velocity (FPS) | 3060 | 2714 |
| Energy (FT/LB) | 1289 | 1014 |
| Drop (Inch) | / | +1.6 |
As you can see, the 5.56 NATO moves a lot faster, which is due in part to its lighter weight. It also puts less energy on the target and is a much smaller caliber.
Also important, but not mentioned is barrel length. Ballistics tend to change drastically in either direction depending upon barrel length.
The test barrel for both cartridges listed above was 20 inches which allows the bullet to gain more of its speed potential before leaving. And being that many of America's AR-15s are shorter than that, the numbers would be different.
5.56 NATO VS 7.62X39 Trajectory
The 5.56 is the flatter shooting of the two. At 300 yards the 62 grain bullet drops 7.7 inches. The 7.62 drops nearly 15 inches at 300 yards.
At 500 yards the 7.62 drops 96.6 inches like a rock, whereas the 5.56 drops 49.7 inches at 500 yards.
I ran out of room to show this on the chart, but this is important enough of a factor that it matters.
5.56 NATO VS 7.62X39 Recoil and other info
5.56 NATO will recoil less than the 7.62X39, but both cartridges are relatively light when compared to others.
This is important in a combat situation because a lighter recoiling rifle will allow the shooter to re-acquire their target faster.
5.56 NATO VS 7.62 Cost
7.62X39 is usually considered to be the cheaper of the two, but the reason as to why is because the AK-47s tend to run very well on cheap, dirty steel ammunition.
In reality, the two are very similarly priced when comparing apples to apples. Brass cased 7.62 will cost about 80 to 85 cents per round as of this writing.
Brass Cased 5.56 NATO will also cost you about 80 to 85 cents per round.
Please note that both of those figures are for a single box of ammo, and the price will vary and go down significantly if you buy in bulk.
The difference in steel ammo is usually about a 10 cent difference in favor of the 7.62X39. Right now, for example, a 7.62X39 will cost you .40 cents for a round, while a steel cased 5.56 will be about 50 cents.
And of course, things are heavily skewed right now with the ammo shortage we're in.
7.62X39 VS 5.56X45 Capacity
The person carrying 5.56 NATO will be able to carry more ammo at a lesser weight than the person carrying 7.62X39.
The reason why this is true is because the magazines and the ammo itself are slightly lighter in weight.
Usually, when talking about capacity, I'm discussing magazine capacity. In this comparison, however, I'm talking about how much ammo the person can carry on their body.
The 5.56 NATO is a slightly lighter cartridge than the 7.62X39 is. Because it's lighter in weight, and the magazines smaller in dimension, you can carry more of them before getting tired.
5.56 VS 7.62 Accuracy
5.56 NATO is more accurate out to longer distances than the 7.62X39 is. Though I would like to say that this is more because of the rifle than the cartridge itself.
I have personally shot a man sized target hundreds of different times while in the Marines with my M16A2 and the 62 grain 5.56 NATO.
5.56 NATO VS 7.62X39 Availability and Aftermarket
These are the two most popular and highest selling rifle cartridges in the world. The 5.56 NATO usually chambered in the AR-15 is called America's Rifle for a reason. This is the most popular chambering in the most popular rifle in the United States.
But the 7.62X39 is no slouch either. Being that it's the most popular chambering in the most popular rifle in the rest of the world (the AK-47), it also has a huge aftermarket and wide availability.
5.56 VS 7.62X39, Which one wins?
For me, the 5.56 is winner, but not by much. In terms of accuracy and portability, the 5.56 NATO wins the day for me.
However, in terms of closer distances where extra power is needed, the 7.62X39 is where it's at.
So for me, I choose both at the end of the day, with the AR-15 as my primary defense weapon. Then if the S hits the fan but have no problems falling back on my 7.62X39 guns if needed.
Check out our big rifle ballistics chart next.