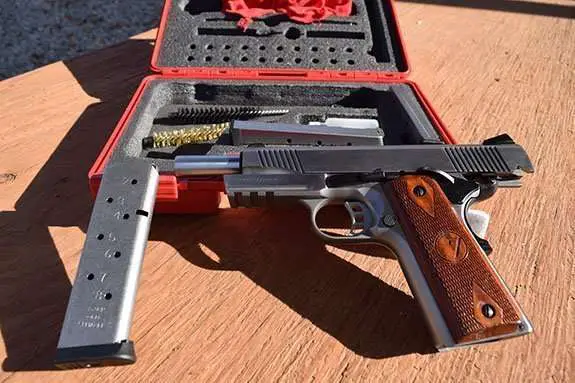 All guns will jam from time to time, to include the best semi-auto pistol to your classic revolver. The difference between the two, is that when a semi-auto jams, like a Glock, it's usually easy to fix. Comparatively, when a revolver jams, it may require the gun to come apart in order to be fixed or be brought to a gunsmith.
For the sake of this article, we'll discuss semi-automatic pistols that have been properly cleaned which brings us to the question at hand …
Why does my pistol keep jamming?
There are 3 primary reasons why your gun keeps jamming:
The first reason is because of poor ammo selection, or using ammunition that isn't right for your gun.
The second is because of a component issue with your gun or magazine like a broken extractor, magazine spring tension, or similar.
Finally, the last popular reason for a jamming pistol is operator error. The shooter of the gun can actually cause the pistol to jam by not holding the pistol properly.
Let's tackle each of these in turn.
Improper Ammunition Causes Pistol Jams
On the surface, it seems like all ammunition of the same caliber should be able to fire in a gun of that caliber but as we'll see, that isn't always the case.
Certain guns are actually very finicky with the type of ammunition that they will shoot. I had a good friend once where I used to live who'd carry a small pocket .380 ACP pistol that he mistakenly never shot hollow points through–even though he carried them in his gun on a regular basis.
One day he decided that he'd try them out, and they wouldn't cycle the firearm properly. They'd fire off the first shot, and fail to feed on the second. He was very disturbed by this and changed his way of thinking about shooting his self-defense ammo in his carry gun to make sure it works.
By the way, I tell everyone to shoot their self defense ammo in their chosen carry gun to make sure it works as expected. Because hollow points have a different profile bullet, sometimes they can hang up as they go up the feed ramp and this is the sort of thing you need to know before you need it in defense of life.
Besides the shape of the bullet, there are other ways ammunition can cause a gun to malfunction. Ammo that isn't loaded to the proper specs can cause a multitude of issues. A weak charge for example, if it fires fully, may not cause the slide to cycle fully resulting in a failure to eject.
A much more dangerous ammo malfunction is called a squib and happens when the round fires, but not enough of a gunpowder ignition happened causing the projectile to stop in the barrel of the gun.
Then, upon subsequent firing of the gun, the next projectile can hit the bullet already lodged in the barrel, causing the barrel to rupture. This is very dangerous.
Finally, we come up to an issue that can be ammo and gun related, which is a light primer strike. Often times, cheaper guns have this problem on cheaper ammo.
A cheaper gun may not have this issue with better ammo, however. A light strike occurs when the primer is hit by the striker, but not enough that it causes the mini explosion that's supposed to propel the projectile out of the barrel.
If your gun is equipped, like a double action, simply pulling the trigger again to hit the primer a second time will likely, but not always, cause the round to fire.
Problems With The Gun (and magazine) Can Cause Pistol Jams
We won't cover all of the things that can happen to your gun to cause it to jam because we'd be here for a while.
One of the most popular mechanical reasons why a gun fails is because of a faulty magazine. A faulty mag may not properly feed ammunition into the gun as it cycles, causing issues.
One of the easiest ways to test if the mag is the issue is to use a different magazine. If the issue suddenly clears up, try using the old mag again. If it persists with the one, but not with the other, chances are excellent that your magazine is faulty.
Other parts may also break on the gun, like the extractor or springs.
In fact, while on the subject of springs, one of the parts that wears out that most people never even think about is the recoil spring assembly.
Each gun manufacturer has guidelines about when they recommend changing the recoil spring out. I've written more about this topic in our article here.
Suffice it to say that regular, proper maintenance (to include cleaning) is needed to keep your gun in tip top shape and to show you any issues that it may be having.
Operator Error Can Cause Pistol Jams
This is a topic that almost nobody wants to talk about because everyone is an expert in their own mind. The real truth of the matter is that a gun malfunction can happen because the way you grip the gun is NOT right.
This is often called weak grip or limp wristing, but both terms are technically two different issues.
A weak grip is when you're not gripping the gun tight enough and allows for the pistol to recoil very hard.
When it recoils so much that the muzzle of the gun moves a lot, it can cause the cycle of the gun to end prematurely making the slide not pick up the next round right or ejecting the old one properly.
Along the same vein is the limp wrist. This is when your shooting hand's wrist isn't locked tight causing excessive recoil and similar issues with the gun's cycle.
The main thing to remember here is that you want to grip the gun to the point that it starts to shake, and then back off a bit until it stops shaking.
Your shooting hand should provide the pistol with front to back pressure (on the gun's grip), and your support hand should provide you with left to right pressure (on the gun's grip).
Together, this provides the gun with nearly 360 degrees of a strong grip helping you minimize recoil and thus muzzle flip. When muzzle flip is minimized it keeps the gun's cycle moving properly.
Pistol specific operator jams are also a thing. What I mean by this is that some guns that have a grip safety like Springfield's XD lineup, may have similar issues for people with hands that are shaped a certain way.
For example, if your palm is more concave in shape, there's a good chance that you'll have malfunctions if shooting a gun with a grip safety because you cannot press the safety enough on a consistent basis.
Practice clearing malfunctions with dummy ammo, like these.
Conclusion 
There are actually more things that can cause a pistol to jam up, but this article covers the most popular reasons why and how your pistols keeps jamming. In a future article we'll discuss more in depth on how to fix a jam in quick fashion to get you back into the fight quickly.
I hope this answers your question regarding: Why does my pistol keep jamming. If so, let us know in the comments below. You can read our article about the pros and cons of a revolver vs semi auto pistol in this article on our website by Terry.