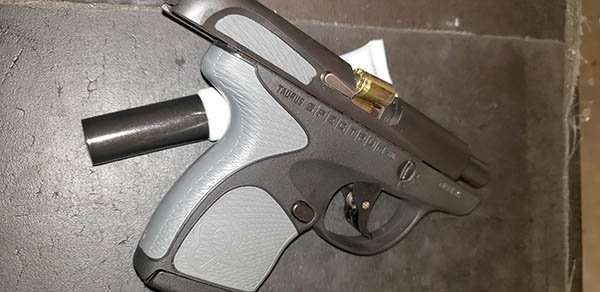 Just about any firearm can have a malfunction. The purpose of this article is to discuss one of the most popular jams to occur on a semi-automatic pistol, and sometimes semi-automatic rifles, as well as how to fix these malfunctions.
If you've been around guns for any period of time and have watched or read gun reviews, you've undoubtedly heard someone say the phrase, "stovepipe jam." Sometimes the word jam is replaced by the word malfunction but they are interchangeable.
If you don't know what this is it can be confusing, especially if you're new to the wonderful world of shooting guns. So, let's discuss this.
What is a stovepipe jam?
A stovepipe jam, also known as a failure to eject or FTE, occurs when the fired case does not fully eject before the slide goes back into the forward position, catching it in the ejection port.
The empty case gets caught in the slide as the slide moves forward, thus stopping the function of the gun and jamming it up. It got its name because sometimes the spent case is facing upward toward the sky and can have a little leftover smoke from the burnt gun powder giving it a smoking pipe look.
This is one of the most common types of malfunctions that semi-automatic firearms deal with, and is usually an easy fix.
What Causes a Stovepipe Jam:
There are actually a few common reasons why these malfunctions happen that are easy to fix, as well as one more serious problem that can cause a stovepipe.
A stovepipe, also known as a failure to eject, is sometimes caused by outside sources.
Let's take a look at those, first and then move on to what may be happening in your gun that could be causing the problem.
Stovepipes caused by underpowered ammo:
This is fairly common. The problem lies in the fact that the ammo you were shooting may not have been powerful enough to push the slide all the way to the rearward most point it needs to get to in order to pull the spent casing out with force to sling it away from the pistol before it gets caught.
If the slide only goes back part of the way, it starts to return back into what is known as "battery" before the proper time, sometimes while the spent casing is in the process of being ejected.
If you're noticing that this problem is happening with one specific type or brand of ammunition, this is likely the cause.
It's common when people start to reload their own ammunition to have this sort of problem until they really start to get their mixtures dialed in. Though, these problems do also occur with factory bought ammo as well, especially in certain guns like the above pictured Taurus Spectrum that stovepiped regularly.
This is a relatively easy fix that suggests you use better ammo.
Stovepipes and gripping issues:
Believe it or not, your gun may be having these failure to eject issues because you're not gripping your gun hard enough, or are doing what is called limp wristing your gun when shooting.
In addition to a firm, two-handed grip, you'll want to lock your wrist in place to the best of your ability. What may be happening is that because you're being soft with your gun you're not allowing the slide to reciprocate properly, causing it to lose the necessary force needed to eject the round.
This is similar to the underpowered ammo not driving the slide back far enough, only this time the issue is caused by you not managing your gun well enough during shooting.
The fix here is just to make sure you're gripping your gun right and locking your wrist while shooting. A surefire way to test this theory is to let someone else shoot your gun. If they're having the same issues it may be a different problem causing your stovepipe malfunction.
If they're not experiencing this problem, it could be the way you're shooting.
Is your gun dirty? It can cause a stovepipe:
Under rarer circumstances, because rarely do people let their guns get to this condition, a dirty firearm may cause this problem. I have had guns that needed to be immaculate in order to function at all.
And after shooting dirty ammo with those guns, they were rendered inoperable after just a box or two.
Those types of guns don't belong in my collection and I tend to get rid of them, or at least never shoot them.
The fix here if you suspect that your gun is dirty is twofold. First, clean your gun. Second, buy better ammo that shoots cleaner.
Failure to eject and gun problems:
Under very rare circumstances your gun may actually be the culprit. This isn't usually the case and is more rare than the other causes, but you could have a damaged ejector.
If your gun continues to stovepipe after you have tried all of the other steps to fix it, you may need to bring your gun to a gunsmith to check and see if the ejector is bad.
You can actually practice to clear different malfunctions with dummy ammo, like these found on Amazon.
Conclusion:
The stovepipe is one of the most common types of different malfunctions you can have with a semi-automatic firearm.
Thankfully, most of the time these are easy to fix with a little knowhow and following the steps provided in this guide.
To learn more about why your gun keeps jamming, read that article of ours, next as it goes much further in detail.