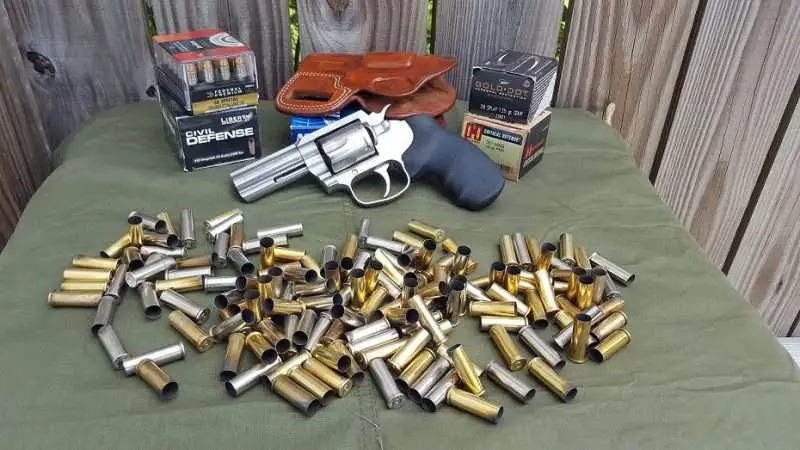 This is an update to the original review first published in May of 2019. This is still my absolute favorite double action revolver, and I carry it on a regular basis.
Colt Snake Gun History —
Before we get to the actual review, we have to cover some history so you know what happened. If you know the history already, feel free to jump down to the start of the review.
In 1836 Samuel Colt filed a patent for a device to mechanically index the cylinder of a firearm, and thus the modern revolver was born. The Colt Patterson revolver was the first in a long line of revolvers produced for military, police, and civilian use that stretched nearly 170 years.
Models that carved their notch in firearms history and lore include the 1847 Walker Colt, the Colt Dragoon, the 1851 Navy Colt, the 1860 Army Colt, the 1873 Single Action Army (Peacemaker), the Colt Lightning and Thunder models, and the Colt New Service Revolver.
Then in 1950 Colt released the first of what has become to be known as the "Snake Guns," the Colt Cobra.
For the next 55 years, Colt produced models like the Anaconda, Diamondback, Cobra, King Cobra, Viper, Boa, and what has become to be known as quite possibly the finest double-action revolver ever made, the Colt Python.
Unfortunately, the last of Colts D/A revolvers, the Python and Anaconda were retired for good in 2003. The only revolver available from Colt since then has been the Single Action Army from the Colt Custom Shop.
Since then (until recently) Colt D/A revolvers have only been available on the used market and the "Snake Guns" have become so collectible that they have been priced well out of the range of the hoi polloi, with prices of Pythons starting at $2500 and rocketing into the stratosphere from there.
In 2017 Colt finally heard the market and at Shot Show they re-introduced the Colt Cobra, a 6-shot snub-nose D/A revolver specifically aimed at the civilian concealed carry market.
It has an MSRP of $699 but I have found them online for a bit less, putting them in the higher end of the market but not out of reach.
Since then Colt has released quite a few Snake Gun models, including:
I was lucky enough to be able to shoot the King Cobra at Industry Day at the Range and was fully impressed with it, enough so that it made my Top 5 list of new products from Industry Day.
Colt's Sr. VP of Commercial Business, Paul Spitale was nice enough to give me a full description of the King Cobra after I shot it and I remember coming away thinking I had to have one of these.
Here is that interview:
After searching the inter-web for several months trying to pin one down, I had given it a rest since the only King Cobras I could find were on auction sites with bids well above the MSRP of $999 (<–they randomly have them in stock at $999).
I was in one of my local gun shops looking to waste my lunch hour when I spied something familiar in the display case.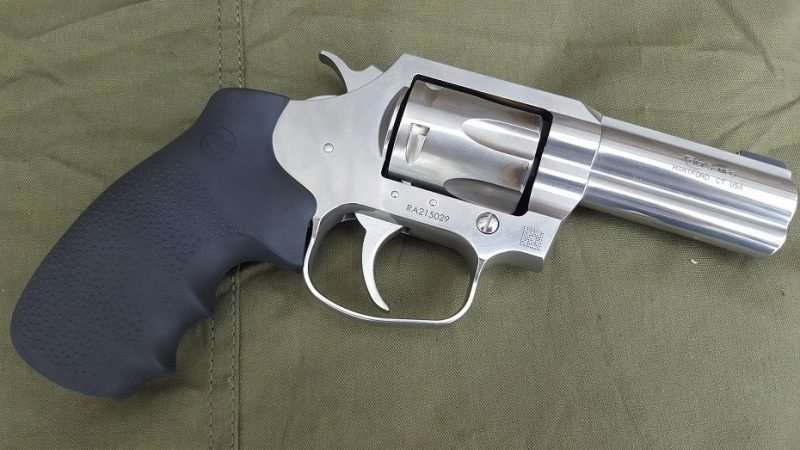 There, tucked away among the Taurus, Ruger, and S&W revolvers was the object of my feverish dreams from Shot Show, the Colt King Cobra and the price was right.
I asked the clerk if I could take a look at it and he handed it over. After looking it over for about half a heartbeat I told him I would take it. It was probably the easiest sale he had all week.
And of course, I couldn't help but tell you all about it in my Colt King Cobra review, as follows:
Colt King Cobra Review:
Once I got it home and unboxed it, it was time for cleaning and inspection. The King Cobra comes in the standard Blue Colt hard case with literature and lock.
King Cobra Dimensions:
I took some measurements of the revolver and they are listed below.
Height: 5 inches
Length: 8 inches
Barrel Length: 3 inches
Width: 1.4 inches (Cylinder)
Weight: 28 ounces
It is roughly the same size as my Ruger SP101 with the exception of the 3 inch barrel and according to my scale they both weigh in at 28 ounces empty, which is weird because in the hand the Ruger feels heavier (I had to weigh them twice because I thought I had screwed up the measurement the first time).
King Cobra Trigger:
According to my Wheeler Trigger Pull Scale, the single action trigger comes in at an average of 4 lbs 14 oz after 10 pulls.
Unfortunately, I cannot accurately tell you where the double action trigger comes in due to the fact my trigger pull scale is maxed out at 8 lbs, so I can tell you it is above 8 lbs.
That said, the trigger on the King Cobra is amazing. The double-action trigger is exceptionally smooth during take-up without any hesitation or grit and just a light stacking right before the break.
The break is crisp with almost no over-travel. The single-action trigger has zero creep and breaks like a 1911.
I have owned and currently own several D/A revolvers from Charter, Taurus, Ruger, Colt, and Smith and Wesson and the trigger on the King Cobra smokes them all. It is without a doubt the finest factory trigger I have ever shot in a double action revolver.
I was told that they have a couple of Pythons in-house at Colt and that when they were designing the LL2 Linear Leaf Mainspring trigger they started with the Python trigger as a starting point and refined it from there to come up with a world-class trigger.
If that is indeed how it happened, then kudos to the engineers because it is indeed world-class.
King Cobra Sights:
The sights on the King Cobra are fixed with a groove in the top-strap and a black blade up front with a brass bead set on it.
The front sight is replaceable with a set-screw that loosens up to remove the front sight from its base. It is the same set-up as on the Colt Cobra and Brownells has a fiber-optic and Tritium front sight available online.
King Cobra fit and finish:
The fit and finish on the King Cobra is outstanding. Colt advertises the finish as brushed stainless, but under close examination it appears to be bead blasted. Either way it is a very attractive and durable finish.
All of the corners and edges have been broken over so there are no sharp edges and the cylinder crane to frame fit is so nice it is almost seamless.
Shooting the King Cobra:
The next day I loaded up some old carry ammo and some practice rounds I have had lying around for a bit and headed off to my local indoor range, Sportsman's Lodge.
I was pretty excited to find out if the King Cobra shot as well as I remembered it from Shot Show. I was not disappointed.
I shot a mix of ammo in .38 Special and .357 Magnum for my Colt King Cobra review that follows.
Magtech, .357 Mag 158gr FMJ Flat
Federal, .357 Mag 158gr JSP
Hornady, .357 Mag 125gr FTX
Liberty Civil Defense, .357 Mag 50gr Copper HP
Precision One, .38 Special 158gr JSP
Armscor, .38 Special 158gr FMJ
Federal, .38 Special 125gr Hydra-Shok
Speer Gold Dot, .38 Special +P 135gr JHP
I figured that would give me a good idea of how the King Cobra would group with different types of ammo, as well as give me a good idea of what my carry ammo would be in this revolver, since EDC was the main purpose for me buying it.
Firing at ranges from 7 to 25 yards the revolver did well considering the rudimentary sights. It grouped well at closer ranges, which should be expected. What was surprising was how well it did at the 25-yard line where I only dropped 4 out of 15 rounds out of the body of the target.
For me, that is pretty good shooting considering the 25-yard line has always been my kryptonite and the reason I never qualified above Sharp-Shooter with a pistol in the Marine Corps.
Once I finished with grouping, I fired several strings of failure drills and the groups with the .38 Special were pretty impressive. They did open up a bit with full house .357 Magnum loads but I was still able to keep them in the vitals.
It should be noted that all of my firing was done double-action since that is precisely how it would be employed in a defensive situation.
Also, because I was so impressed with the D/A trigger I wanted to see how well I could shoot it in D/A mode for my Colt King Cobra Review.
The King Cobra is easy to control and get back on target during a failure drill, mainly due to the Hogue Over-molded grips that soak up the majority of felt recoil and even did a good job of taming the 158gr .357 Magnum rounds.
For a revolver that only weighs 28 ounces, it was surprisingly easy to control and not uncomfortable to shoot.
I must say that I am truly impressed with the way the King Cobra performed with all of the ammunition that I brought with me. Of all the ammo I tested I got the best groups with the .38 Hydra-Shok and the .38 +P Gold Dot ammo.
They performed well during the failure drills and gave me the tightest groups from 7 to 15 yards.
So, it looks like my carry ammo of choice for the King Cobra will be the Gold Dot 135gr, at least until I can get my hands on some Buffalo Bore .38 Special +P 158gr LSWCHP to try out.
Colt has done an outstanding job of diving back into the D/A revolver world, those of us who lament being too young to have experienced the heyday of the "Snake Guns" now have the opportunity to see what we could only read about in magazines.
I would put the King Cobra in the same class as the Ruger SP101 and the Kimber K6. In factory stock condition however, the King Cobra goes straight to the head of the class.
This is mainly due to the best factory D/A trigger on the market, which takes this from a really nice gun to a truly outstanding one.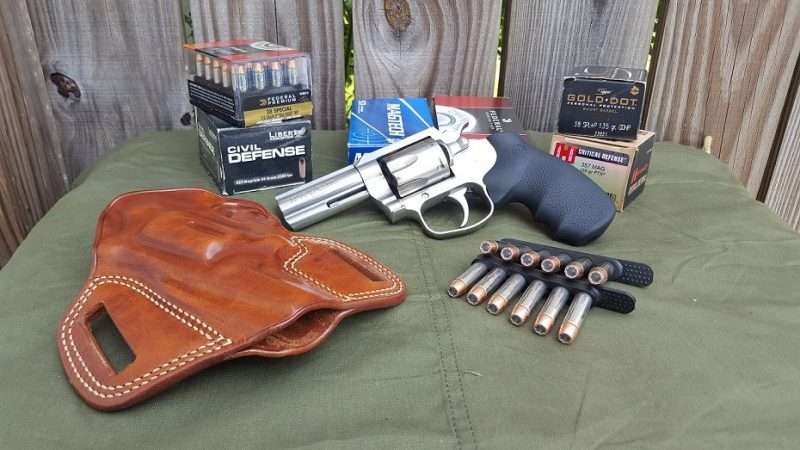 Colt definitely has a winner on their hands with the King Cobra and the reintroduction of "Snake Guns" should make a lot of Colt fans very happy.
I'm happy to say that after buying this revolver more than two years ago now, that I still own it and carry it for self-defense and have no plans to stop anytime soon.
This wraps up our Colt King Cobra review for now, but we will update it periodically as I shoot it more.