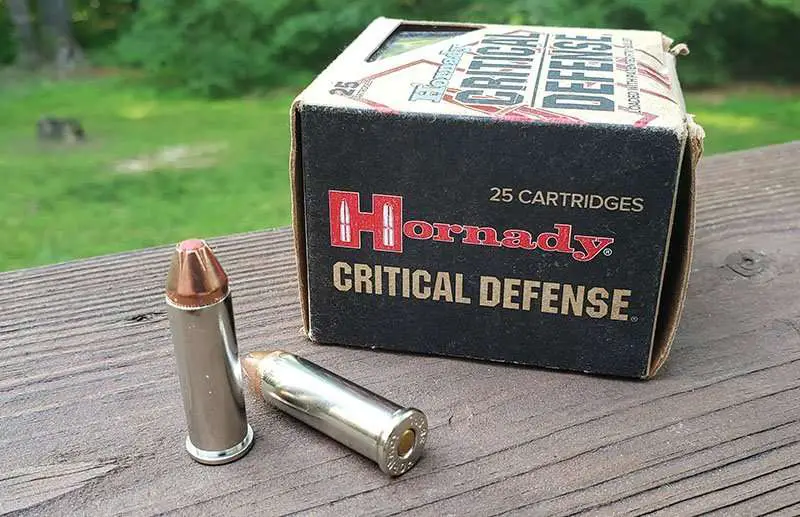 38 Special
A complete history with facts, uses, pros, cons, and ballistic information.
---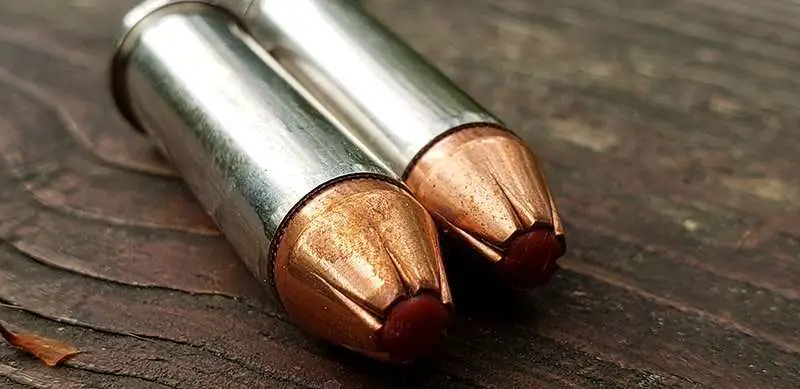 38 Special, a Brief History

The 38 Special is one of the most popular handgun cartridges in the world. First developed all the way back in 1898, it was originally meant to replace the lackluster performance of the military's then current handgun of choice, the 38 Long Colt.
---
.38 Special History Continued
The 38 Special's military career was short lived as it was still underpowered for what the military wanted, and would eventually be replaced by Browning's 45 Auto cartridge. Even still, it was used heavily by police departments across the country for several decades.
38 Projectile
The projectiles for the 38 Special are essentially caliber 357″ and standard weights are 158 grains. Though, there are several different chamberings with varying weights ranging from 110 grains on up. Hollow point bullets are common, such as the FTX pictured.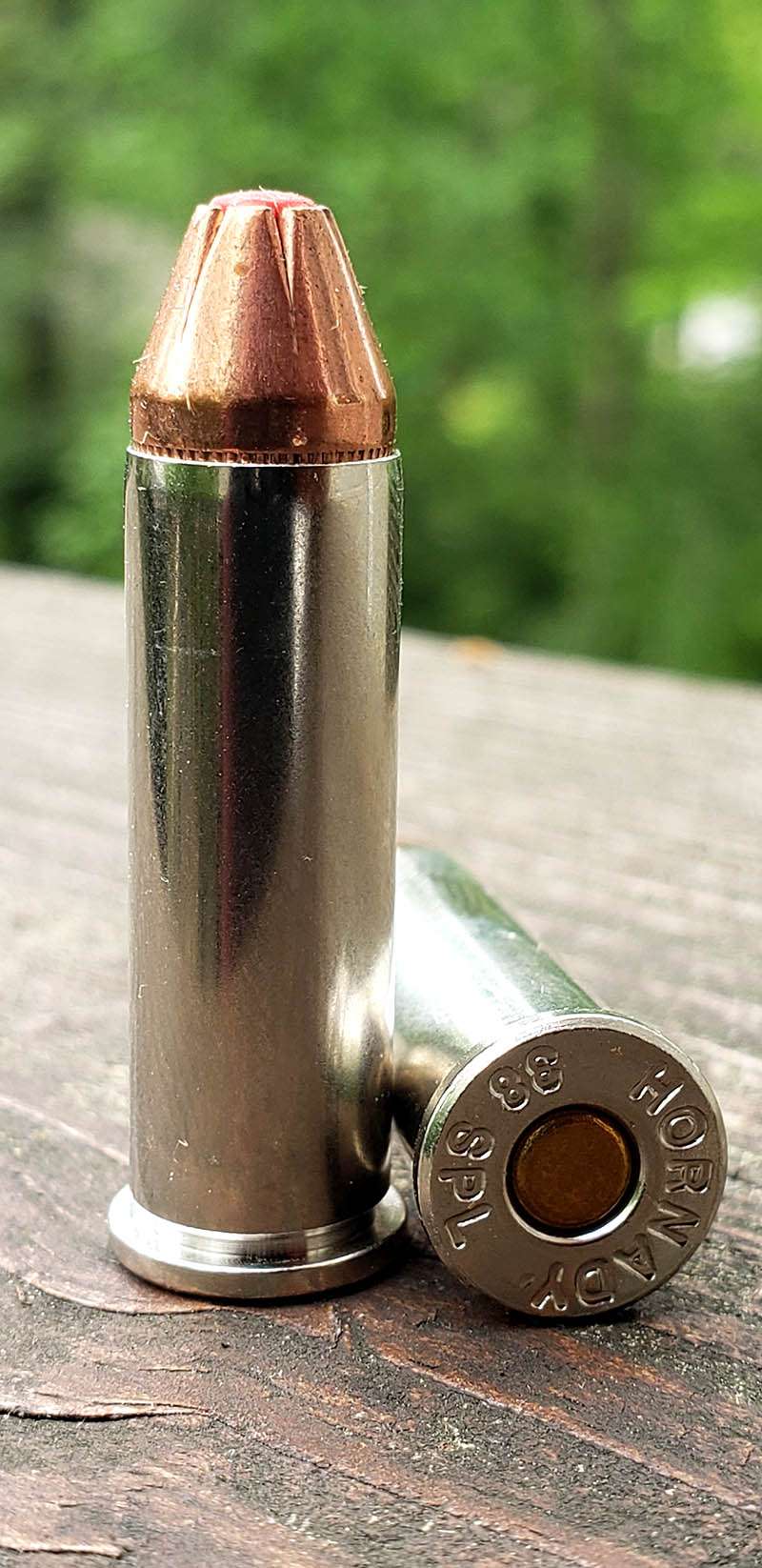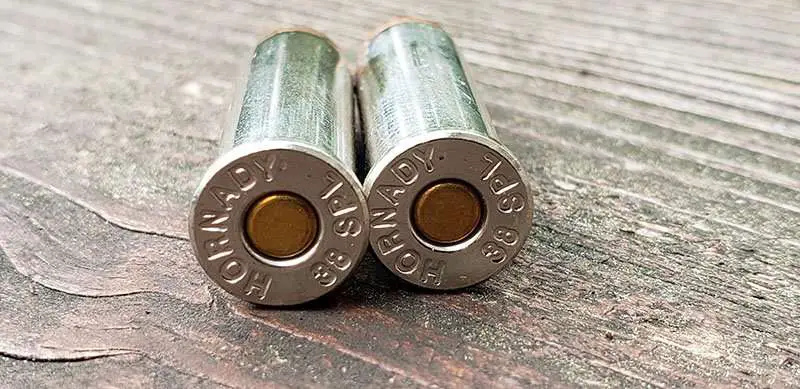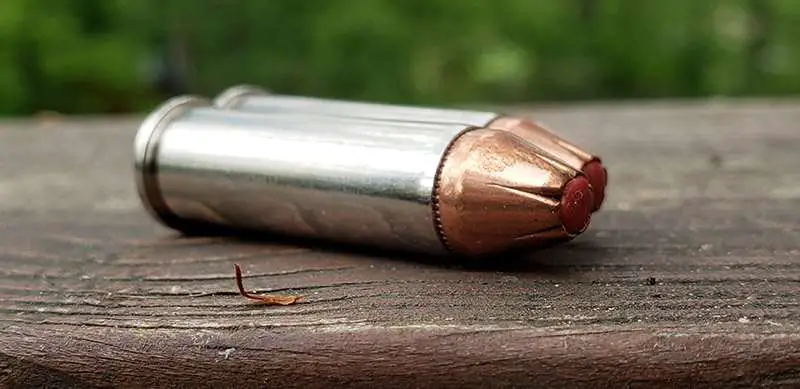 38 Special Performance
The performance of the 38 Special has a solid history dating all the way back to its inception in the late 1800s. Modern bullet technology has upped the ante even further, and the 38 SPC is a good self-defense cartridge.
38 Special VS 9mm Luger
This topic gets a lot of debate, and there is a lot of myth surrounding it. Many falsely assume that because the cartridge case is longer that it must hold more powder and therefore move faster. However, when looking at the statistics that matter, such as kinetic energy transfer and bullet velocity, the 9mm is the usual winner and can deliver on average about 100 pound/feet more energy to a target than 38 can. Still, the 38 is no slouch, and is more than an adequate cartridge for self-defense. The use of +P ammo levels the playing field completely.
---
38 Special Ballistics Chart:
This ballistics test was conducted with a handgun barrel length of 4 inches using Hornady 110 grain FTX (pictured above) with a ballistic coefficient of .131.
| | | | |
| --- | --- | --- | --- |
| | Muzzle | 50 Yds | 100 Yds |
| Velocity (FPS) | 1,010 | 940 | 883 |
| Energy (FT/LB) | 249 | 216 | 191 |
This next 38 special ballistics chart shows the traditional grain weight 38s, being 158 grains, utilizing Hornady XTP projectiles. Test barrel was 4 inches.
| | | | |
| --- | --- | --- | --- |
| | Muzzle | 50 YDS | 100 YDS |
| Velocity (FPS) | 800 | 765 | 735 |
| Energy (FT/LB) | 199 | 183 | 168 |
This final ballistics chart shows 130 grain projectiles that are used for target practice, being that they're not hollow point. These are from the Federal American Eagle line of ammo. Test barrel was 4 inches.
| | | | |
| --- | --- | --- | --- |
| | Muzzle | 50 YDS | 100 YDS |
| Velocity (FPS) | 890 | 852 | 817 |
| Energy (FT/LB) | 229 | 209 | 193 |
38 SPC Recoil
Trying to tell someone how hard a firearm recoils is quite hard to do. However, what we can do is say that when all things are equal, the 38 will recoil slightly less into the shooter's hands than the 9mm will. Again, this is when all things are equal, like the size of gun's grip, the overall weight of the pistol, etc. This is important to note because a smaller snub nosed 38 Special chambered revolver will feel as though it recoils harder than a bigger 9mm handgun does.
38 SPL Cost
Right now as of this writing, we're in a massive ammunition shortage that is only going to get worse. However, when compared to other industry standard self-defense rounds, the 38 can cost more, especially depending on where you live. Right now with the ammo shortage, the MSRP, or what Federal's website is currently selling 38 Special for (as of this writing), is $34 per box of fifty rounds of target loads. If you opt for hollow points, price goes up to $30 for a box of 20.
---
Applications for the 38 Special
The 38 Special has always been and will continue to be a good revolver cartridge for self-defense. The snub nose is a popular gun.
The 38 Special also has a place with certain handguns, but mostly lever action rifles, for varmint hunting up to 50 pounds in weight.
---
38 Special VS 38 Special +P Ballistics
A lot of people ask about the ballistics of the +P rounds compared to the standard load of 38 special. I thought that, instead of doing the traditional 158 grain load, I'd choose something with closer ballistics, so I compared the +P ammo to the 110 grain Hornady ammo above.
38 Special +P Ballistics
This test was done with Federal American Eagle 38 Special +P with 115 grain hollow point projectiles.
| | | |
| --- | --- | --- |
| | Muzzle | 50 YDS |
| Velocity | 1130 | 1016 |
| Energy | 326 | 264 |
38 Special Ballistics
This test was done with the above mentioned 110 grain FTX, standard 38 Special hollow point load.
| | | |
| --- | --- | --- |
| | Muzzle | 50 YDS |
| Velocity | 1010 | 940 |
| Energy | 249 | 216 |
---
38 Special FAQ:
Here are short and to the point facts for your consideration.
Below this section you can read the entire article.
How effective is 38 at stopping an attack?
The effectivness of the 38 special will depend largely upon a few different factors. The first one, and notably most important, is the type of bullet you're going to use. You need to use a bullet that will penetrate and expand enough to cause enough internal damage to prevent an attack from continuing. With proper ammo, 38 special is a good self-defense cartridge.
Who is the 38 good for?
The 38 Special is primarily a revolver cartridge or a lever action rifle cartridge. There have been a couple semi-auto pistols chambered in it, but not many. The primary audience for 38 special users are concealed carry and defense minded gun owners.
Why is the 38 so popular?
The 38 Special is one of the two most popular revolver cartridges. One of the main reasons why is because it was a primary police option for duty. And in fact, back in the early 2000s, I went through a correctional officer's academy at the state level and we had to qualify with 38 special revolvers. Relatively recently all of the 38 special revolvers were phased out of law enforcement use, starting largely in the 1980s and 1990s.
38 special hollow points or ball ammo?
Your 38 special chambered handgun should only use hollow point ammunition for defensive purposes. Using target ammo for target practice is fine, but loading any of your defensive handguns with proper defensive ammo is a best practice.
Why is it sometimes called by other names?
The 38 Special will sometimes go by other names, like 38, 38 SPC, 38 SPL, 38+P, and other variants. They're all basically the same cartridge, minus the +P which is technically loaded to higher pressures to get better ballistics.
What are some good guns chambered in 38?
Revolvers chambered in 38 Special are some of the most popular guns. And in that subsection specifically are the snub nose revolvers like the S&W J Frame, the Charter Arms Off Duty, the Colt Cobra, and plenty of others. It should also be stated here that guns chambered in 357 Magnum will also be able to shoot 38 Special, but not the other way around.
---
Why choose 38 special?
The 38 Special is a popular choice for those serious about concealed carry, but who want a small handgun that all but disappears on your body and has a safety feature built in. The safety feature is the long, hard trigger pull that a double action offers.
The trigger is considered a safety feature because it must be deliberately pulled in order to pull the hammer back to fire the weapon.
If you're in the market for the long, heavy trigger pull that the double action revolvers give, in a gun that is a small package, then this is a good option.
The effectiveness of the 38 Special, and is it enough?
Is 38 good enough to stop an attack? Well, yes. But, it wouldn't be my first pick.
Let me explain: Any caliber in any gun will be sufficient if under the right circumstances. For example, if I have a 22 on me and I must defend myself and/or family, those little rounds in the gun I've got on me will be the most effective attack stopper I have.
The 38 Special is obviously quite a bit better, ballistically, than the 22 is, but I'd rather have something even more powerful at my fingertips. I say this even though I semi-regularly conceal a small 38 Special revolver.
But it is still a 35 caliber cartridge, which, in terms of being poked by flesh penetrating devices, is nothing to sneeze at.
It's not the best for self-defense, but keeping that in mind it is also far from the worst. Instead, the 38 Special tends to fall into the category of "good enough" which also just happens to be the spot where most handgun calibers are.
Because it shoots a 35 caliber bullet, albeit at lower velocity and energy than some of its 35 cal brethren like the 9mm and 357 mag, it is good enough for most situations.
But, as stated above, bullet selection is of utmost importance. The reason why is because a hollow point will do a lot more terminal damage to the inside of your attacker's body than will a FMJ round (Full Metal Jacket).
Next, check out our massive handgun ballistics chart to see all pistol calibers.