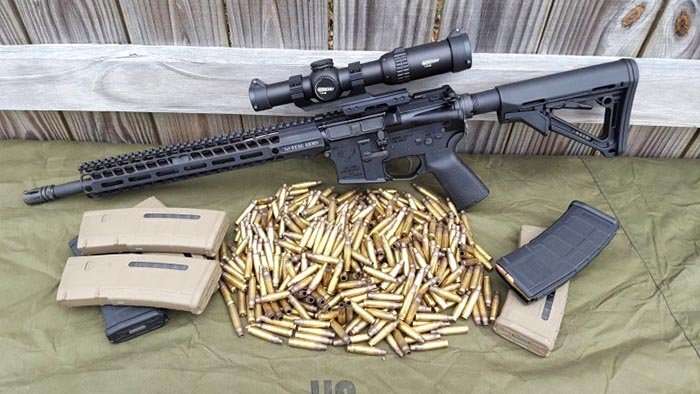 Stag Arms Review: 15L Tactical
I have what you could call a "passing familiarity" with the M16/AR15 platform. Having been introduced to the weapon at the ripe old age of 17, courtesy of the United States government. I somehow managed to qualify Expert with the M16A2 Service Rifle before I was even old enough to legally purchase its civilian counterpart, the AR-15.
21 years of service complete with numerous deployments carrying the M16A2, M16A4, and the M4 have made me a little jaded when it comes to the AR platform.
I have owned and still own several different makes and models of AR rifles and pistols, from 9mm to 7.62 NATO, direct impingement and gas piston guns from the likes of Adams Arms, Anderson Manufacturing, Bushmaster, Colt, CMMG, New Frontier, and LMT. I love the AR platform, but at this point I find it hard to get excited by another AR-15.
Don't get me wrong, a lot of companies are putting out some really nice rifles with outstanding features and price points. But there is nothing really earth-shattering going on in the world of Eugene Stoner's baby.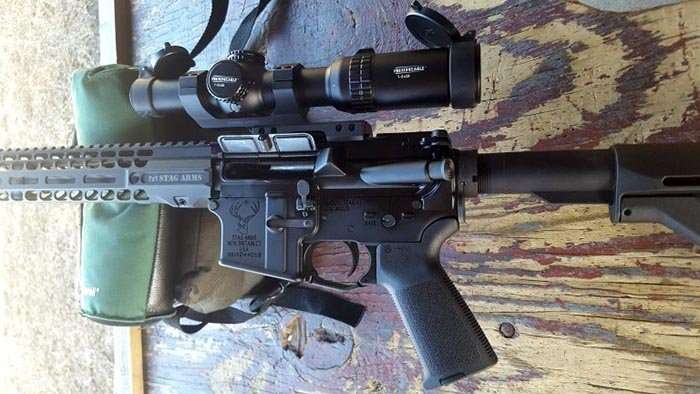 At SHOT 2018 I got the opportunity to attend Media Day at the Range and was given the chance to take a Stag Arms, Stag 15L for a short test drive.
Stag Arms was founded in 2003 and until I got to meet them and check out their rifles, I always thought of Stag Arms as a pretty standard manufacturer of entry-level to mid-range carbines and rifles. Several years ago, I picked up a Stag 15 complete lower for $115.00 and mated it to a Del-Ton complete upper that I purchased online for $249.00.
The idea being to put together a budget rifle for those without the mechanical know how to assemble one from parts, just find the cheapest upper available and mate it with the cheapest lower and see what she will do.
So, for around $365 before tax and shipping I had a flat-top carbine with an M4 profile barrel. 7 years and 2,000 rounds later I still have that rifle, so I am aware that Stag Arms makes a quality product.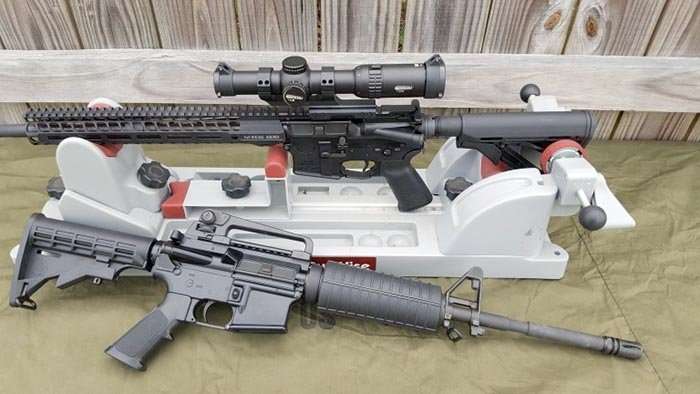 One other thing that makes Stag Arms stand out is that they are also known for being the first company to manufacture a left-handed AR. Yes, you read that right and they don't just attach an ambi-safety or southpaw friendly controls and call it a lefty.
They are building an AR-15 that is truly left-handed, with a mirror image Bolt Carrier Group, left side ejection port, and a selector switch on the right side. The first thing that went through my brain housing group after firing the Stag 15L at SHOT was "So cool, is this what it feels like to be right-handed?"
So, when the boss reached out to me several months later to ask if I would like to do a Stag Arms Review on the 15L Tactical, my answer went something like, "Does a bear defecate in the woods?"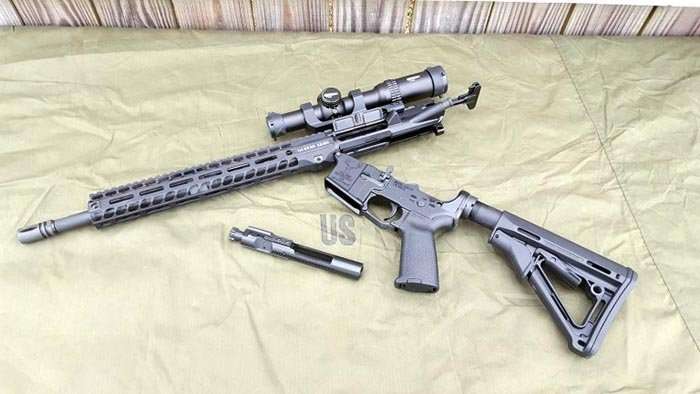 The manager at my local gun shop was grinning almost as big as me when we unboxed this beauty for an inspection before I took possession of the rifle. Left-handed rifles are somewhat scarce in the part of North Carolina that I live, every one that I own had to be special ordered.
They just aren't something you see in most dealer's stock, because let's face it, south-paws make up a very small portion of the customer base. A left-handed AR-15 is even more of a rarity, right up there with hens' teeth and four-leaf clovers.
The Stag 15L Tactical uses a standard lower receiver that is nearly indistinguishable from the Stag Arms lower that I purchased back in 2012, but that is where any similarities to a standard AR end.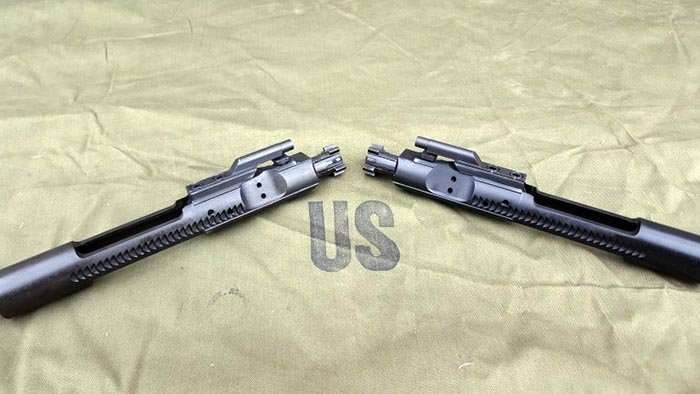 For an MSRP of $1019.00 the Stag 15L comes equipped with a Magpul MOE pistol grip, Magpul CTR buttstock, and the Stag 15 M-LOK 13.5-inch free-floating handguard with a QD point at each end to allow for use of a 2-point sling.
It also has a single point sling attachment, an enhanced trigger guard for use with gloved fingers, and comes equipped with a 16-inch chrome lined, government profile barrel with a 1/7 twist rate and a mil-spec single stage AR-15 trigger.
The first thing I did after an initial cleaning was to mount a Vortex Strike Eagle 1-6 x 24 BDC scope with a Vortex cantilever mount, which while not what I would consider a "precision shooting" scope due to the AR – BDC reticle, is definitely one of my favorite all around scopes.
It has very crisp and clear glass and the BDC reticle is easy to pick up quickly when doing quick reaction shooting. I much prefer it to the ACOG that was issued to me on my last trip downrange due to its variable magnification and illuminated reticle that can be turned off when not needed.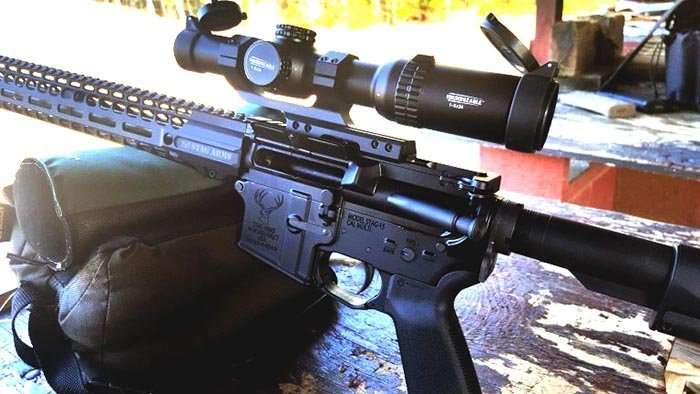 Next it was off to the range … sort of. Unfortunately for me, Hurricane Florence decided to grace the Carolinas with her presence and all things had to be put on hold for a bit while cleanup and restoration took place. Finally, I was able to put together a couple of days where it wasn't raining to get out to the range and see what this rifle was capable of.
I loaded up six magazines full of surplus Lake City 55gr M193 ball ammo that I purchased several years ago to get the Stag dialed in.
It took about 15 rounds at 25yds to BZO the rifle, mainly because I suck at math, which is why I was a diesel mechanic in the Marine Corps and not a sniper. However, once I got it zeroed in it was easy to shoot the center out of the target.
Of course, with a scoped rifle, everyone is a rock-star at 25 yards so I took it down to the 100 yd line to see what I could do. The math at 100yds was a lot easier with ½ MOA clicks and it only took a couple of adjustments for me to find the center of the target and once it was there it stayed there as long as I did my part.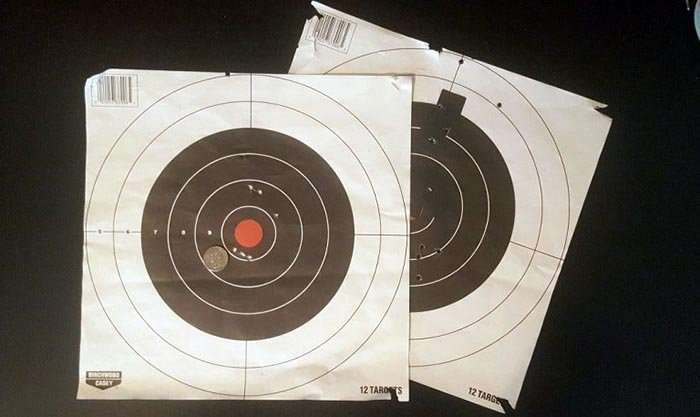 Now everything I have read about 1/7 twist is that it tends to work better with heavier bullets, and since I was shooting some old 55gr surplus ammo I didn't really have any expectations of pin-point accuracy.
That said my best group of the day was a 3 shot group at 100 yards that I could cover with a quarter and I still have no idea how I managed to do it other than to say the rifle shoots better than I do. It should go without saying that those groups were shot from a sandbag rest.
I finished the day shooting from the offhand at 25, 50, and 100 yards. I fired long strings of controlled pairs at all ranges and had no problems keeping my shots inside the lines of my 12-inch Birchwood Casey targets.
I really can't overstate how well this rifle can shoot, especially when you consider the fact that it comes from the factory with a mil-spec trigger which is a little heavy for precision shooting but has a very crisp break that is also very consistent.
The M16A2 that I qualified with years ago had a very inconsistent trigger, I was told that was due to the 3 round burst feature. There are no such issues with the trigger on the Stag 15, 10 pulls with my old Wheeler trigger measure averaged out at 7.5 lbs., which seemed a lot heavier than it actually feels on the finger.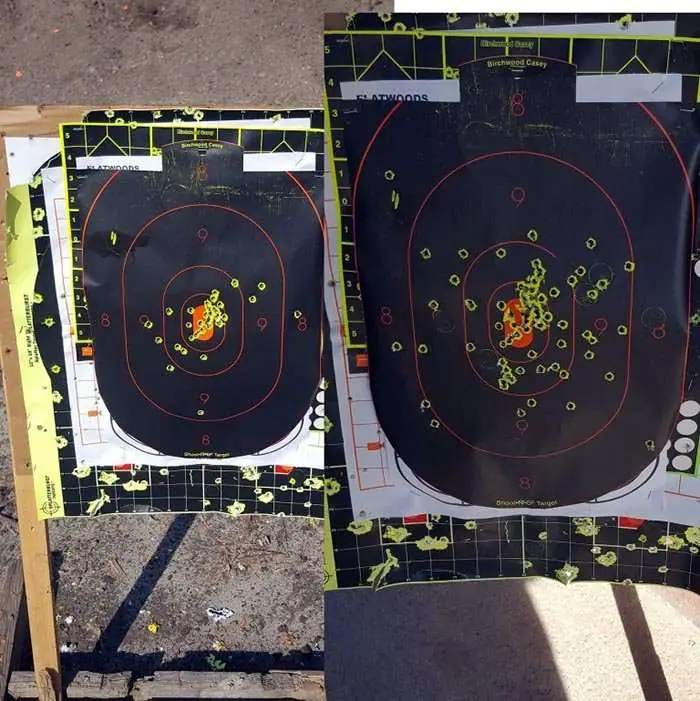 Deer season crept up on me this year without so much as a by-your-leave and towards the end, after freezing my butt of in a tree stand watching an empty field for nearly 2 months, it suddenly dawned on me that the deer weren't walking through open fields during shooting hours.
I also figured that if I was to stalk deer through heavy brush where my longest shot would be around 60 yards that maybe my .308 Winchester rifle wasn't the best medicine and I figured that if 5.56 was good enough to use on Al Qaeda then it is good enough for an eastern North Carolina whitetail, the deer in ENC being significantly smaller and not as well armed as your average terrorist.
It took a couple of rounds of Federal Gold Medal Match 77gr to adjust the zero on the Strike Eagle, but when I was done the top crosshair was dead on at 50 yards and I figured that if I was able to stumble upon a hearing-impaired deer while wandering around in the brush that the rifle would be capable of easily turning off his switch.
Now, I never did manage to put myself in the same grid square as a deer, but I can tell you that after a few 6-8 hour days of humping the Stag 15 around in the bush that it would serve well as a patrol rifle. It was light enough that it was not at all fatiguing and while slung with a single point sling it was easy to navigate through some of the swampy areas that are found in this part of the country.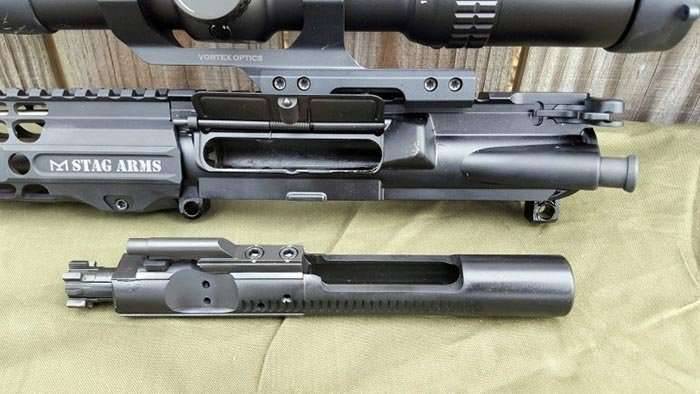 As far as reliability goes, I currently have over 400 rounds through the rifle at this point and the only issues I have had were due to my own laziness.
I keep my brass for reloading, but I don't like chasing brass, so I attached a brass catcher while shooting to minimize the work of recovering it. Unfortunately, the brass catcher is designed for a traditional AR-15 and had to be installed upside down on the left side of the upper receiver. This caused it to not properly eject brass and you know what happens when the weapon can't eject spent brass. After 3 FTEs I removed that brass catcher and viola … problem solved.
As of this writing, I have shot 77gr Federal Gold Medal Match, 62gr Lake City green tip, 55gr Lake City, and even some 55gr Wolf, all without a cleaning. At this point all I have done is apply a little lube at the beginning of my range day as I am trying to push the Stag 15 as far as I can to see what it will do. This rifle keeps eating everything I feed it like Rosie O'Donnell at a free all-you-can-eat buffet, and I couldn't be happier.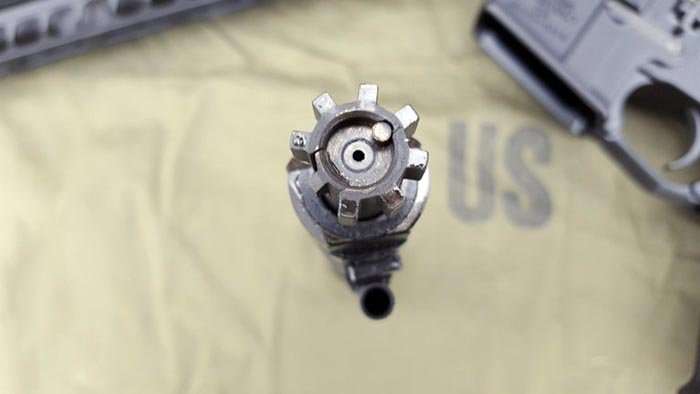 For this Stag Arms Review, I have shot this rifle from the sandbag and from the offhand, I have fired long sustained strings of fire, fired controlled pairs, engaged double targets, and performed magazine change drills and I can honestly say that it is far nicer to shoot than any rifle I fired while on active duty.
Of course, that may have something to do with the fact that I am no longer getting a face full of gas and lubricant in my face and I no longer have to worry about errant brass occasionally finding its way down my collar. For us left-handed AR shooters the struggle is real.
Stag Arms definitely has a hit on their hands with the Stag 15 Tactical, a rifle that would be equally suited to daily duty in a patrol car, as a hunting rifle, in a 3-Gun match, or on patrol in Afghanistan. The Stag 15 Tactical is a well-balanced, accurate, and reliable rifle available in right-hand and left-hand models.
It's well-equipped from the factory and ready to run out of the box–just add the optic or back-up irons of your choice. With an MSRP of just over $1,000 and a real retail (based on research of 3 of my local gun shop's websites) that averages around $800, you can pay more for a rifle of this caliber, but why would you?