As someone with more than an average amount of experience with the AR-15 pattern rifle both in the civilian world working for the gun industry for quite a few years and in qualifying with the military variant, M16, in the Marines, I can say that the stock triggers in America's Rifles leave a lot to be desired.
They can be gritty, inconsistent, and some are just downright awful.
What are the best AR-15 triggers?
Why you need a new trigger for your AR-15 rifle:
I've had one in an AR that double tapped, fired bursts, and sometimes fired on the pull and release. It was a budget trigger train-wreck and I nearly shat myself the first time it happened. Because of this I've been on a journey to find the best AR-15 trigger I could.
Don't get me wrong, for the most part they get the job done and there isn't anything necessarily wrong with a stock trigger. That being said, the stock AR-15 trigger that comes in a lower parts kit (LPK) or installed on your budget AR-15, can and likely should be upgraded.
In fact, behind the grip and the hand guard, the trigger is more often than not the next upgrade to your average AR-15 platform rifle and with good reason.
This is the best AR-15 upgrade for accuracy and performance, besides a proper set of sights or an optic, and, of course, proper training.
Why? Because a smooth, crisp, and consistently breaking and resetting trigger is paramount to your accuracy as a shooter.
Let's take a look at the best AR-15 triggers that I've found —
Geissele Automatics SSA E –
Geissele (pronounced guys-lee) is no stranger to making quality AR-15 parts. I guess it wasn't really a surprise when they announced earlier this year at SHOT Show, 2019 that they were actually entering the AR-15 manufacturing market.
Every trigger of theirs I've ever shot was smooth as butter and is a night and day difference from your standard mil-spec trigger.
The Super Semi-Automatic Enhanced (SSA-E) is the one I'm recommending right now.
It's built on the chassis of their famous SSA trigger and provides enhanced trigger control and weapon accuracy while maintaining the robustness and reliability of their two-stage trigger.
The SSA-E's feature a reduced 2-2.5 pound first stage and a .9-1.3 pound second stage pull. This is a little lighter than the standard SSA weights, resulting in a smooth trigger with a light first stage take-up and a crisp, second stage break.
This is a fantastic feeling trigger meant for both combat and accuracy and you cannot go wrong here. This is one of the best AR-15 triggers on the market.
Timney Competition
Timney makes one of my absolute favorite single stage triggers, and is one that FN installs on their higher end rifles which speaks volumes to me.
The one that FN included in the latest rifle I reviewed for them, which can be found here, had a 3.5 pound pull. However, Timney makes many different pull weights for these single stage bang switches.
Every Timney trigger I've ever had the pleasure of squeezing has felt fantastic and is more in line with what you'd be used to on a bolt gun, instead of an AR-15. This is one of my personal go-to companies whenever I need a good single stage competition trigger.
It's a self-contained module and is ready to install into your small-pin AR to deliver a smooth, crisp, creep-free single-stage trigger pull. It is 100% drop-in—and requires no gunsmithing, fitting, or adjusting. All components are inside the lightweight, aluminum housing.
It installs using your rifle's original hammer/trigger pins and the design prevents the pins from walking out. Available trigger weights are 3, 3.5, and 4 pounds.
This is the best AR-15 trigger for shooting competitions.
HiperFire Hipertouch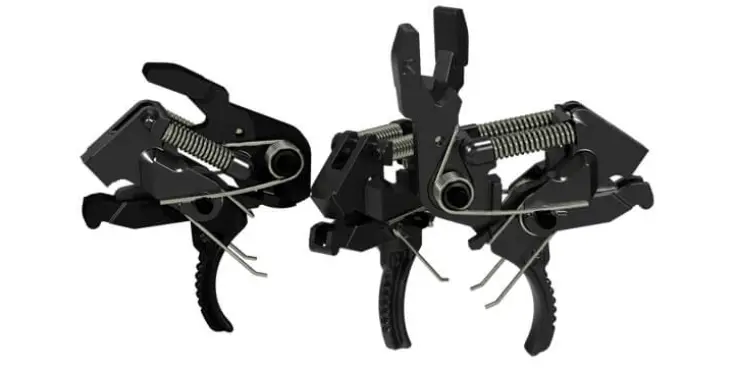 I have friends who only run HiperFire triggers in their ARs. They make great triggers that are a little different than the rest on this best ar15 trigger list. You can spot the difference, right?
If you look closely at this trigger, and compare it to one of the Geissele triggers, you'll notice a pair extra springs that are integral to the overall design.
The design of this drop in AR-15 trigger is such that it offers up a very light pull, but doesn't sacrifice hammer weight. What this equals is a superb, light trigger with unmatched reliability.
Oftentimes, when a trigger weight is adjusted to be lighter it sacrifices hammer force. This can sometimes result in a light strike, which is obviously not the best case scenario.
Even better, the Hipertouch triggers feel excellent and are on par with the other expensive triggers on this list.
CMC
CMC is where we start to drop in price a bit to the more affordable range but with a still much better than stock feel drop in trigger. I'm not going to offer any one CMC trigger over the others because I don't have as much experience with them as I do the other companies on my best AR 15 trigger list.
Still, the ones I have handled were, for the price, a great option. I know I'm starting to sound like a trigger snob and maybe I am to some degree, but I just like the feel of a high quality trigger.
This is an AR-15 drop in trigger company that uses stamped steel as the housing, instead of aluminum alloy like the other drop ins on this list.
This is a good option for those who can't spend $250+ on a trigger.
Geissele G2S
Yes this is Geissele's second product on this best AR-15 trigger list. When you're good, you're good. And the G2S is a much more affordable option than the SSA-E is and it is still a fantastic trigger–likely the best value on this list.
Geissele built their 2 Stage (G2S) to be a high quality, cost effective option of the SSA. It is a non-adjustable, two stage, precision combat trigger that allows accurate trigger control. The G2S is manufactured from the same tool steel as the SSA.
Comparing the G2S to the SSA-E from the outside, you can't see a difference except that there aren't laser markings. The feel and reliability are the same, with the G2S having a different way of holding the hammer pin in place.
If I had to pick a "best budget AR-15 trigger," or the best AR-15 trigger for the money, it'd be this one.
Franklin Armory
Say what?! Yeah, I put Franklin Armory on this list of the best AR-15 triggers, but not for the same reason as the other companies listed. The main reason why they're here, is because it IS a decent AR-15 trigger, but also because of the giggle capabilities it comes with.
No joke, I still remember the first time I shot the binary firing system. And, in my opinion, anything that sticks in your memory like that and is loads of fun is worthwhile to being put on a list.
In case you didn't know, the BFS trigger fires a shot on both the pull and the release which really increases your rate of fire. I have every intention of buying one of these for my PTR32P (7.62X39) because of how cheap ammo is for that platform.
Now, I want to insert a disclaimer here, because this trigger is not for everybody as they can take some getting used to. And, when you really start to get your finger moving it can cause some finger fatigue.
It should probably go without saying that you obviously burn up more ammo and sacrifice some accuracy. But, it's a lot of fun and different from every other trigger on this list.
PSA 2 Stage Trigger
This is the recent addition to this list of the best AR-15 triggers. I actually have an AR-15 in my possession right now with this trigger, and I can say that it has a consistently good pull.
In fact, it is very similar in feel to the above mentioned Geissele, but with a little creep in the beginning. Still, for the price being what it is, if you can find one in stock on their site, you can't go wrong.
I'm currently working on a review on this trigger, as well as the AR-15 the trigger is in, so make sure you stay tuned for that.
Conclusion:
Which is your favorite AR15 trigger? Did yours show up here on my list?
Geissele recently put out their own AR-15 rifle, you can check it out in our video from SHOT Show: