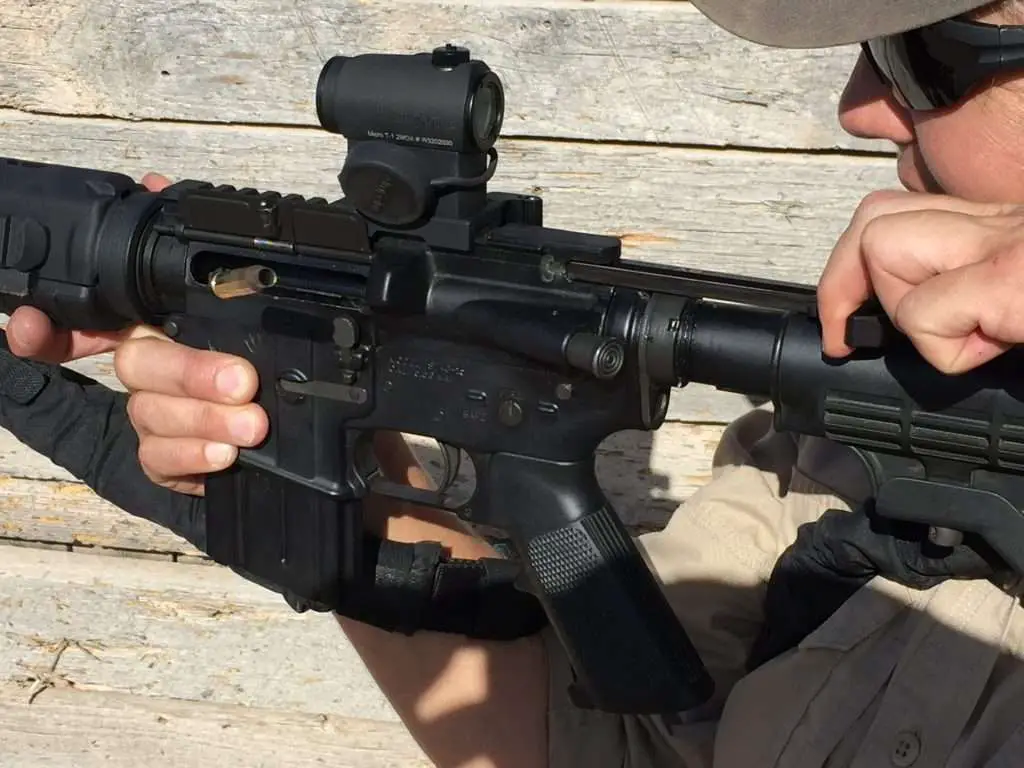 The popularity of AR-15 rifles seems to grow every year. Even with thousands of choices on the market, more crop up every season. Along with new rifle and carbine choices, options and upgrades for sights abound, to the point of being confusing.
Here is a brief guide to help you get maximum mileage and value from the visual aids on your AR, with a few product suggestions based on personal experience.
Define your rifle's job
What is your AR used for, and where? If it's strictly for home or small property defense, you can count on close-quarters engagements of, say, 15 yards or less, possibly in dim-light conditions. If it's varmint hunting, you can count on moving targets at 25-200 yards, daylight or twilight. Competing in three-gun?
Most of your work will be in the light of day, at relatively close distances, and speedy target acquisition is a must. Stretching out the capabilities of that .223 Remington bullet beyond 200, 500, or even 800 yards or more? You'll need the help of magnification.
If you're like most AR-15 owners, your rifle is expected to do more than one job … perhaps home defense and hunting, or getting through a precision marksmanship class one weekend and engaging targets in a run-and-gun competition the next.
Fortunately, just like humans, the AR-15 platform rifle is not a one-trick pony, and a growing body of choices for sights can help you customize the gun for general or single-purpose use. Some common choices include:
Iron AR-15 sights: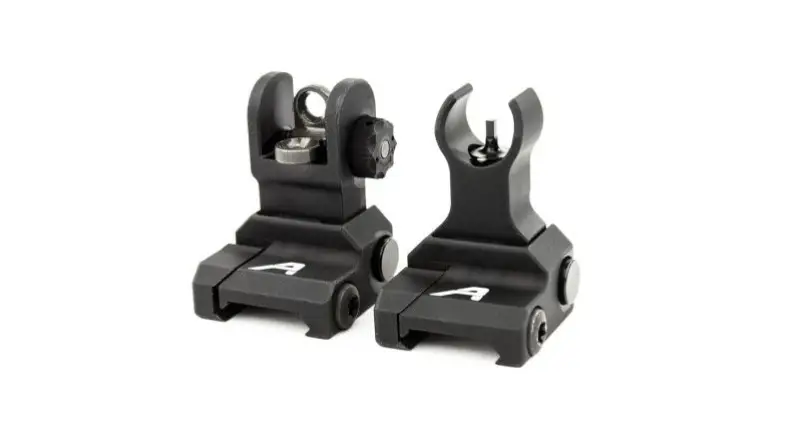 The original M4 rifle design, and many ARs on the market today, feature a fixed front sight on a triangular base, referred to as an A2 style front sight.
These AR-15 sights are easily adjusted for elevation using a front sight tool or empty .223 case. Also available are removable sights that are easily attached to a Picatinny or Weaver rail, if one of those are included on your rifle.
A great advantage of "iron" (sometimes made of polymer) sights, AKA backup iron sights or just BUIS, is their durability. What doesn't use batteries can't lose power! Tritium-enhanced front sights can offer a bit of clarity for close-quarters engagements in dim light.
Where your AR-15 iron sights lose out is in rapid target acquisition and focus at distance. This is especially true for shooters with imperfect eyesight.
Magpul makes the industry standard in detachable BUIS. I've also had good results with a set made by Fab Defense.
Non-magnifying AR-15 red dot and holographic optics:
Generally mounted atop the receiver, red dot and holographic sights display a focal point, like a dot, arrow, or reticle that the shooter aligns on target as the aiming function. Most are battery-powered, and run for a remarkable length of time on a single battery. Some are solar-powered and are "always on."
A feature to look for is adjustable brightness and/or dot size. Precision shots will require a small dot, while closer and center-mass hits happen fastest with an easily-seen but more general targeting area, in other words a larger dot.
Most AR-15 red dot sights are very compact and can require a bit of concentration to maintain sight of the target when moving from the ready position to being on target, due to a somewhat limited field of view.
However, they are faster to engage than the iron sights your AR-15 may have came with, since you have just one instead of two sights to align on target.
The Aimpoint Micro series is probably the best known red dot, and among the most costly, though they work extremely well and Aimpoint has a great reputation for customer service.
AR-15 holographic sights are similar to red dot setups, but are usually a bit bulkier. They have the advantage of being on target at typical combat distances regardless of where the reticle appears on the tiny screen.
Targeting center mass from a quickly improvised, technically incorrect position is no matter for the holographic sight.
Some, like the Trijicon ACOG, include magnification, often at a low and fixed power, so not all holographic sights necessarily fit in this non-magnified category.
Holographic sights add the advantage of a wide field of view to the rapid target acquisition capabilities of a red dot. In addition to the Trijicon, EOTech is a well-known maker of holographic sights.
A decade ago, as a new owner of a non-magnifying red dot, I learned a simple but important lesson: targets too small to focus on with iron sights will remain so using a red dot but can seriously speed up your competitive, hunting, or tactical shooting.
A red dot can extend the effective range of your rifle by removing the iron-sight burden of deciding precisely where inside the rear sight ring should the front sight should set. It cannot, however, make small things look big.
Magnifying AR-15 sights:
Like the preceding category, this is a broad one. Some magnifying sights operate on a red dot or holographic platform, are compact—five or less inches in length—and offer magnification from 1.5 to 5 power.
In addition to the Trijicon already mentioned, Lucid Optics' L7 is an outstanding and economical choice.
Also in this category are scopes—longer devices, usually with adjustable and greater magnifying qualities. I have spent many hours behind my AR with the Lucid Optics L7, a medium-size 1-6x scope that has successfully taken me through arduous biathlons with engagements up to 400 yards. 
A medium-power scope like the L7 is a great choice for times when target distances will vary widely.
Most people don't think of the AR-15 as a long range rifle, but with a good barrel and ammunition, a quality magnifying optic, and time, the .223 can run with the big dogs for a surprisingly long time.
Distances beyond about 575 yards are not a great match with this relatively small caliber for hunting, however the rewards are great for netting hits as far as 1,000 yards from a recreational and ballistic education perspective.
Earlier this year, using Bushnell's LRTSi 3-12x model, my AR made hits on a moving target at 1,000 yards after just six tries. That kind of accuracy is only possible with an outstanding optic that can make long distances look short.
On the importance of correct mounting
As an instructor, the biggest problem area I see with AR-15 setups is optic mounting. Choosing the correct hardware that allows you to get a good cheek weld, that retains the option of using your iron sights while keeping an optic attached if you like, and that doesn't interfere with the operation of the rifle is critical.
Attaching mounting screws securely to the optic and rail, with the right tension from the outset, is a job frequently done to less than perfection. Errors in mounting can result in frustrating, inconsistent performance.
Remember that mounting hardware may be part of budgeting for your AR-15 scope. Cutting corners here can result in more expense later, especially for long range work or systems that undergo physical abuse like 3-gun and hunting rifles.
If necessary, use iron sights while you save up for that set of three-screw Weaver rings, or that LaRue Tactical red dot mount; you'll benefit later from the improved accuracy and spared frustration.
Consider a detachable mount
Early on in this article, readers were advised to identify the role of their AR-15 rifle and outfit it with optics accordingly. Many of us have just one rifle that has to serve as a jack of all trades. A number of quick-release devices are available to connect the scope or optic to the rifle.
A good detachable mount can bring greater enjoyment from an AR, minimizing time spent switching gear around, as well as offering a speedy return to the irons if glass gets fogged or broken.
What next?
This article scratches the surface of considerations for choosing an optical device for your AR-15. Future installments could include zeroing iron sights, selecting your zero distance, products that allow users to combine or flip between optical add-ons, or something else.
Ever wonder what that thing on the tip of your barrel was? Check this out: