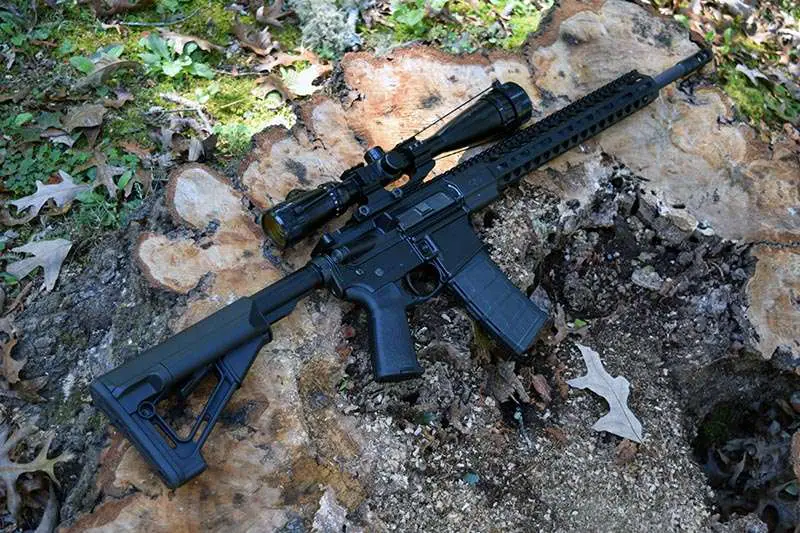 The AR-15 is the most popular firearm in the United States, and with good reason. It is highly customizable, accurate, and in the right hands a formidable tool.
I've been seeing a lot of newcomers to the gun industry as of late, and they've got some questions that need to be answered. I figured it'd be a good idea to combine most of these questions together, in the same article.
Here are 23 things you need to know about the AR-15:
What exactly is an AR-15?
An AR-15 is a firearm that can either be a pistol or rifle that is based on Eugene Stoner's original concept. The original AR-15, which is a trademarked term, is the rifle that the military's M16 and M4 is based off.
The AR-15 differs from the M16 and M4 in that the AR is the civilian variant and is semi-automatic.
Both the M16 and the M4 are capable of burst fire or automatic fire. The AR, which stands for Armalite Rifle after the company to first produce them, only shoots one round per trigger press.
The AR-15 is not a rifle that is for military use and because it lacks automatic fire, is less capable of a weapon than the military variants are.
What are the most popular AR-15 calibers?
The AR-15 is one of the most versatile rifles on the planet and is capable of being used with many different calibers of rifle cartridge. All you have to do is switch some parts around to shoot other calibers.
The most popular cartridges are as follows, with the most popular being the first one and descending from there to the least popular.
5.56 and .223
.22 long rifle
300 Blackout
6.5 Grendel
6.8 SPC
7.62X39
Gaining in popularity are other, newer cartridges like .224 Valkyrie and 350 Legend.
Also rising in popularity are the pistol caliber carbine AR-15 platforms that shoot handgun calibers like the:
Bigger bore chamberings are also on the rise as well, though still not as popular as the others. This includes calibers like:
450 Bushmaster
458 Socom
50 Beowulf
What is the AR-15 used for?
The AR-15, dubbed America's Rifle, is the most popular rifle found in use by target shooters, defenders, and even hunters across the United States. This is a popular rifle for all three uses.
In fact, more and more are hunters noticing the capability of the AR-15 when chambered in certain calibers than ever before. While the 5.56 is on the weaker side for bigger game, stepping it up to the 6.8 SPC, the 350 Legend, and the bigger bore cartridges really stretch the limits of the AR-15.
However, that being said, its most popular use is as a defensive tool as it is a quite capable weapon in the right hands that is known for accuracy and quick follow up shots.
Many defenders use this tool for their home-defense setups, and a growing number of folks are using them as truck guns, in case the apocalypse happens while they're on the road.
As a dual purpose gun, there aren't many better options than the AR-15. When I say dual purpose, I mean a rifle that can defend you right after bringing home food.
What is a pistol caliber AR-15?
A pistol caliber AR-15 is essentially just an AR-15 that is chambered for a cartridge usually dedicated to handguns. The most popular are 9mm, .40 S&W, and .45 ACP. Though, others are becoming more popular, like the 10mm.
While many folks scoff at the prospect of a pistol caliber carbine, they do have their place for defensive purposes.
In fact I started to incorporate one as a truck and travel gun with the current climate being what it is.
Here are some examples of a pistol caliber carbine in the AR platform.
What is a bolt carrier group (BCG)?
A BCG, or bolt carrier group, is the reciprocating part of the AR-15 that pushes a new round into the chamber, fires it, and then extracts it when it is fired.
The bolt carrier group contains important parts that are necessary for the function of the rifle like the bolt, the firing pin, and the carrier itself.
The bolt carrier group sits inside the upper receiver (spoken about below), and is driven by the gas system and the buffer tube and spring.
The BCG as a whole tends to be one of the weakest points of the AR-15 as it contains some of the most popular parts to break on an AR-15.
Here are some examples of bolt carrier groups.
What is the difference between M-LOK and Keymod foregrips on an AR-15?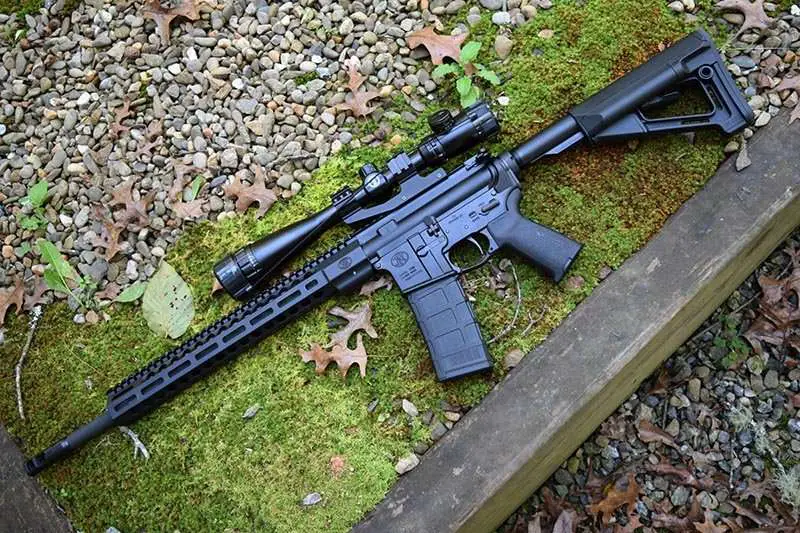 The purpose of both M-LOK and Keymod rails and foregrips is to mount accessories like flashlights and back up sights to the rifle itself. They differ both in aesthetics (looks) and in how they function because the holes are different shapes.
But they both do the same thing.
Both foregrips are primarily made out of aluminum, however there are some companies who make them out of plastic as well, as drop in foregrips.

M-LOK is gaining in popularity more and more over Keymod because most people prefer how they look. Both function well, and I have both.
What is an AR-15 lower?
The AR-15 is broken down into different parts. The serialized part, and therefore the part of the firearm that is considered the actual firearm, is the lower receiver.
The lower receiver is the part that holds the trigger, grip, springs, magazine, buffer tube/spring, and stock.
Here are some examples of finished AR lower receivers.
What is a stripped AR-15 lower?
A stripped AR-15 lower is basically just a lower that has no parts installed on or in it.
Here is an example of an AR-15 stripped lower.
What is an AR-15 upper?
An AR-15 upper is the upper receiver. The upper is the part that holds the BCG (spoken about above), the barrel, and the gas system.
The upper receiver and the lower mate up directly with each other to form the fully functioning firearm.
What is an AR-15 LPK (lower parts kit)?
The lower parts kit for an AR-15 is essentially all of the parts that are needed to put the lower receiver together.
It comes with things like the trigger, springs, and other parts necessary for making the lower function.
Read our article on the best AR-15 drop in triggers, here.
Here are some examples of lower parts kits.
Where should I mount my AR-15 scope?
For an adjustable zoom scope, like this one Eve did a review on, you'd need to mount it in a spot with correct eye relief, or the spot on the rifle in which you can actually see through the scope.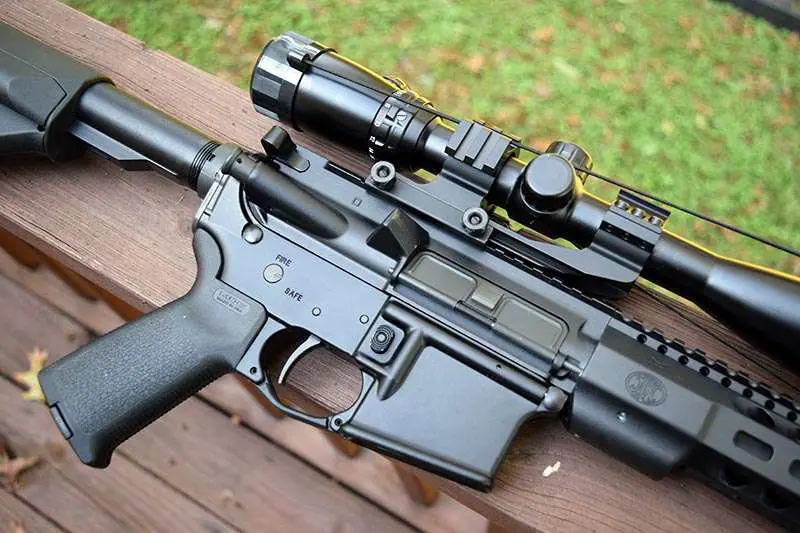 This means that if the scope is too close to your eye or too far from your eye, the scope will not function as it is supposed to.
However, for a scope like a red dot or a prism scope, you'd want to mount it as far forward as you can on the solid part of the rail (so, on the receiver itself, not on the foregrip rail section).
When I say solid, I mean the part that is attached to the receiver itself, and not a free-floating rail that may accidentally change your zero if it moves off center a bit.
Is the AR-15 good for home defense?
Yes the AR-15 is a good home defense firearm. I have chosen to utilize the AR-15 in my own home defense scenario, because of the following reasons:
Fast follow up shots
Multiple follow up shots
Quick target acquisition
Excellent accuracy
Superior ballistics over my handguns
Good maneuverability on the shorter carbines and pistols
Detractors of the AR-15 for home defense will say they wouldn't want to use it because it's too loud. To them I respond: but any gun fired indoors will be loud.
Not to mention that if you're shooting an AR-15 a home invader will not misunderstand the sound of gunfire. At that point, you want him to know you are armed.
Why does my AR-15 malfunction?
The AR-15 is a reliable platform, so when they malfunction, chances are excellent that there are only a couple of different things that can be the cause. First up is a faulty magazine.
The magazine is generally considered to be the weakest link in the entire setup and just about every AR-15 malfunction I've ever had was because of a faulty mag.
Having said that, there are other things that can cause an AR-15 to malfunction. For example, if you're using excessively dirty ammunition, like Winchester's White Box. Even dirtier are any of the more popular steel cased ammo companies.
They're fine to shoot in your AR-15, but you'll need to clean your rifle more often.
The problem arises because they use a dirtier gun powder that doesn't always completely burn up before the bullet leaves the barrel. This can cause excessive fouling and make the gun need to be cleaned more often.
Another culprit could be your gas system.
What size are AR-15 rifles?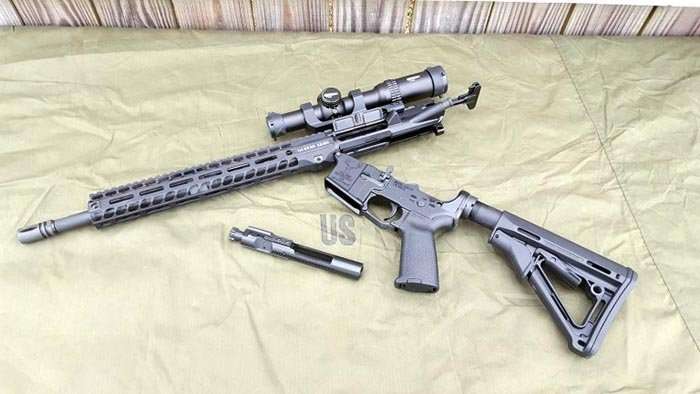 An AR-15 rifle has to meet certain size requirements to be considered a rifle platform. Once it shrinks down under those requirements and has certain features it can cause legal problems for you.
Those requirements are as follows:
Overall length of 26″
Minimum barrel length of 16″
For example if your AR-15 has a buttstock on it along with a barrel under 16 inches in length, it just entered the SBR, or short barreled rifle, realm. You are now in violation of the National Firearms Act.
There is a lot more that goes into it than this, which goes outside the scope of this article.
Here is a more in depth article I wrote about the weight of the AR-15 platform.
What size are AR-15 Pistols?
An AR-15 pistol can generally be any length under the rifle regulations, but it has to meet certain other requirements or it will be considered an NFA item. The moment you put a buttstock that is meant and designed to be shouldered on a rifle with a barrel that is under 16 inches, you have an SBR.
In addition, if you have a pistol with a short barrel and a brace, but stick a vertical grip on it, you may now have an AOW. An Any Other Weapon is another NFA controlled device.
Again, this goes outside the scope of this article, but we'll dedicate a future one to it.
What is the difference between an AR-15 rifle vs AR-15 pistol?
A rifle will have a longer barrel that is a minimum of 16″ and must be a certain length overall (26″). A rifle will also have a buttstock. An AR-15 pistol will have a shorter barrel, under 16 inches, and have a pistol brace or just a buffer tube.
Each platform has its own area where it excels. The AR pistol is great in tight spaces where maneuverability is important but would be limited with a larger rifle.
AR rifles are great for those times when you need a little more breathing room to reach out and touch a target at longer distances.
The longer barrel length associated with a rifle will help the bullet come up to a faster speed before leaving the barrel, ultimately delivering more energy upon impact.
What are AR-15 anti walk pins?
Anti walk pins are ones that are designed to stay put when shooting. The AR-15 pins are sometimes notorious for walking out while shooting.
Here are some anti-walk pins on the Primary Arms website.
How much does an AR-15 cost?
Your average entry level AR-15 can cost 500-600 dollars, while the more expensive rifles can be several thousands of dollars. Most fall in the 1,000 dollar range and are considered to be mid-tier firearms.
The pandemic and fear associated with anti-gun politicans holding office have driven costs up considerably. And that is if you can even find one to buy.
Someone who always has AR-15s in stock is PSA.
The cost difference between two rifles varies based on how the rifle is setup as well as who did the final work on the two main parts of the rifle itself. Those two parts are the above mentioned upper and lower receivers.
While there are only so many facilities that produce the actual receivers themselves, each unit then gets finished at a different facility which is why any two receivers that bear the same mark can vary so widely in consistency and durability.
What does barrel twist mean for an AR-15?
The barrel twist rate for your AR-15 is just a way of saying how many inches it takes for the barrel's rifling (the thing that spins and stabilizes the bullet) to make one complete revolution around the inside of the barrel.
A barrel that reads 1:7, 1-7, or 1 in 7 will make one full revolution around the inside of the barrel every seven inches.
It's important to know the barrel twist rate because that is the part that is directly responsible for the accuracy of your rounds downrange. AND different twist rates work better with different weight (actually length, but they weigh more) bullets.
A 1:7 twist barrel is better at stabilizing heavier (longer) bullets than a 1:9 barrel is.
We cover twist rate much more in this article.
What is a 223 Wylde AR-15?
223 Wylde is not a caliber of AR-15 as some would think. Instead, it's a chambering. What this means is that nobody makes 223 Wylde ammunition because it's not a thing.
Instead, it is a hybrid chamber designed to allow greater use of 223 and 5.56 in the same rifle.
Here are some 223 Wylde uppers.
What is the charging handle for on an AR-15?
The charging handle is basically the part of the AR-15 that allows you to manually pull the bolt carrier group to the rear. This allows you to chamber a round, or pull the BCG to the rear to unload the chamber.
Here's an example of an excellent charging handle.
What does a forward assist on an AR-15 do?
A forward assist is a small part on the upper receiver that allows you to help nudge the BCG forward. This is one of those things that are rarely used, but makes the AR look naked without.
What is the buffer tube for on an AR-15?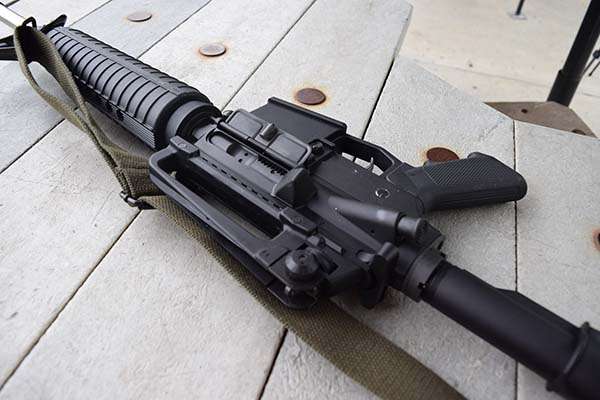 The buffer tube is the part that holds the buffer spring on the inside. This spring is the part that returns the bolt carrier group to the forward position so it can pick up the next round for the shot.
It's also the spot where the buttstock or pistol brace attaches. Here are some buffer tubes in the PSA store.
Conclusion:
The AR-15 is America's Rifle. It is the most popular firearm platform in the United States, with good reason. It is accurate, reliable, and excels in many situations from hunting to self-defense.
If you're in the market for a new AR-15, here are some great places I've had good luck finding them: