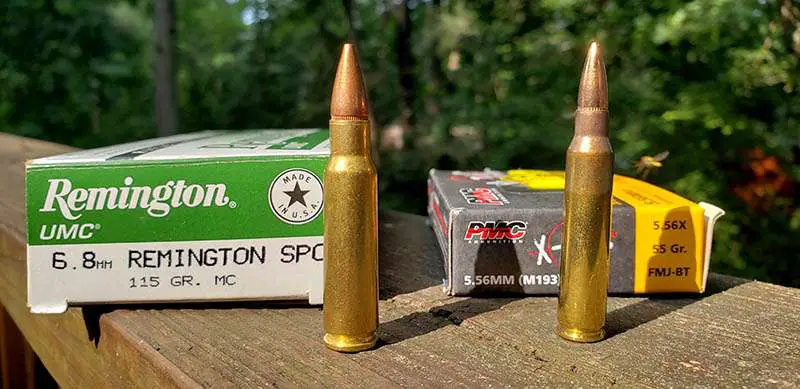 The caliber wars rage on. But I don't handle this topic the same way everyone else does. My main goal with this blog is education and I only want to help you understand the facts about the calibers so you can make the best possible choice.
I will choose a winner at the end of the article and tell you which one I prefer. Though, to be honest with you I like (and have guns in) both. Let's get started.
5.56 NATO VS 6.8 SPC, Which one is better?
In terms of downrange power, the 6.8 SPC delivers a bigger, heavier projectile to the target. Because it is bigger and heavier it technically hits harder.
However, there is more that goes into choosing the best caliber than just power alone, which is what the rest of the article is for.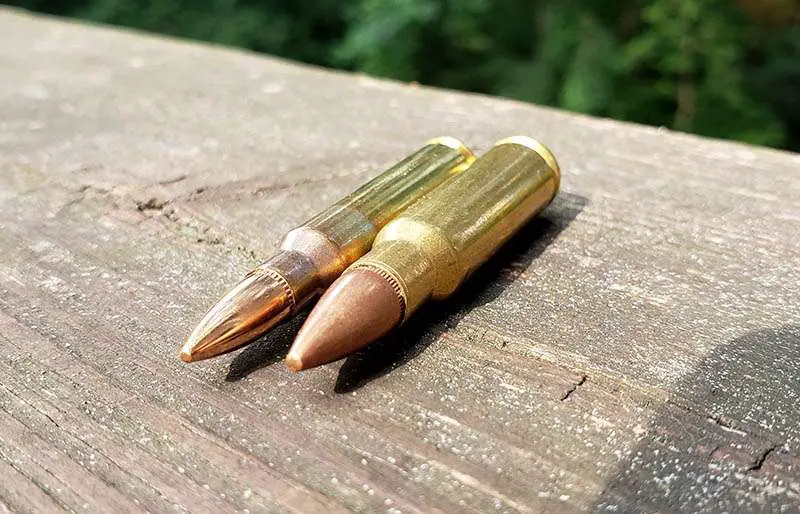 6.8 VS 5.56, Stopping power
This is the point in the article where I'm usually discussing some mythical thing because for some guns, stopping power is a myth. This isn't necessarily the case with rifle cartridges like this, however.
The 6.8 SPC produces more energy at all ranges than the 5.56 NATO does. At the muzzle, fired from a 16 inch barrel with 120 grain Hornady SST rounds, there is 1,612 pounds of energy.
Comparatively, a 62 grain 5.56 Hornady Black round produces 1,289 pounds of energy at the muzzle.
Let's now look more in depth at the energy transfer of these two cartridges below, at various distances:
5.56 Stopping Power
The above mentioned 62 grain Hornady Black at the muzzle has 1,289 FT/LB of energy which drops to 1,014 at 100 yards, 789 at 200, and 604 at 300. Those numbers are nothing to sneeze at and are much better than the energy transfer you'd see from your average handgun.
6.8 Stopping Power
The above mentioned 120 grain Hornady SST has 1,612 FT/LB of energy at the muzzle. This drops to 1,349 at 100 yards, 1,120 at 200 yards, and 923 at 300. At all distances the 6.8 SPC transfers more downrange energy than the 5.56 NATO does.
6.8 SPC VS 5.56 NATO Ballistics
Below, I have listed abbreviated (shortened) ballistics charts for each of the cartridges. If you'd like to see the more in depth versions, as well as to learn more history on each caliber, click the below links:
Click this link to learn how to read a ballistics chart.
5.56 Ballistics
This chart shows the 62 grain Hornady Black rounds mentioned above:
| | | |
| --- | --- | --- |
| | Muzzle | 100 YDS |
| Velocity | 3060 | 2714 |
| Energy | 1289 | 1014 |
| Drop | / | +1.6 |
6.8 Ballistics
This ballistics chart shows the 120 grain Hornady SST rounds mentioned above:
| | | |
| --- | --- | --- |
| | Muzzle | 100 YDS |
| Velocity | 2460 | 2250 |
| Energy | 1612 | 1349 |
| Drop | / | +2.2 |
5.56 NATO VS 6.8 Special, Trajectory
The 5.56 NATO, with a 200 yard zero, drops 7.7 inches by the time it reaches 300 yards.
The 6.8 SPC, with a 200 yard zero, drops 10.5 inches by the time it reaches 300 yards.
5.56 VS 6.8 Recoil and other info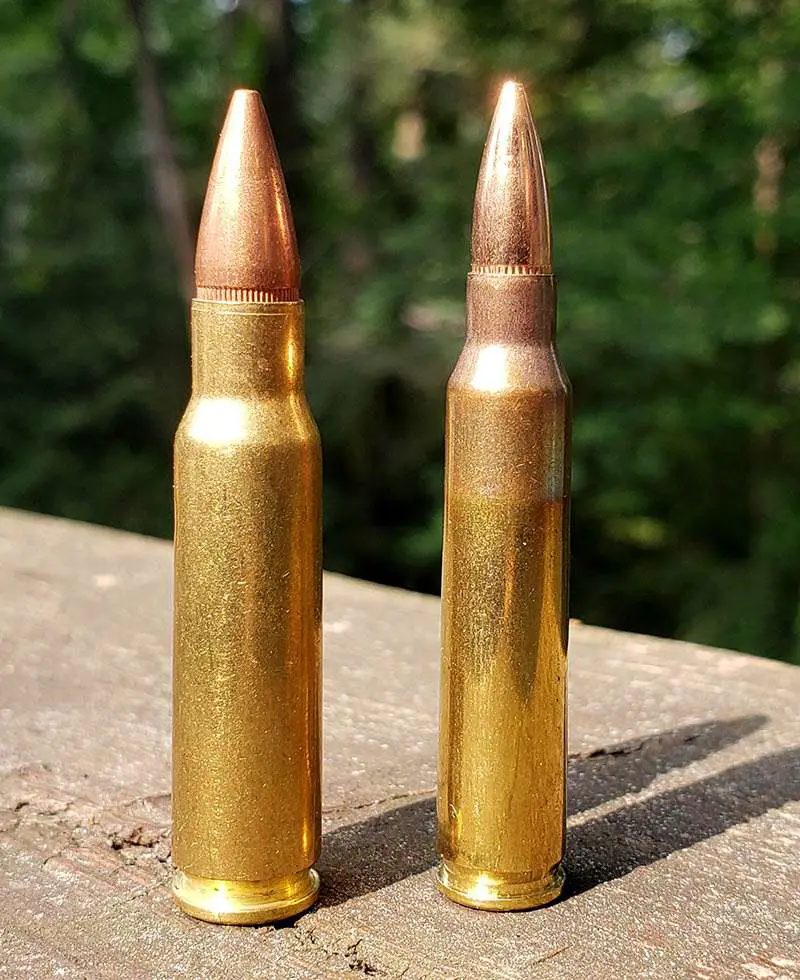 5.56 NATO recoils less into the shooter's shoulder than the 6.8 SPC does. This is true when all other specs between the rifle are the same with the same recoil system (buffer spring/tube).
The primary weapon for both calibers is the AR-15, but there are obviously others as well, to include bolt actions.
This does not mean that the 6.8 SPC recoils hard, however because it is only a moderate amount of felt recoil. It's still somewhat lighter than what a 308 Winchester would produce.
6.8 VS 5.56 Cost
Right now it's hard to gauge the cost of ammo as a whole because everything is more expensive than it once was. That said, 6.8 has always been and still is more expensive than 5.56 NATO is.
That gap has closed up quite a bit during the ammopocalypse, but it is still true.
After everything returns to normal I suspect that the cost of 223 and 5.56 will drop to somewhat closer to what it used to be, but I don't think we'll ever get to the previous price point again.
Buy 6.8 SPC Ammo
Buy 5.56 NATO Ammo
6.8 VS 5.56X45 Capacity
The standard magazine will hold more of the 5.56 rounds than it will the 6.8. The reason why this is true is because the 5.56 is slightly thinner than the 6.8 SPC is.
This also means that the average person will be able to carry more rounds of 5.56 NATO at the same weight of 6.8.
5.56 VS 6.8 SPC Accuracy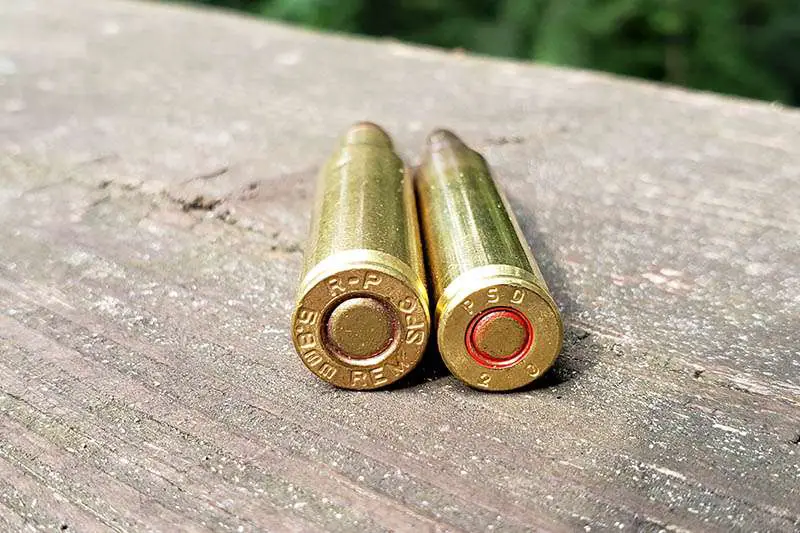 Both calibers are quite accurate when the shooter does his or her job when fired from a decent rifle.
The 6.8 SPC is capable of snuffing out a slightly longer effective range due to the increased powder charge and projectile weight.
6.8 VS 5.56 Availability and Aftermarket
The 5.56 NATO is the one of the most popular calibers in the world of any type (handgun, rifle, etc.). And it is (along with the very similar .223 Remington) the most popular rifle cartridge in the United States.
The 5.56X45 is a much older cartridge that has a much bigger following. The 6.8 SPC, on the other hand, has never really ever caught on. Sure, it has a cult-like following, but it has never really ever caught on to the masses of our industry.
The 5.56 is one of the most-manufactured cartridges available. It's produced by all of the major ammo makers, as well as the smaller boutique manufacturers as well.
I've been trying to find locally sourced 6.8 ammo for nearly a year now and cannot find any. That should tell you something.
5.56 VS 6.8 Which one wins?
This is an easy choice for me, even though I usually struggle at this point in the article. I choose 5.56 NATO as my primary defensive weapon.
It's cheaper to shoot, lighter, still an effective tool with good ballistics, and the list goes on.
I have both, however. And if I ever need to reach out and touch a target I'd trust the 6.8 SPC just a tad more. So again, I have both and both are good to go.