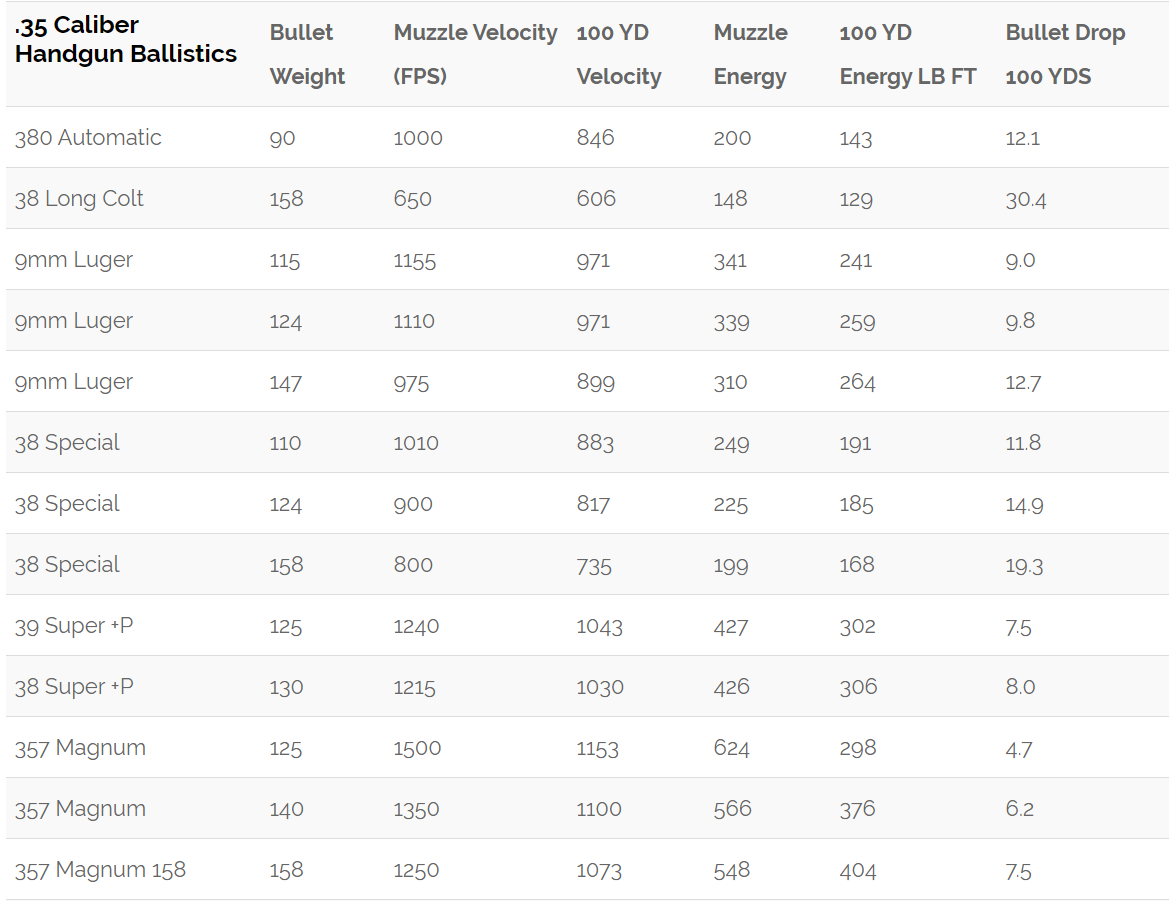 One of our primary focuses here at Gunner's Den is ballistics studies. The goal is to help shooters of all skill levels choose their first or next gun based on how the bullet performs the moment it leaves the muzzle of the gun.
I understand that not all people know how to read a ballsitics table/chart and what to do with the info that's provided. That's my goal with this article.
What is a ballistics chart?
A ballistics chart is nothing more than compiled and organized data that shows the user how a cartridge performs at various distances in terms of velocity, energy, and trajectory.
Ballistic differences:
It's important to note that there can be a number of different loadings and offerings in each caliber that will differ from one manufacturer to the next.
There are also an infinite number of combinations as each gun will have different parts that have an affect on the ballistics of that cartridge. For example, a shorter barrel will usually produce a slower moving bullet than a longer one in the same caliber.
Because there are so many different combinations, the ballistics chart is meant to be a starting point to help you figure out which direction you should go in based on your goals.
Barrel Twist Rate:
Another thing to keep in mind is that barrel twist rate may vary from one gun manufacturer to the next, even in the same caliber of gun which will invariably have some affect on ballistics.
The AR-15, for example has several different twist rates for rifles chambered in 5.56 NATO.
These different twist rates will have a different affect on bullets of different sizes. In other words, a 1:7 twist rate will stabilize a 35 grain .223 totally different that it will a 75 grain 5.56.
The main reason why is probably not what you're thinking it is, but because different size bullets do better or worse with different barrel twists.
A better stabilized bullet will usually travel further than a non-stabilized one will.
Other ballistics variables:
There are other variables to think about for certain platforms as well, like your zero yardage, the height of your scope, etc. These will all also have some affect on your trajectory if applicable.
There are also outside variables that will play a lesser affect on your projectile's flight path. Wind, rain, and altitude are some of those outside variables, as is gravity which brings us to our first point in the ballistics chart itself.
Bullet Trajectory
The trajectory (drop) of a bullet basically measures (usually in inches) the affects gravity has on the bullet at each distance (measured in yards). The moment the bullet leaves the barrel gravity starts to take over to pull it down to earth.
There are a lot of variables that dictate the bullet's trajectory, one of those is how fast it's traveling (which we'll get to in a moment).
Flatter is better:
To a certain degree and depending on what you're trying to do, the flatter shooting the better. And what I mean here is that when you're in the midst of comparing two different cartridges, you would usually want to buy the flatter shooting of the two.
You can tell that a bullet is flatter because it drops less than other, similar rounds do.
This is one of the reasons why we have ballistic comparisons to make your life easier. Some folks hate the "caliber wars" but they're necessary for choosing which gun in which caliber is best for your goals.
You can see our 22-250 vs 25-06 comparison for a look at what I'm talking about.
Distance measured in yards
All ballistic chart stats are usually measured in yards but each chart starts at the muzzle.
The muzzle of the gun is essentially the tip of the barrel or slide.
Here is an example for 45-70 Government:
| RANGE | MUZZLE | 50 YD | 100 YD | 200 YD |
| --- | --- | --- | --- | --- |
| Velocity | 2025 | 1812 | 1616 | 1285 |
| Energy | 2276 | 1822 | 1449 | 917 |
| Drop | -1.5 | +1.5 | +3 | 0 |
At the muzzle of the above rifle, that bullet has a velocity of 2,025 feet per second, 2,276 foot pounds of energy, and drops 1.5 inches.
The at 100 yards, velocity slows, energy drops, and the projectile is up 3 inches. Can you see how much?
Some ballistics charts differ in that they show the yardages on the left and the stats on the top. That doesn't matter much as it is self-explanatory.
Handgun vs rifle ballistic differences
The distance a bullet travels will usually be less for handguns. This is because of several different reasons, but usually because the guns have shorter barrels and the cartridges aren't designed for long distance.
The handgun ballistics charts will usually be measured in shorter increments, like: muzzle, 25 yards, and 50 yards.
There are times when we veer from this, like we did with the 460 S&W which is the fastest moving revolver cartridge that reaches rifle speeds.
Also, where it matters we try to include both rifle and handgun ballistics for certain calibers, like this 357 Magnum ballistics chart. The reason why, is because of this caliber's popularity in being chambered in revolvers and rifles.
Bullet Velocity
Bullet velocity is basically how fast the projectile is moving at the above distances, measured in feet per second (FPS).
The bullet's velocity has a direct affect on the other parts of the ballistics chart numbers. In other words, a faster-moving bullet is usually going to drop less because it gets from point A to point B faster.
Because it gets there faster, it basically denies the earth's gravitational pull because it is in the air for less time.
It has a direct impact on energy because, usually, the faster the bullet moves the greater the energy it'll possess.
Bullet Energy
The bullet's energy is essentially the amount of power it delivers to your target measured in foot pounds (FT/LB or LB/FT).
While what I'm about to say will depend heavily on what you're trying to do, the more energy your bullet transfers to target the better.
The above statement isn't always true. A lot of the time a tremendous amount of power will mean obliterated meat and/or pelt. It's highly important that you choose the correct load for your purposes.
If your purposes are self-defense from a human or animal attacker, then having a good amount of energy will help you out.
Conclusion:
It's my hope that if you've never known how to read a ballistics chart before, that this guide has helped you out some.
Check out our rifle ballistics chart and then our handgun ballistics chart for hundreds of calibers. In each one of those, are several other linked pages dedicated to specific calibers.