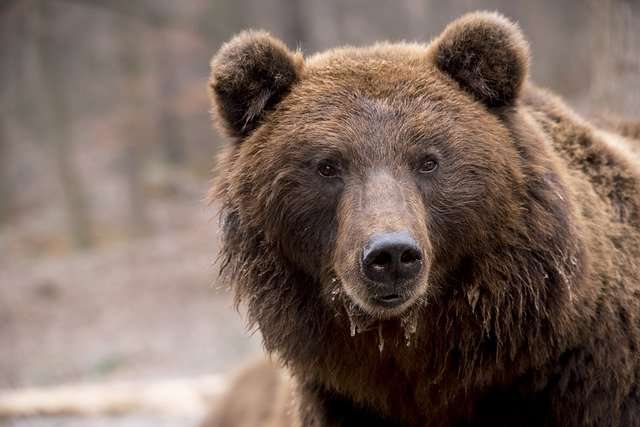 There is a lot of misinformation out there on the internet about certain things regarding guns and what they're capable of. We usually call these myths, but there is almost always some truth to each myth.
This time around, we tackle a question I see from time to time on internet forums and Facebook gun groups regarding bear defense.
This is a topic I've covered before on different blogs, but always have new things to say and expand upon.
Will a 45 ACP stop a bear?
45 Auto can stop a bear under the right circumstances, but it is far from the best choice for bear defense. Ammo choice is paramount. There are documented instances where a 45 has been used to stop a bear attack.
Anyone who says it cannot be done is misinformed even though it's not the best choice as we'll find out in a moment.
As a rule of thumb, the best tool you have for self-defense against any animal, both two and four-legged, is the one you have on you.
So if I'm walking around with my 45 on my hip and a bear begins to threaten me it's much better to have the 45 than a pointed stick.
If you don't have your 45, and are only armed with a pointy stick, then I suppose you better get to poking. Maybe he'll bleed out at some point.
The 45 ACP is too weak for thick-skinned, meaty animals:
Even though 45 Auto can and has been used in successful bear attacks, it has several inherent problems that actually make it insufficient. There is a lot that your 45 has to do right in order to stop a bear from attacking. The main thing is that you have to send projectiles far enough into his body that it actually does him harm.
In other words, you want to help change his mind about attacking the thing that's poking him with 45-caliber holes.
As with all defensive situations, shot placement and penetration are key. The main issue with the 45 ACP is that, while it's a nice, big projectile capable of making a big hole, it's not moving fast enough to penetrate deep into a bear's body to matter unless you're using the right ammo.
Bears have thicker skin than humans, which is often backed by muscle and big bones. Of course, this all depends on the specific bear because they're all built differently.
Black bears located east of the Mississippi are easier to take down (for the most part) because they are smaller (again, for the most part, but there are some big bears in certain areas).
Because bears tend to be set up a lot differently than humans, it's important to make correct ammunition decisions.
Therefore, while 45 ACP is not ideal for self-defense against a bear, a more important decision isn't the caliber, but the type of ammunition itself.
Because sometimes, like if you only have one gun, you have to make what you've got work.
A charging bear is different than a hunted bear:
Think about the last time you got angry. How did you feel? Did you have adrenaline pumping through your body?
When an animal has that adrenaline running through them they're harder to take out. This means that a bear who is being hunted is easier to take down than a bear who is charging.
A charging bear is usually doing so because it feels threatened and/or is pissed off at your general presence. Not a good spot for you to be in.
A charging bear is also a smaller target:
Something else a lot of folks don't think about is that a charging bear is not only harder to hit because it's moving, but it's actually smaller because the body is behind his head and not sprawled out to the side.
This means that you get a head, legs, feet, and a portion of the chest. That's really it unless it stops and stands up.
This makes your ammo choice that much more important.
45 Caliber Bear Ammo:
The kind of ammo you use is important as an outdoorsman. As stated above, the type of ammunition is far more important than the caliber of the gun, at least to a point. Let's break it down further.
Don't use hollow points for bear defense:
It may be counterintuitive, but hollow points fired from your little handgun won't work on bear for the same reason why they do work on people.
The main reason why is because hollow point ammo is designed to expand when it hits something wet, like the inside of an animal or human's body. Once a hollow point begins to expand it starts to penetrate less.
While this is great for self-defense against a human attacker, because people tend to be thinner and weaker and you don't want the bullet to come out the other side and hit another person, it's not good for bear when using a handgun for self-defense.
You want to have all the penetration you can get for a bear to allow the bullet to do as much damage as possible. The reason why is because you want the bullet to hit and break bones, tear through muscle, and obliterate vital organs.
In other words, the faster the bullet expands, the less damage it creates inside the bear because it slows down before it has the chance to wreak any real havoc.
So if hollow points are not good for bear defense, what should you use?
Ammo for bear defense:
The absolute minimum you should use for bear defense is a non-expanding bullet. It may be hard to believe but a regular target load would be better against a bear than a hollow point would.
An even better choice would be hard-cast bullets designed for just such a purpose. These 255 grain flat nose hard cast 45 ACP +P from Buffalo Bore are a good option:
Using hollow point ammo on a charging bear isn't recommended, even if it still may do the trick under the right conditions. Again, use it if you have it.
There are just too many things that can go wrong and using the most powerful cartridge you can against a bear is the best thing to do. This ultimately brings me to my final tip.
A word about 45 Super
Everything I've said up until this point are not new concepts. These are things I've said in other articles for other publications over the years. Something I haven't spoken about until now, is using 45 Super for bear defense.
The 45 Super cartridge is identical to the 45 ACP in dimension, but is loaded differently on the inside. The above-pictured 45 Auto hard casts from Buffalo Bore travel at 925 FPS (feet per second).
The 45 Super pictured below reaches 1,075 FPS, which translates to more penetration inside the animal.
The 45 Super being the same dimensions as the 45 Auto means that you can use your 45 ACP chambered gun with only minor modifications.
For example, you'd need a heavier recoil spring/guide rod assembly to handle the extra power and ensure that it cycles properly.
This cartridge gets you closer to the magnum cartridge specs, without having to buy another gun. The recoil is stout, however, and should be practiced with before being brought out to the field.
Conclusion:
Will a 45 ACP stop a bear? Is 45 ACP enough for bear defense? It can be, but it wouldn't be my first choice.
At the end of the day, ammo selection is important. While my first choice would be a 44 magnum, sometimes you have to use what you have. If you have a 45 ACP handgun, carry it with hard-cast bullets in it for the best results.