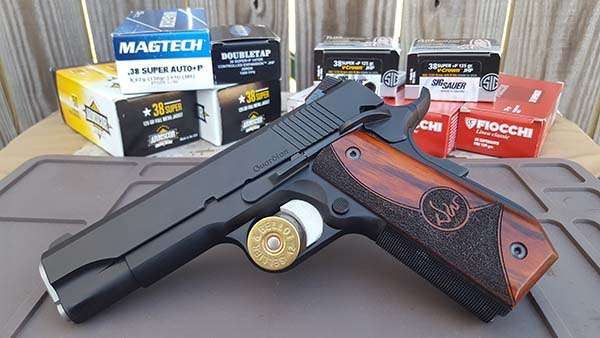 The 38 Super Auto is a cartridge with a lot of mystery surrounding it. Folks are often confused by the names given to calibers because the names don't necessarily make an accurate representation of what that ammunition actually is.
Such is the case with any handgun ammo that has a 3 and an 8 in its name:
This is at least partially due to the fact that they're not actually thirty-eight caliber. Technically speaking, when discussing bullet diameter as a "caliber" those above-listed cartridges are variations of .35 caliber.
This time around, we'll be talking more specifically about the 38 Super. We'll take a look at how it came to be and discuss its ballistics much more in detail.
38 Super History
The 38 Super handgun cartridges that we now have are actually different than what was first introduced to market. The main reason why they're different, is because they're loaded to higher pressures to give extra velocity and, therefore, also added energy.
The original cartridge arrived at the turn of the last century and was spearheaded by Colt and John Browning.
In 1900 the Colt pistol bearing that model year (M1900) was chambered in 38 ACP (Automatic Colt Pistol). This pistol was ultimately struck down for military use, and as we all know the military settled on the M1911 chambered in 45 ACP.
The original 38 ACP had similar ballistics to the 9mm Luger cartridges that would be introduced in 1902, and to set them apart Colt went back to the drawing board.
The result was the 38 Super Automatic that saw improved ballistics over the 9mm Luger cartridge. The velocity increased by about 200 feet per second (FPS), which was due to the MAX PSI increasing from 26,500 to 36,500.
Colt changed the name of the 38 ACP to 38 Super Auto 1929 after this pressure increase, and then added the +P designation in 1974 to try and limit confusion.
38 Super VS 38 Super +P, what's the difference?
It is my understanding that all modern manufactured 38 Super IS 38 Super +P, even if not all ammo manufacturers put the +P there (Armscor comes to mind as one who doesn't add the +P designation).
The added pressure given to the cartridge resulted in the company having to differentiate between the original cartridge and the updated version.
Taking a cartridge with the same outer dimensions, giving it 10,000 more PSI, and expecting all to go well if chambered in the old gun is just asking for problems. So in 1974 the +P designation was given to signify even further that this was a different cartridge.
38 Super's different names
The 38 Super has a few different names associated with it. It can be called 38 Super, 38 Super Auto, 38 Super Automatic, 38 SA, and 38 Super Automatic +P.
It can also be called any variation of the above.
38 Super Ballistics Charts:
This 38 Super ballistics chart shows 115 grain Federal American Eagle rounds:
| | | |
| --- | --- | --- |
| | Muzzle | 25 YDS |
| Velocity (FPS) | 1130 | 1067 |
| Energy (FT/LB) | 326 | 290 |
This 38 Super Auto ballistics chart shows 125 grain Winchester Silver Tip Hollow Point ammo:
| | | |
| --- | --- | --- |
| | Muzzle | 25 YDS |
| Velocity (FPS) | 1240 | 1181 |
| Energy (FT/LB) | 427 | 387 |
This 38 Super ballistics table shows 130 grain Remington UMC rounds:
| | | |
| --- | --- | --- |
| | Muzzle | 25 YDS |
| Velocity (FPS) | 1215 | 1152 |
| Energy (FT/LB) | 426 | 383 |
Add an ammo can to your next amazon cart.
38 Super Bullets
38 Super Auto essentially 9mm in diameter and bullets range in weight from 115 grains up to about 130 grains, with some outliers on either side.
38 Super Uses
The 38 Super Automatic is not a very popular handgun cartridge. It is usually a handgun cartridge that is reserved specifically for 1911 handguns (though there were others, like the SIG P220) and sees much of its use in competition.
However, there is a growing number of defenders wishing to use this cartridge for concealed carry and defensive purposes.
A good friend of mine likes his 38 Super as a lower recoiling cartridge to 45 Auto, but better ballistics than 9mm.
38 Super Cost
The 38 Super doesn't follow the same volatile prices that many of the other handgun cartridges do. Part of the reason why is because it's nowhere near as popular as the big 6.
Because it doesn't have the following the price fluctuates a lot slower. Before the great ammo shortage of 2021, 38 Super was more money than the other calibers were.
As of this writing, a box of 38 Super Auto will cost you between 40 and 50 dollars.
38 Super Recoil
The 38 Super recoils somewhere between a 9mm and a 45 ACP. Though, it's not as snappy as the 45, the muzzle doesn't flip up as much as the 9mm and is more of a push into the shooter's hands.
Overall, recoil is mild.
Conclusion:
The 38 Super is a great handgun cartridge with excellent ballistics. It has seen a big comeback over recent years, but will need more guns being chambered in it to really reaffirm its popularity.
I compare the 38 Super to the 9mm, here.
Check out our massive handgun ballistics chart, next.