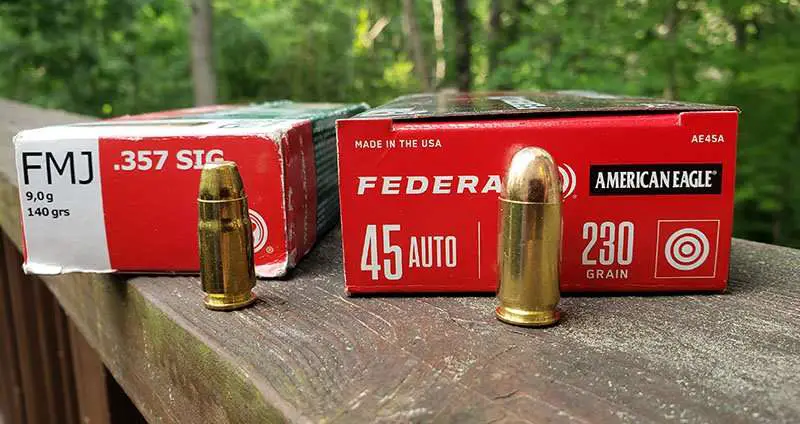 The caliber wars rage on. And this time we're comparing two handgun self-defense cartridges that most people don't think to compare.
This is strange to me because they're both excellent concealed carry cartridges in their own right and offer up the best ballistics possible.
Let's answer the question:
45 ACP VS 357 SIG, which is better?
In terms of ballistics alone, and on paper, the 357 SIG produces more energy at the muzzle than the 45 ACP does. This energy is one of the factors needed to stop an attacker from attacking.
At the muzzle a 125 grain HST 357 SIG produces 513 pounds of energy at the muzzle. And of course, it achieves these impressive numbers because of its lineage. It's essentially a .40 S&W case (whose parent was 10mm) with a 9mm projectile.
Meaning, that it's moving so fast that it has no choice but to produce those impressive numbers.
But keep reading, because the 45 Auto is no slouch.
45 ACP VS 357 SIG, stopping power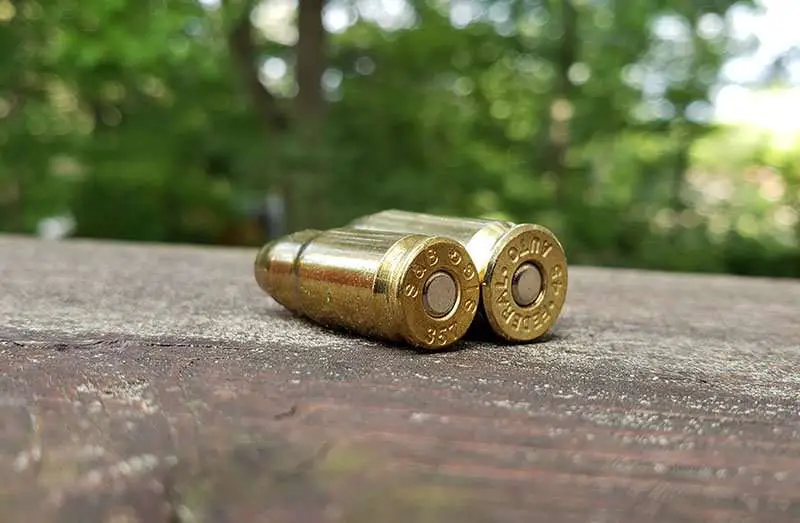 Stopping power is a myth. Well, it's largely a myth but any cartridge has the capability of stopping an attack with one, well placed shot.
The reason why it's a myth is because you cannot rely on that one shot to stop the attack for you. You have to know that there is a chance that you'll need to put multiple shots on target to stop the attack.
There are several reasons why this is, like if your target is moving and you don't hit the area you want to hit. Or, because you're under a tremendous amount of stress and pull a shot to the left or right.
Instead of center mass, you hit the arm. Or the leg. The bad actor can totally fight his way through that.
There are several factors that decide the "stopping power" of any given round. One of those factors is energy. Another one is velocity. And the last one I'll mention is frontal mass.
Energy is transferred to the target and is what injures the inside of it. But that energy means nothing if there is no velocity. The velocity is what gets it far enough into the body. And of course, frontal mass is important because a heavier projectile will do more damage for longer.
357 SIG Stopping power
The 357 SIG produces more than 500 pounds of energy and travels at 1,300 Feet Per Second (FPS) at the muzzle with the right ammunition. It's loaded to higher pressures and is a bit snappier than the 45 ACP is, though it is controllable.
45 ACP Stopping Power
The 45 ACP produces nearly 450 pounds of energy and travels at 890 FPS at the muzzle with the right ammunition. It's loaded to lower pressures but lobs a bigger projectile downrange with more frontal mass. Its recoil is more of a push than a snap.
357 SIG VS 45 ACP Ballistics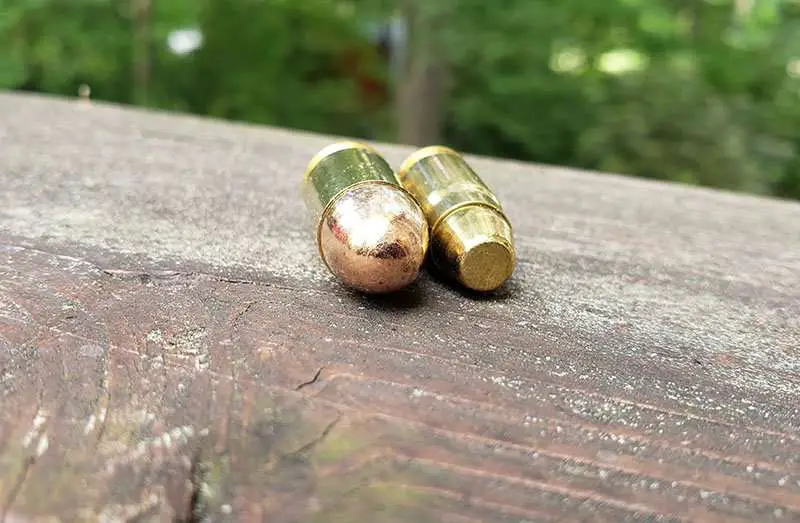 The below ballistics charts for each caliber are much scaled down versions. If you'd like to see more ballistics information and a much more in depth article, I'd suggest visiting each cartridges dedicated page, by clicking on the below links:
Then make sure you check out our full handgun ballistics chart which lists out most of the handgun calibers.
357 SIG Ballistics
This 357 SIG Ballistics chart shows 125 grain Federal HST Hollow points with a 4 inch barrel:
| | | |
| --- | --- | --- |
| | Muzzle | 50 YDS |
| Velocity (FPS) | 1360 | 1200 |
| Energy (FT/LB) | 513 | 400 |
45 ACP Ballistics
This 45 ACP Ballistics chart shows 210 grain Federal Hydra-SHOK Deep out of a 5 inch barrel:
| | | |
| --- | --- | --- |
| | Muzzle | 50 YDS |
| Velocity (FPS) | 980 | 927 |
| Energy (FT/LB) | 448 | 400 |
Add an ammo can to your next amazon order.
Again, the above two charts are scaled down to fit this page and I'd urge you to look into each caliber further. Also note that the above ballistics charts were cherry picked using some of the best self-defense ammo available.
If you plan to use something else, do your own due diligence.
357 SIG VS 45 ACP, Recoil and other info
The recoil on the 357 SIG is a bit snappier than the 45 ACP is, which is more of a push into your hands. The muzzle flips up more on the SIG cartridge.
Both of these cartridges recoil harder than the 9mm and other lighter self-defense ammo does, but less than 40 S&W and 10mm Auto.
45 ACP VS 357 SIG Cost
There is no comparison on the cost of these two handgun cartridges. The 45 ACP is much cheaper than the 357 SIG.
Because there is a direct correlation to the cost of your ammo and how good you are at shooting (because you train less when ammunition is expensive) this is important.
As of this writing, a box of 50 Federal American Eagle 357 SIG target rounds will cost you $71.99. The same box of ammo in 45 ACP will cost you $35.99.
357 SIG VS 45 Auto Availability and Aftermarket
Things really start to take a turn for the 45 ACP in this section. The 45 Auto has been around for more than a hundred years, while the 357 SIG is a relatively new cartridge.
Because the 45 has been around for so long, there are a lot more guns chambered in it. Because that is true, there is a lot more ammo made by more ammunition manufacturers.
And because that is also true, the ammo will almost always be cheaper for it. There are a lot more guns that are also more affordable.
45 VS 357, Which one Wins?
In terms of ballistics, the 357 SIG shows slightly better numbers on paper. But when other factors are considered, like the cost of the ammo, availabiliy, etc., the 45 Auto starts to shine.
And, being that it has excellent ballistics as well, it starts to turn into the obvious choice.
Either way you go, there is no wrong answer here.