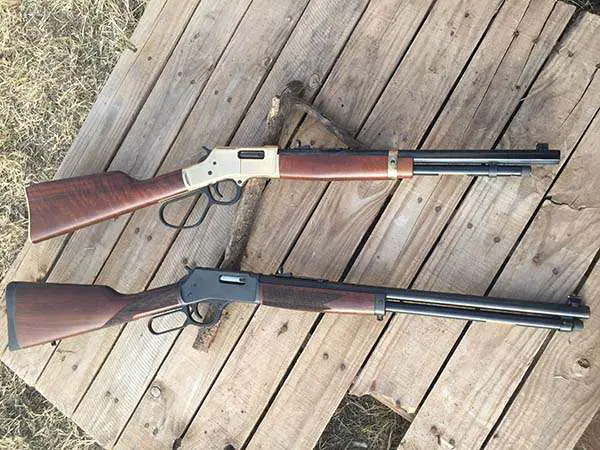 I remember the first time I was handed a brush gun, it was a Marlin 336 lever action chambered in 35 Remington, which is a decent caliber for taking deer. It belonged to an old friend who I sadly lost touch with.
And, though I had been hunting for many years prior to that occurrence, that was the first time I had ever heard the term, brush gun, ever used.
So then, this begs the question —
What is a brush gun?
A brush gun is a hunting rifle that is shorter in length, that is also easier to maneuver through thick brush, and is the ideal weapon for stalking prey. A brush gun will more often than not be in a bigger caliber like 35 Remington to ensure the bullet plows through the brush you are in.
Projectile size should be at least .25″ ranging up to .45″, with barrel lengths of 18 and 20 inches being most popular.
Brush guns are most often a lever action carbine instead of a bolt action rifle because the lever allows for quicker follow up shots and for you to stay on target, to track the animal, if it's needed. Though, there are some folks who use bolt guns and plenty of folks who use semi-autos for this purpose.
I would also like to point out here, that a hunter should only take the shot if he's confident the animal won't suffer from it. Only look for clean kills. If you don't have a clean kill, or the animal is 100 yards outside of thick brush, it may not be a good idea to take the shot.
A woods gun sacrifices some of the characteristics of other rifles, like muzzle velocity and more accurate to distance projectiles. But, what they lack there, they more than make up for in maneuverability and devastation at shorter distances.
Do I need a brush gun for hunting?
Maybe, but in all reality it depends on where you live and what type of animal you plan to hunt.
If you live in an area where there is thick brush and you plan to stay on the ground most of the time, I'd say that a brush gun like the Marlin 336 or Henry Big Boy is a good idea.
However, if you plan to sit in a tree to let them come to you and you don't have thicket to wade through, you may be better served with a different setup.
What about a brush gun for animal defense?
If you live in bear or moose country like Alaska, having a maneuverable rifle that allows you to lob quick follow up shots with bigger projectiles is a good idea.
Of course, just having the rifle isn't enough, you'd actually need to be able to use it with speed in some circumstances, but that could be a post for another day.
Conclusion:
A brush gun may just be a good idea for some hunters who find themselves walking around through thick brush a lot. If not, you may be better suited to a different rifle.
Lead photo credit: Eve Flanigan