The Sig Sauer P365 has been an absolute game changer in terms of concealed carry and the way we shoot small guns for self-defense. They revolutionized the thought of carrying a gun when they crammed 10+ rounds of 9mm into a small, single-stack-sized frame and called it done.
Since its release other companies have released their version of a high capacity micro compact but there will only ever be one Sig P365.
Since it has been out for a while there is a literal ton of aftermarket support for this gun. And even though it's a great gun from the factory, it's not perfect and can get closer to that point.
Navigating your way around this mess if you're in the market to take your pistol to the next level can be a daunting task, so I thought I'd put together the list of the best SIG Sauer P365 Upgrades and most comfortable holsters.
What are the best SIG P365 Accessories?
While the SIG P365 is a great carry gun that has received industry wide praise for concealed carry, there are a few improvements that should be made that will make the gun even better. Chief among these improvements is changing the thickness of the grip to allow for a better purchase on the gun itself while shooting. Other accessories that are suitable for inclusion into this list is a weapon mounted light and giving the gun even higher capacity than it comes with from the factory.
Sig P365 Grip
One of the most popular aftermarket accessories for the p365 actually arises out of a need where the gun falls short. This pistol, while an excellent carry option for concealment purposes, does come at the cost of a very small grip (circumference wise). For some people, me included, the grip is actually too thin, and not beefy enough.
Because of this, I recommend that EVERYONE who owns a SIG P365 buy this or a similar grip. I will say that this is the number one selling 365-specific grip on Amazon for a reason and you will not regret it.
The P365 is already a very shootable and controllable gun, and this grip only helps you shoot it better. Stack as much on your side as you can for your defensive situation to make sure you come out on top. You won't regret it.
Sig P365 Light and Accessory Rail
This next one fills another void with a factory gun. So, one thing that I thought was a real bonehead move on Sig Sauer's part was the accessory rail. Their accessory rail will only fit lights and attachments that'll fit on this proprietary rail, usually made by them.
What this means, is that you cannot buy a PL-Mini2 from O-Light and install it on your P365 (which is my go-to WML, or weapon mounted light).
Sig's 365 rail is a proprietary design and only a few manufacturers make lights for this particular rail.
There are some weapon mounted lights that will fit, but they're usually made by SIG and aren't very bright. This one, for example, will help light up some, but doesn't get too bright.
However, there is an attachment that will turn the SIG proprietary rail with nearly zero accessories available, into a picatinny rail that enables you to put whatever you want, from whatever brand you want.
You can buy them right here on Amazon, and are well worth the price. I'm working on a review right now on this device so stay tuned for that, and every other review I've read has said that it's great.
And again, I recommend the OLIGHT PL-MINI 2 Valkyrie (Amazon link), which is 600 lumens, and a good, small size for your small concealment pistol.
NOTE — The above setup will seriously limit the number of holsters you can carry this gun in. Hence the bonehead move by SIG. If you want more holster options, you must opt for a dimmer light, like the above linked one made by SIG themselves, or a TLR-6 made by Streamlight (Brownells link), and they also sell them on eBay.
That TLR-6 is still only 100 lumens, and not very bright, but if you require a holster and can't have one custom made, this is about your only option to have a WML. As a bonus, the TLR-6 doubles as a laser if you're looking for one of them.
SIG P365 Extended Mag
If you're going to carry this gun for personal protection, we recommend carrying it with the 10 round mag for optimal concealment, with an extra magazine elsewhere on your body to maximize your effectiveness and round count. (One of the below mentioned holsters comes with a free mag pouch that you may want to take advantage of.)
Gun Mag Warehouse sells both the 12-round magazines and the 15-round magazines and they're in stock a lot more often than other places where they're constantly selling out (this is not a guarantee that they'll be in stock, this is a popular accessory).
SIG P365 XL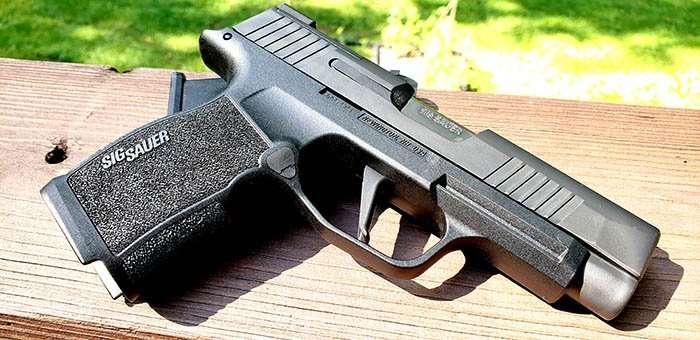 Okay, this is kind of cheating, but I actually prefer the 365 XL to the original model (and I've shot both guns a lot) and is the one I choose to carry. I strongly recommend this as an upgrade to your pistol, because it is better in every aspect. You can read my review on the 365 XL here on our website.
Sig P365 Holster Selection:
If you're serious about concealed carry, and why wouldn't you be, you'll need a decent holster to carry it in.
I had a lot on holster selection in this article, but had to narrow it down a bit more and decided to make it its own article.
Find the best SIG P365 Holsters, here.
Conclusion
The SIG Sauer P365 is a real game changer, and even created a new category of pistol in the concealed carry market.
That new category is being called high capacity micro compact, and there is no going back.
I hope this helped you on your journey in deciding the best SIG p365 accessories that you can buy right now, to make your gun even better.