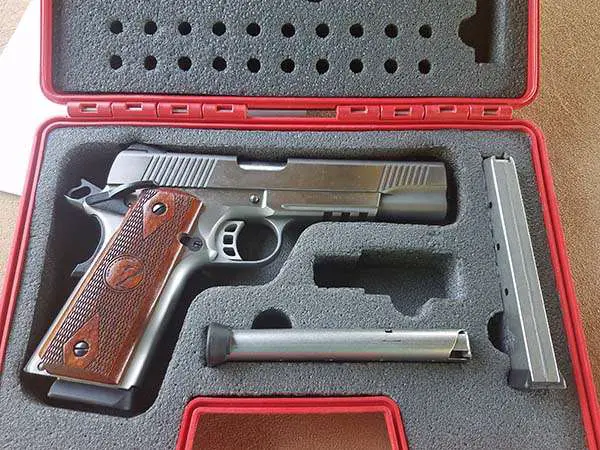 In a moment, we're going to talk in depth about the Zenith Firearms Tisas 1911 in .45 ACP. But first, let's pay homage to the guns that brought all of this about:
The M1911:
One of my favorites, and to me one of the best pistols ever made, is the 1911 platform. Yes, yes, I know … they're big, heavy, low-capacity, etc. All good arguments in a world nearly (but not completely) dominated by striker-fired, polymer-framed pistols. Oh, and then we can talk about its age, right? How can a pistol design that's over 100 years old possibly be sufficient for self-defense?
Again, all good points. Then again, let's not forget that the M1911 saw service and fought in every major war since its inception until it was retired. Even then, it was not replaced because it didn't work. The old GI issued guns were tired, and the military wanted a cheaper solution.
The 1911 still works.
It works well-enough that many people still carry one for self-defense on a daily basis. I, personally, also carry a concealed 1911 from time to time. They fit great in my hand, the controls are well within reach, they're reliable and accurate, and they also look much better than a lot of other guns out there.
Zenith Firearms Tisas 1911:
First and foremost, let's get this out of the way. Zenith Firearms, to my knowledge, does not manufacture any firearms. They simply import them from overseas companies like Tisas, the maker of this budget 1911. They also have a custom shop, where you can get some work done. But, they are primarily an importer of Turkish firearms.
This Zenith 1911 from Tisas is the all-stainless version with an accessory rail. It retails for $599.99, and I can say that, after I pulled the pistol from the box and opened the red case, I was impressed by its look. While it took me a minute to get used to the rail, this 1911 is sexy. I flipped it around in my hands a few times, and found something that, while not the biggest deal, was certainly puzzling.
One of the grips was brownish in color, while the other was a sort of reddish color. Or, one was light, and one was dark … however you want to look at it. Either way, having two different colors of grips isn't a tremendous problem, and definitely not a deal breaker. After all, replacing grips is an easy enough task. I tried to show the difference in a photo, but it didn't show up so I left it out to save space.
I'm honestly thinking about sticking this grips on it. What do you think?
As I usually do, I function check firearms before I sign any paperwork, just to make sure everything is in working order. I pulled back the slide, checked the chamber, released the slide, played with the ambidextrous safety, pulled the trigger, and that's where the first sign that this was a budget 1911 sank in.
The trigger needs work. There is a long take up and a much heavier pull than you'd expect to find on a modern-day 1911. Still not a deal breaker, however because that's something you could train for, or adjust with a gunsmith.
Tisas Zig M1911 At The Range:
I had an up and down relationship with this pistol. As with some other guns, it required a grace period for break-in time and to figure out which type of ammunition it finds tastiest. It took a few hundred rounds of ammo to break in, and then after that point, the failures were few and far between.
In the beginning, I had multiple failures to feed on just about any brand of ammo I put in it from HPR's hollow points down to the cheapest White Box Winchester I was able to find. It did not matter what I put in it, the PC1911 was problematic.
I do want to say here, however, that when many other 1911s require a break-in period, it's because the tolerances are extremely tight and need to be loosened up a bit. That's not the case with the Tisas 1911, because it seems loose enough.
It did get better with time so I'm not entirely sure what the issue was.
If you buy one of these pistols, I strongly urge you to put it through its paces before you decide whether you like it or not, because it will get better as it's used more. My last day at the range with it, I put a 100 round box of American Eagle through it, and about 20 HPR hollow points (the same box giving me issues previously) with only 1 malfunction to report.
I can say with near certainty that the malfunctions on this Tisas 1911 have seemingly stopped after the proper break-in time.
The PC1911's Acuracy:
So, I found that this budget 1911 puts lead on paper in a consistent low/left fashion, which could be nothing more than me still getting used to the take up and, what I'm calling a false break in the trigger. Either way, the rear sight also looks to be adjusted pretty far to the left, as well, but I never touched it.
One thing that I need to keep telling myself when I shoot this thing, is that it's not meant to be the best 1911 pistol on the market. Perhaps it's one of the best in its price range, but not the best of its kind. With that in mind, its accuracy is perfectly acceptable to me.
Included with the Tisas Zig M1911:
It's often the little things that count, right? In the case of this Zenith Firearms Tisas 1911, you get a plastic case (with cutouts for the gun, mags, tools, and even little holes for your ammo), 3 eight-round magazines, some cleaning tools, and a cable lock. I can appreciate them sending 3 magazines with this gun, because they can get expensive.
Tisas 1911 Discrepancies:
I'm not sure where to insert these things, but these are little issues I had with workmanship. First, the set screw on the rear sight had worked itself out and was loose during my last range session. Even now as I sit here and type this with the handgun in front of me, I feel the rear sight, and there is some play in it. If I were to keep this gun, It would need some sight adjustments done.
The grips are two different colors, which is really nothing more than an annoyance. While it's not like one is green and one is red, they are two different shades of brown. One is lighter in color, and the other is darker. Honestly, if I were to buy this pistol I'd end up changing the grips anyway, so this isn't that huge of a deal.
Early on I experienced many failures to feed and a few ejection stoppages. I attribute this to being a thirsty, new 1911 and after time the stoppages all but ceased to exist in a 120 round period on my last range trip with only 1 malfunction to report at that time.
I would usually holster and carry one of my test pistols and report back how it acts as a concealed carry piece, but I didn't quite feel it was up to the challenge early enough on, and my time is sadly over with it, now.
Finally, one of the grip screws worked itself loose on me while shooting. This is not that big of a deal, but one does expect screws to be tight on a new firearm.
Conclusion:
I can say that, while the Zenith Firearms Tisas 1911 isn't necessarily the best 1911 pistol out there, if you're in the market for a new one and don't mind breaking one in (and tightening all the screws) without spending several hundred dollars more, this may be a good handgun for you.
Again, I'm thinking about these grips, I like the red and they're only 30$.
After all, it does have some premium options, like front slide serrations and an accessory rail, which could be a plus for some. Do you own any of Zenith's Firearms? If so, let me know in the comments below.
Stats:
Price – $599.99
OA Length – 7.64 inches
Barrel Length – 4 inches
Weight (Empty) – 2.13 pounds
Height – 5.3 inches
Operation – single action
Sights – dove tailed
Capacity – 8+1
Colors – stainless (matte finish)
Includes – a rugged plastic carry case, a factory cleaning kit, a keyed cable lock, three (3) magazines, and a 5-year warranty