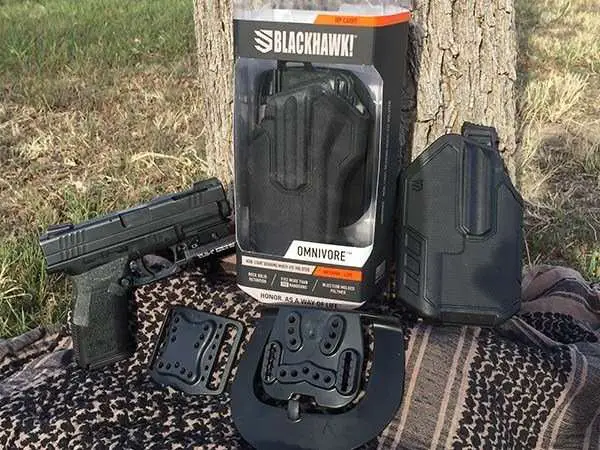 There are lots of great full-size pistols on the market without a holster that fits. The relatively new Sarsilmaz SAR 9, for example, is a great firearm with no custom holster of its own. It took years for something other than the factory-supplied Serpa knockoff to be available for my own Canik TP9 SA.
What's a body to do when there's a great gun, but no holster on hand? Enter the Omnivore, by Blackhawk!. It's a holster that fits pretty much any full-size handgun that has an accessory rail.
More than that, it meets or exceeds the safety standards of many respected civilian and law enforcement institutions.
The Omnivore owes its safety to two measures of retention. It clicks into place in the holster thanks to a screw-on rail attachment that's about the size of a Matchbox toy car.
Releasing retention is accomplished by a fairly intuitive press of the thumb downward, against a padded button, during the draw.
This duo of retention devices overcome the danger factor associated with Blackhawk's embattled Serpa design, which uses a lever inside the trigger guard as a retention device.
The Serpa has become notorious for punishing people with poor finger discipline, and in two isolated cases, unintended discharges of a holstered gun allegedly happened after the lever became clogged with snow or ground debris during training exercises.
An added bonus of the rail-only retention device is that it protects the firearm's finish. There's no friction against the frame.
Since it is a Level 2 holster, that is to say a specific action on the part of the wearer, other than the upward draw, is required to release the firearm, the Omnivore is a handy option to have in stock for departments that require a Level 2 holster and allow employees to carry their own firearm.
The thumb-operated release requires a definite, but intuitive press during the draw. There's an extension supplied with the holster so reaching it is never a problem with pistols that rest high in the holster. Blackhawk was serious about a universal fit with this holster.
The company maintains a list of compatible pistols on its website. As a rule, if it has a rail, it'll fit. My guess is that the design would need revamping for the coming wave of concealment guns, like Sig Sauer's P365 and the Springfield Armory XDE, rail guns that are well short of being full-size.
Users can mount their choice of a paddle or belt attachment. The belt slots are even adjustable for a variety of belt widths.
The Omnivore is available in right- and left-hand models. Those who carry common auxiliary lights weren't left out; light-bearing models can accommodate either the Streamlight TLR 1 or TLR 2, or the Surefire X-300 or X-300UA.
Height of belt-mounted carry with the Omnivore is typical for a duty holster, neither high nor low. With a few reps of practice, the draw is natural and fast. This is a great holster in its own right, and a great choice for the family or facility that needs a multi-purpose holster for a variety of handguns.
While flexibility is the name of the game with the Omnivore, it does take a little time to set up for any given gun and wearer. I spent about 30 minutes reading directions, sorting the parts and hardware, and finally assembling a holster.
So far I've found no weaknesses in it; especially with the boxy light-bearing model (I own both), I was concerned that being squashed inside a seatbelt might encourage bending or brittleness. None of that has happened.
Prices vary widely, from $15 to $44 depending on vendor. Have you tried the Blackhawk Omnivore? Let us know in the comments.