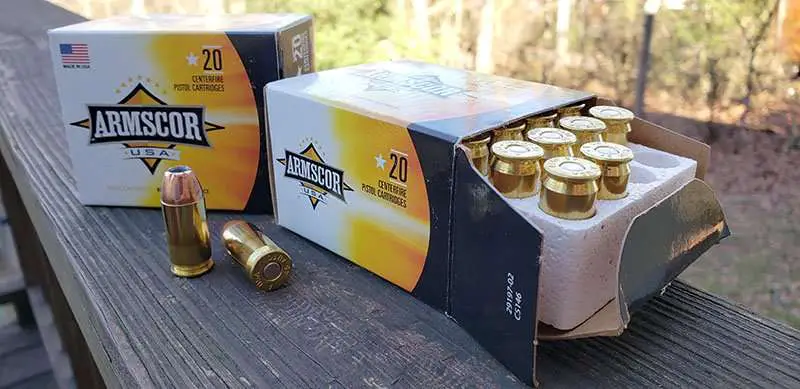 We're still plagued by massive ammo price spikes and shortages on the shelves. This means we need to find ammo at the best possible price so we can train properly. And of course, this also means that I'm constantly seeing questions about ammunition companies from people who haven't dealt with those respective companies before.
Because I have bought and fired much of the ammo from most of the companies out there, I thought it might be a good idea to talk about them each, more in detail and one at a time.
This time around, I'm going to discuss a relatively well-known ammo maker, Armscor. But, even though Armscor is relatively well known, they're still obscure to newer shooters.
Armscor Ammo Review
My goal here is to discuss various aspects about the company as well as talk about how the ammunition has performed for me over the years. I have countless rounds of Armscor ammo downrange and through many different calibers of guns.
As of this writing I only have one caliber on hand (pictured above), but it is only because ammo is harder to find and more expensive than I'd like for it to be.
Armscor has not paid me for this review.
Let's get started.
Is Armscor Ammo Any Good?
Armscor fires reliably more often than not and bridges the gap between cheap and quality ammo in that it tends to shoot well and cost less than some other options out there.
Of course, what is considered expensive has changed from what it used to be, because it is ALL expensive at the moment.
Armscor ammunition is a great training option for your live-fire training purposes, or for target shooting.
Should I Carry Armscor Ammo In My Self-Defense Gun?
Because I have not done any heavy testing (nor have I seen others do any testing) on the Armscor hollow points, I would not use them except as a last resort.
It's not that they wouldn't work well, just that I'm not sure if they would. And it's important enough that I need to be sure of what I'm trusting my life to. Because of that, I would tend to carry one of the rounds I list here for self-defense.
It's false to assume that because a bullet has a hollow point that it will expand properly. Quite the opposite, actually. There are a lot of other factors that go into it like bullet design, the bullet reaching a proper velocity to initiate expansion, etc.
That topic goes well beyond the scope of this article, but I discuss it much more in depth in my best 380 ACP ammo for self-defense post because the 380 is plagued by these issues.
Who is Armscor?
Armscor is a firearm and ammunition manufacturing company based out of the Philippines. Armscor is the parent company of Rock Island Armory, who is a major maker of affordable 1911 style pistols, shotguns, and revolvers.
Here is a picture of one of their 1911 style pistols chambered in a cartridge they developed (pictured) called 22 TCM. You can read the review on that pistol here.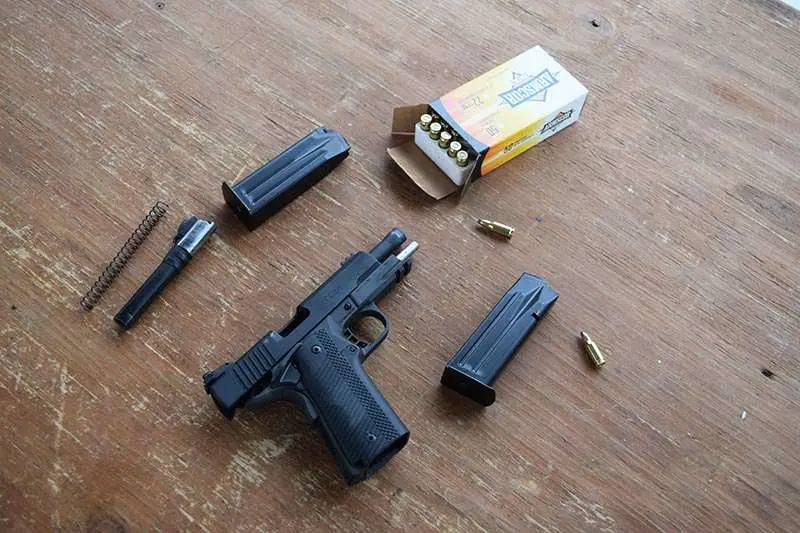 Is Armscor Ammo Dirty?
No, Armscor ammo is not all that dirty. There are cleaner munitions out there, but there are also plenty of dirtier ones as well. For example, Winchester White Box is a dirtier brand of ammo, and obviously the steel case brands also require much more cleaning than Armscor does.
Where to Buy Armscor?
This is the tricky part and probably why you're even here. You can find Armscor's ammo in any of the major ammunition retailers around the country, as well as on in the internet in places like Lucky Gunner.
But perhaps the best place to buy is directly from the company where you can get much better deals when they have stuff in stock. Check out their sister company called Advanced Tactical to see what they've got in stock.
Advanced Tactical is owned by Armscor, so you're getting ammo direct if you buy from them.
Conslusion:
After firing countless rounds in various calibers, I've come to conclude that Armscor is a good shooting ammo that performs reliably on the range. It may be suitable for self-defense, but I would only carry it after further testing.
Both the handgun and rifle ammo from Armscor that I've used runs well, but I have not tried their shotgun ammo as of this writing.