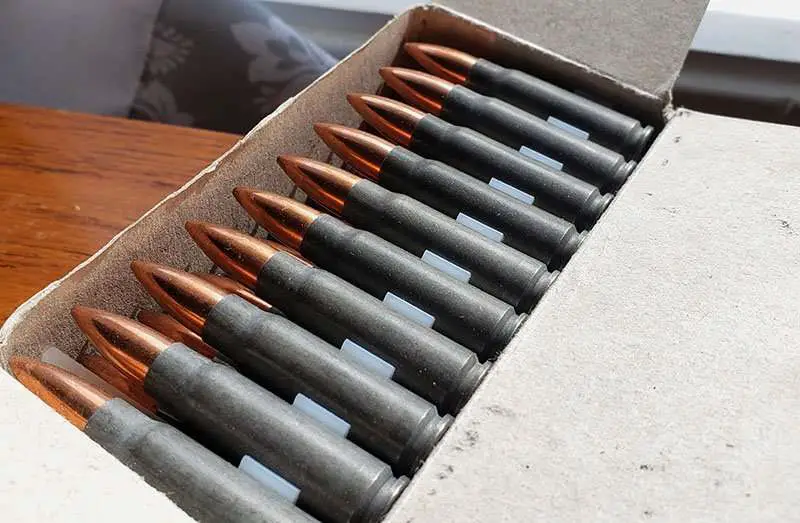 On the minds of many these days is the great ammo shortage of 2021. This is something that we're currently still knee-deep in without any sign of us coming out of it at any point soon.
I won't cover why we're in an ammo shortage, or when I think we'll be getting out of this shortage at any point soon because I've covered them already.
Instead, I'm going to answer a question I see a lot, and this:
Can my AR-15 shoot steel cased ammo?
Yes, your AR-15 can shoot steel cased ammo. If that's all you can find right now, or all you can afford, get it and shoot it.
The main thing to remember with steel cased ammo is that these rounds are dirtier, on average, than your typical brass-cased ammo which can cause excessive fouling. Dirty guns usually don't perform to the same level as clean ones do so you may start to experience more malfunctions with it until you clean it. Steel cased ammo can also wear certain parts out faster but only after thousands of rounds.
There are other things to keep in mind when shooting steel cased ammo, which we'll discuss more in depth below.
Steel is harder on your AR-15 than brass
One thing that we hear many say, and it's true, is that steel cased ammo can wear your AR-15 out a bit faster. One of the main reasons why this is, is because steel cases are harder than brass cases are.
Brass gives way to steel.
Because they are harder and don't give as much as brass does, they can damage certain parts, like your extractor (the part that pulls the spent casing out of the chamber.
While this is certainly true, you'd have to shoot a lot of steel cased ammo for this to happen. It is an important factor for many, but just replacing the extractor when you start to notice problems will fix it, and that is easy enough to do.
Here is our list of the most common parts to break on an AR-15.
Steel is dirtier in your AR-15 than brass
Steel cased ammo is usually dirtier than its brass counterpart is. This is not always the case, but for the cheaper brand steel cased ammo like the above-pictured TulAmmo, it can be quite a bit dirtier than something like Federal or other higher quality brass-cased ammunition.
This is not a deal breaker in and of itself, however. A dirty AR-15 will still perform to varying degrees, it just needs to be cleaned more often.
It is also important to note that after shooting a lot of steel cased ammo without cleaning, your AR-15 may be harder to clean, at least in certain areas.
Quality control issues with steel case ammo
This is not always the case and usually tends to be manufacturer dependent, but sometimes quality control goes right out the window for steel cased ammo.
The likely reason why is because much of this ammunition is manufactured overseas to different specifications and without the same quality control as we have in the United States (or other countries like Israel and Italy).
There is a higher likelihood that you'd have an underpowered round or even a dreaded squib load (where the bullet gets stuck somewhere in the barrel of your AR-15) when shooting steel cased ammunition.
However I'd feel remiss if I didn't at least state that this part doesn't really have anything to do with the steel cases themselves, and more to do with the quality control in the facilities that produce this ammo. This ammo just happens to be steel cased.
In those same facilities, these issues would still likely happen with brass-cased ammo.
Zeroing issues for your AR-15
This may not be as big of a deal as the other aspects of shooting steel ammo through your AR-15, but it still needs to be considered.
Many shooters will have a rifle zeroed for specific loadings that are mostly consistent between brands of ammo.
So, if your AR-15 is setup for 62 grain 5.56 Federal Premium Ammunition, it would be fine shooting 62 grain 5.56 Winchester without much difference.
However, if you move down in weight or use an under powered round like some steel cased ammo can be, you can start to notice changes downrange.
Unless you're shooting precision matches it likely won't matter. And to be honest, I'm not sure why you'd want to shoot precision with such cheap ammo, anyway.
For a SHTF rifle, it won't matter much because you may be slaying zombies at closer than comfy distances.
Steel cases are worthless after shooting
Nothing is totally worthless, but as far as worth as a future component goes for "reloading" your ammo, it is pretty much worthless.
To my knowledge and unless something has changed, steel casings cannot be reloaded like brass ones can.
If you're not a reloader and have no desires to reload at any point in the near future then this won't be that big of a deal.
However, I always pick up my spent casings after shooting, just in case. In case what? Well, take a look around.
So what is it worth then? I suppose for a metal scrapper it would be worth its weight in steel. Not much.
Some ranges won't allow it
This blows my mind and I didn't believe it when I first heard, but some gun ranges don't allow people to shoot steel cased ammunition with their AR-15 or any gun for that matter.
That must really suck right now if it is all you can find to shoot. The reasons why they limit you to brass-only ammo or brass and maybe aluminum, is because they want the brass for themselves.
I've been on ranges before where they even restricted the shooter from picking up their spent brass simply because the range wants it. I refuse to shoot at such restrictive ranges, but if it's all you've got in your area I guess you have to deal.
Conclusion:
So, yes … shooting steel cased ammo is likely going to be totally fine with your AR-15. I would do it in lower volumes, personally, but just as long as you're willing to clean your rifle and replace parts faster, send it.
Now read: Can I shoot reman ammo?
Links to my favorite AR-15 builders: