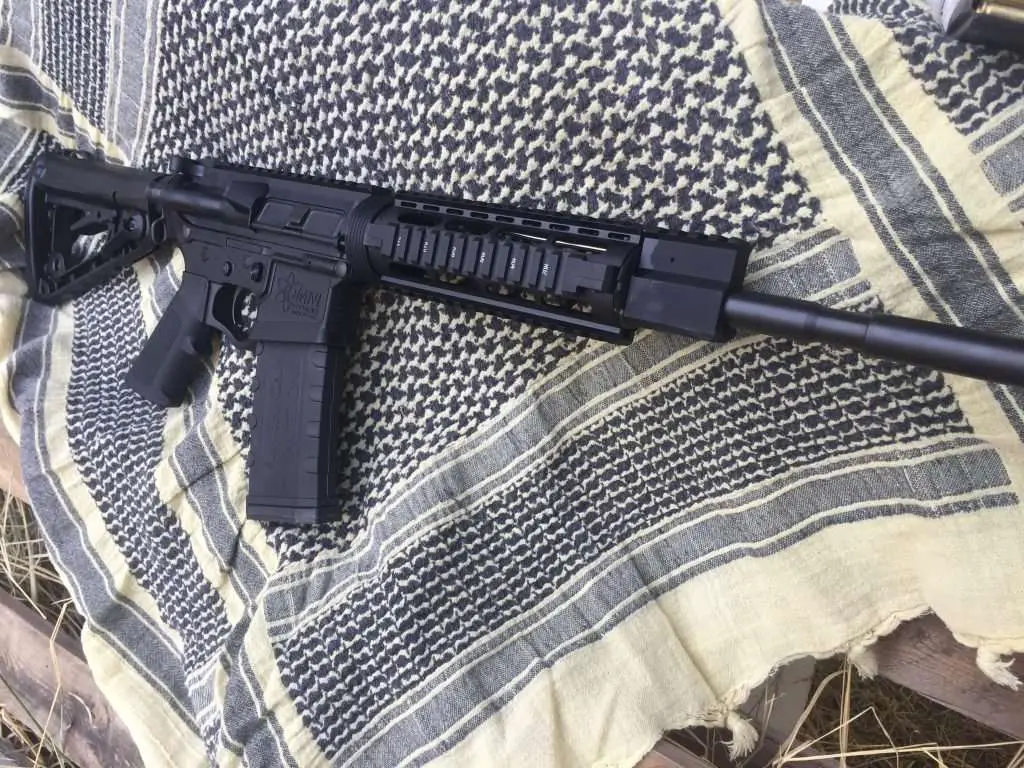 American Tactical AR 15 Omni Hybrid Review
The idea of a lighter-than-normal AR15 is appealing for those of us who wear our rifles for hours at a time. After years of intrigue regarding the polymer-lower AR made by American Tactical (formerly American Tactical Imports), I finally got my hands on a test model. Turns out, lightness isn't the only reason to like this AR.
American Tactical (AT) has perfected the lightweight lower formula over the years. After first manufacturing an all-polymer lower, the company learned lessons about the effects of hot gas and pressures imposed by the bolt carrier group onto polymer parts. Cracking, warping, and barrel/upper misalignment were the result of heavy use.
The new "Maxx" version of the American Tactical Omni Hybrid is the company's apparent answer to those lessons learned; a patented design of the lower receiver that exploits the carry-friendly lightness of polymer while not sacrificing the stability of metal at critical points.
This updated version of the original Omni Hybrid uses metal spines and threaded connections embedded in an over-molded polymer shroud. The metal components of the upper and lower are 7075-T6 forged aluminum—sturdy stuff.
There are a couple versions of the American Tactical Omni Hybrid when sold as a complete rifle—fully outfitted uppers are also available from AT. The version in this test is the quad rail version.
In addition to the original, light design, this AR is loaded with interesting features. Working from back to front, we first encounter a six-position adjustable buttstock by Rogers, with lots of places to thread through or adapt for a sling.
Speaking of slings, the receiver endplate has two sling loops molded into it, keeping the setup ambi-friendly. Being kind of short, I immediately chose this as the rear attachment location of a two-point sling. Though the endplate was surely designed with one-point carry in mind, it works well for me in terms of keeping the rifle high, tight, and flat against me in carriage.
The rear takedown pin is slightly recessed. I improvised a punch to poke it through far enough to pull on the right side. Takedown is otherwise typical. I inquired with American Tactical, asking about this design, but the question went unanswered.
The trigger guard is both rugged and remarkable. It's enlarged for gloved fingers, and has an attractive shape without adding bulk.
The bolt hold-open lever sticks out more prominently than on most AR receivers. This makes it easy to slap and load, but the lever would more easily be unintentionally activated, and the bolt therefore run forward, by virtue of its approximately 20-degree departure from the receiver surface.
This shouldn't present any problem when safe handling is practiced.
AT says the receiver components, including the trigger, are milspec. Maybe they were looking for the pleasantly surprised reaction from new users, because this is much nicer than any milspec trigger I've encountered.
The pull weight isn't much north of four pounds, and reset is both close and delivers a distinct "click." There's less travel and less fuss as compared with many others. Could it be smoother? Yes. But it's more than adequate for everyday use.
Moving up, there's a milspec charging handle and nitride-coated bolt carrier group. On top is seven inches of picatinny rail. As a handguard, AT chose California-based NC Star's quad rail system.
Even more rail space is gained by the inclusion of a rail-topped gas block, ideal for maximizing distance between front and rear backup iron sights or, in my case, attaching a low-profile sling mount.
The quad rail version of the American Tactical Omni Hybrid Maxx is, no joke, handy. Hands are shielded from heat while the operator can enjoy plethora of choices for placement of lights, backup sights, or other accessories.
A small problem was encountered with the rail section above the receiver. It was impossible to fully tighten a LaRue Tactical mount for the Aimpoint T1 Micro optic on it. Although adjustments to the mount could solve this problem, it would require quite a lot of fiddling for a mount that's meant for grab-and-go use.
The problem was solved by moving it forward. The rail on the handguard is apparently milspec and fit perfectly. The long eye relief took a little getting used to, though.
The 16-inch barrel has the classic M4 profile, with a 1:7 twist to handle those heavier bullets. At the end is an equally classic A2-style compensator. It's okay, but I'm looking forward to seeing if another AT product, the HFS muzzle brake, makes a difference in handling. AT claims that for $50, washer included, this slender, 2.25-inch device will eliminate 95 percent of muzzle rise—that's a pretty bold statement.
This rifle ships with AT's Amend2 30-round magazine, with an orange follower and bold orange "2" on the bottom, and huge-font MADE IN USA on one side. The branding should make it easier to track in a pocket, belt, or chest-borne system.
This polymer mag is noticeably lighter in weight than a Magpul and, so far, has performed flawlessly in terms of feeding and ease of seating. For $13.95, this makes a great competition mag that's dependable and saves weight.


American Tactical recommends a 150-200 round break-in period for this carbine, as well as factory new, brass-cased ammunition. As of this writing, the 80 round mark has just been passed, so far with no hiccups running three different brands of 55 grain FMJ—Lake City, PMC, and Federal American Eagle.
My preliminary take on the American Tactical Omni Hybrid Maxx, quadrail edition, is that it's a better-than-entry level quality AR for an entry level price of $649. Features like a great stock, a quality but not match grade trigger, 1:7 twist barrel, and virtually unlimited accessory space make this a rifle to buy today and grow with over the years.
Besides that, it's entirely made in the USA—American Tactical now has its own manufacturing plant in South Carolina.
If I keep this rifle, a follow-up article will detail its dependability and performance at distance. For now, it's looking quite promising as a keeper.
American Tactical Omni Hybrid Maxx Issues …
… it didn't end well.
My philosophy on gun reviews is that all firearms that consistently go "bang" when I press the trigger with the safety off are going to get a basically positive commentary along with key details so potential consumers can make an informed choice. It's not like I'm capable of making a gun from scratch myself, and I stand in constant awe of the brilliance and dedication that goes into making any firearm.
Just buy a better rifle.
In the case of this Omni Hybrid Maxx carbine, while I remain respectful of the design, American Tactical's handling of a problem with this one firearm has been a very poor reflection on the brand.
The original review was written after a brief trial of a few 20-round boxes of ammo. With great pleasure I took it to the range for a more serious accuracy test and breaking-in, the latter of which AT says is complete after the 200-round mark.
While being fired from a supported bench position and with the chamber empty, I moved to put the safety lever to the "FIRE" position after firing the 138th round ever through the rifle. The lever wouldn't budge. I unloaded mag and chamber, and manually ran the bolt a couple times. Still stuck.
A call to the factory resulted in a promise to repair the Omni promptly, and a shipping tag was sent my way. On the pre-printed repair order, the reason for return was listed as "gas block loose," which was not the case. Before shipping, I scrawled through that inaccuracy and wrote in "safety lever stuck."
The rifle was returned in approximately two weeks—not bad! Inside, an employee-signed paper described how the gas block had been inspected, re-tightened, and 15 test shots had been fired to confirm the repair.
I have a hard time imagining how someone could test fire a rifle with the safety stuck on "SAFE," as it still was when I received the rifle a second time.


An email to the factory was again promptly met with the delivery of a second call tag, and assurance that a different rifle would be shipped for testing.
That was more than a month ago. No word from American Tactical, and no rifle.

Things happen. Manufacturing processes and humans can fail. I've no problem with that when the company is willing to stand behind the product.
Again, just buy a better rifle.
It's painful to say this about this US-made American Tactical Omni Hybrid Maxx rifle, but AT's repeated demonstrations of lack of attention to detail, once aware of a problem, are unacceptable.
All photos by Team HB.
Here is our list of the best AR-15 manufacturers.
Also check out Travis' M16A4 Clone Review.