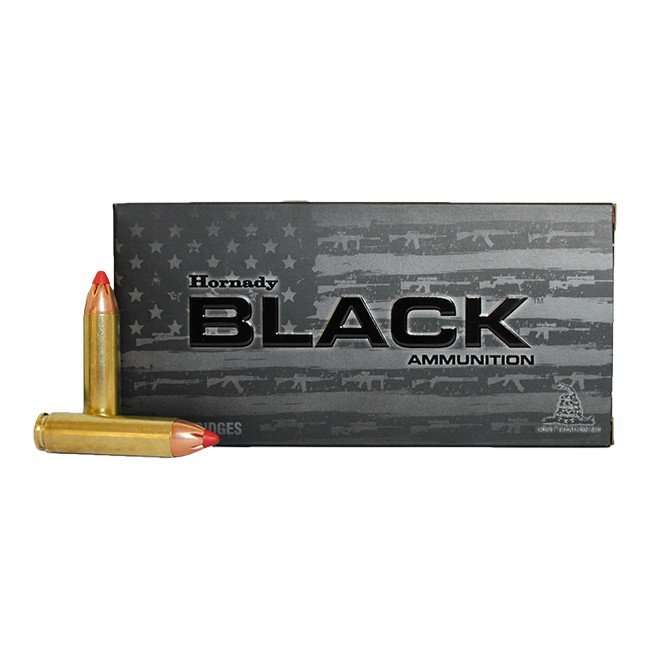 The battle of the big bores continues. So far we've compared 444 Marlin to .45-70, and 444 Marlin to .450 Bushmaster. This time around, the showdown is between 45-70 VS 450 Bushmaster.
Let's take a more in depth look at these two hard-hitting center fire, big bore rifle cartridges with the ultimate goal  of ending up with a winner. Which one is better? Let's take a nose dive and find out.
45-70 VS 450 Bushmaster Ballistics
Out of a 24″ barrel utilizing a 325 grain bullet, the 45-70 has a muzzle velocity of 2,050 feet per second with 3,033 pounds of energy. At 100 yards, the velocity slows to 1,730 FPS and energy drops to 2,159 pound feet. Comparatively, a 250 grain projectile chambered in .450 Bushmaster has a muzzle velocity of 2,200 feet per second with a muzzle energy of 2,686 feet pounds. At 100 yards bullet velocity slows to 1,835 and retains 1,868 pounds of energy.
Check out the ballistics chart below for more information.
45-70 Gov vs 450 Trajectory
Overall, the 45-70 is a flatter shooting cartridge. However, both of them drop considerably (when compared to the flattest-shooting of those currently tested, the 444 Marlin).
At 200 yards the .45-70 shot with the above-mentioned stats, the drop is 6.5″. Also not shown here, is that the most popular weight 45-70 is 405 grains and will drop faster.
Comparatively, the 450 Bushmaster drops about 9″ at 200 yards with the above metrics.
450 Bushmaster VS 45-70 Recoil
Both calibers will recoil significantly into the shooter's shoulder. However, it should be said that recoil can be a very subjective thing that actually depends more on other factors than the cartridge itself.
For example, the overall weight of the rifle itself plays a big factor, as does the type of recoil management system being used. If you're shooting a 450 Bushmaster out of an AR-15 it'll feel better than it will in a bolt action Savage 110.
It's also a common misconception that a big bullet automatically means more recoil. This is simply not always true, though could be true.
For an example we look to the 325 grain vs 405 grain 45-70 cartridges. Having shot both numerous different times in the same old Henry Lever Action, I can attest to the fact that the lighter bullet recoils harder than the heavier one.
45-70 Government VS .450 Bushmaster Ballistics Chart
| | | | | | |
| --- | --- | --- | --- | --- | --- |
| Caliber | Muzzle Velocity | Muzzle Energy | 100 YD Velocity | 100 YD Energy | 200 YD Drop |
| 450 Bushmaster/250 Gr | 2,200 | 2,686 | 1,835 | 1,868 | -9.0″ |
| 45-70 Govt/325 Gr | 2,050 | 3,033 | 1,730 | 2,159 | -6.5″ |
45-70 Govt History and Use
The .45-70 has a rich history. It was developed at the US Army's Springfield Armory, to be used in the Model 1874 rifle.
Its complete name in its original iteration is .45-70-405. The 45 is the caliber of bullet that took 70 grains of powder to propel. The bullet weighed 405 grains.
This cartridge has been around for more than a century and has been used in more guns and to hunt more big game than almost any other of the big bore rifle cartridges.
A recent development in this cartridge sees its use in an AR-10, and cuts off the rim of the casing itself and calls it the 45-70 Auto, but it has the same ballistics. You can watch a video we recorded with its maker out at SHOT Show a couple years ago, here:
.450 Bushmaster History and Use
The 450 Bushmaster has an interesting bit of history behind it, considering that it's a relative newcomer to the whole big bore rifle industry.
One of the most prominent figures in the gun industry is a man known as Jeff Cooper. Cooper was not a fan of the 223/5.56 rounds made popular with the advent of the AR-15 rifles.
He wanted a caliber chambered in .44 or bigger that was capable of stopping big game dead in their tracks out to 250 yards.
This idea of his was called the "thumper."
The first iteration was made by cutting a .284 Winchester case and calling it the 45 Professional. This cartridge was developed by Tim LeGendre of LeMag Firearms, who then licensed the cartridge to Bushmaster who was in the market for a short-action, big-bore cartridge for use in the AR-15.
The 450 Bushmaster excels as a defensive cartridge that can also be used to bring home dinner.
.450 BM VS .45-70 Govt — Which is Better?
The answer to this question is really going to be dependent on you and what you're looking to do with your rifle. At the end of the day, they're both very different from each other.
On one hand the .450 Bushmaster is a short cartridge, while the .45-70 is a long cartridge. This means that in the AR platform, the .450 works well with the AR-15, while the .45-70 Auto would be for the bigger AR-10.
Both cartridges excel at what they're meant to and are both capable of taking large sized game out to medium distances of about 200 yards.
For me, I've owned a Henry in .45-70 that I ended up selling because I needed the money. I have plans to build a .450 Bushmaster carbine, however, just because ammo is available on the shelves right now more so than it is for .223/5.56.
Check out our big rifle ballistics chart, next.