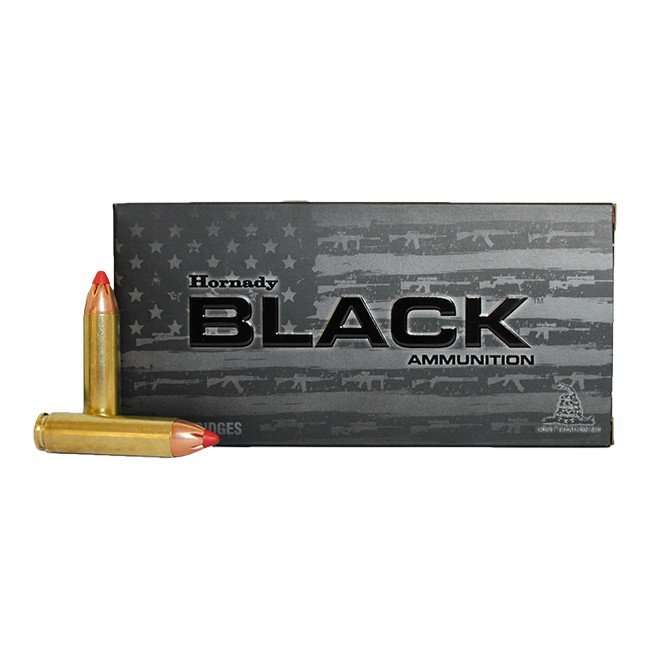 We continue on in our battle of the big bores. Our previous post, 444 Marlin VS .45-70 GOVT was so popular I thought it wise to continue on and compare other big game hunting cartridges.
Let's take a more in depth look at each of these hard hitters, with the ultimate goal of ending up at an overall winner. It'll be hard, but let's see what we come up with.
444 Marlin VS 450 Bushmaster Ballistics
When shooting a 265 grain projectile the 444 Marlin cartridge has a muzzle velocity of 2,325 feet per second with 3,181 feet pounds of energy. At 100 yards the bullet velocity slows to 1,971, with 2,286 pounds of energy. Comparatively, a 250 grain projectile chambered in 450 Bushmaster has a muzzle velocity of 2,200 feet per second with a muzzle energy of 2,686 feet pounds. At 100 yards bullet velocity slows to 1,835 with 1,868 pounds of energy.
444 Marlin VS 450 Trajectory
Overall, the 444 Marlin is a slightly flatter shooting cartridge than the 450 Bushmaster is. At 150 yards the 444 drops 2.4 inches, whereas the Bushmaster drops about 2.9 inches.
At 300 yards, drop is 15.8″ and 18.8″ respectively.
The 444 Marlin drops only slightly less than the 450 Bushmaster and is therefore flatter shooting. While it's 3 inches more at 300 yards, most people won't be taking dinner at that range with either of these.
444 Marlin VS .450 Bushmaster Recoil
Recoil is subjective and really hard to calculate because there is a lot that goes into it. For example, the size and weight of the rifle, weight of the projectile, use of any recoil dampening devices (like a recoil butt pad) and other things, will all change the way recoil is felt.
Also important is the type of gun being used. What I mean here, is that 450 Bushmaster will feel totally different in an AR-15 patterned gun than it will in a 450 Bushmaster bolt action gun like this Savage 110.
Neither rifle cartridge should be used for newer shooters, however, as either of these are hard-enough hitters to turn a new shooter away from the fun of shooting.
Below is a modified and shortened version of our ballistics table on each caliber. We're currently revamping our massive centerfire rifle ballistics chart, which can be found here. It is very in depth and shows most of the centerfire rifle cartridges in existence.
Caliber
Muzzle Velocity
Muzzle Energy
100 YD Velocity
100 YD Energy
200 YD Drop
444 Marlin
265 GR
2,325
3,181
1,971
2,286
7.5"
450 Bush
250 GR
2,200
2,686
1,835
1,868
9.0"
.450 Bushmaster History and Use
The 450 Bushmaster is a descendant of Jeff Cooper who wasn't the biggest fan of the .223/5.56 rounds popular for the AR-15 rifles. While Cooper didn't technically design this cartridge, he desired a big bore AR-15, typically in calibers of .44 or higher, that was capable of stopping a big animal in its tracks out to 250 yards.
He called this idea of his, the "thumper."
Tim LeGendre of LeMag Firearms developed the first iteration of this cartridge using a cut .284 Winchester casing and called it the .45 Professional. LeGendre later licensed the cartridge's use to Bushmaster who was looking for a big bore cartridge for the short action AR-15, and then collaborated with famed ammo manufacturer, Hornady.
Hornady and Bushmaster reworked some of the specs and re-released a brand new cartridge called the .450 Bushmaster (also sometimes called 450 BM or 450 Bush for short).
Because it is capable of being fired in longer barreled bolt action guns and the ever popular AR-15 pattern rifle for hunting or self-defense options, it's a very versatile cartridge.
444 Marlin History and Use
The 444 Marlin was developed in 1964 in a collaboration between Remington and Marlin.
The 444 Marlin offers excellent capability from medium sized animals up to big game and is quite capable of handling just about anything North America can throw at it.
The original rifle offering for this cartridge was the 336 lever action, which still sees a lot of use today.
444 Marlin VS 450 Bushmaster – Which is Better?
Really, to each their own. It all comes down to what you're trying to accomplish with your cartridge and gun.
Both cartridges are very capable for what they're designed for and are great for taking medium to large-sized game. The 450 Bushmaster is a bit more versatile if you are a fan of the AR-15 pattern rifle and is suitable for hunting purposes and defensive situations.
For my purposes, I choose the 450 Bushmaster. It's not much ballistically inferior to the .444 Marlin and it's just a bit more versatile for my needs.
Next, check out our ballistics charts on the 45-70 Govt.