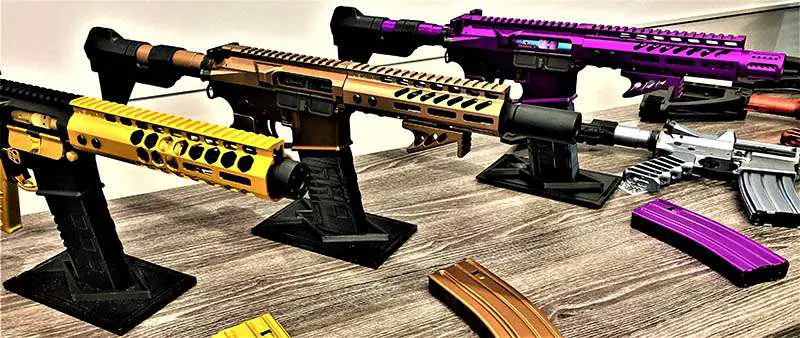 Looking for some color choices when it come to your AR-15 build? Or perhaps a large caliber upper for the same build? Then look no further than Veriforce Tactical. I had not heard of this company until recently when attending a gun writer's conference in Texas, but found that they have some interesting options.
Company CEO JD Lemon, says he founded Veriforce Tactical in 2003 which is based in Scottsdale, Arizona. According to Lemon, "We started off a tactical accessory company with optic and mounts, but later transformed into your best source for AR-15 uppers and parts to build your own."
Lemon describes Veriforce Tactical as a boutique company for your AR-15 build, and goes on to say our company philosophy is, "your rifle, your way."
So, what makes Veriforce Tactical truly unique? In one word, COLOR.
According to Lemon, it is the colors offered for AR-15 upper receivers and accompanying parts that really make your next build unique. How many color selections are available?
The company website offers about two dozen different colors. And get this: The color options apply to all parts for your AR including the magazines. What are the most popular color choices on the civilian side of the market? Purple (never would have guessed), OD green, gray, and red, in that order according to a company spokesman.
The color anodized finishes are reportedly much more durable than your everyday Cerakote.
The company also offers an extensive line of AR-15 parts and accessories as well as all calibers of AR-15 uppers such as 5.56/.223, 6.5 Grendel uppers, 9mm uppers, 300 Blackout uppers, and 224 Valkyrie.
Additionally, they have the larger caliber AR-15 uppers including DPMS style AR 308 uppers along with AR 6.5 Creedmoor uppers. A large supply of BCGs, AR pistol grips, gas tubes, gas blocks, muzzle devices, and AR15 upper and lower parts can also be found on the company website.
Company Director of Law Enforcement and Commercial Sales, Brian Kovacs put it in perspective with the following statement: "in all we offer about 18,000 different parts, color combinations, and options for your AR-15 platform."
According to the company, they strive to provide the best AR-15 parts and upper receivers at the most competitive prices. All materials and parts are reportedly 100% USA Made, right in Arizona.
Average price for your custom AR build comes in between $1250 to $1350 according to Kovacs.
Looking to custom build and add a splash of color to your next AR? Then perhaps you need to check out Veriforce at veriforcetactical.com .