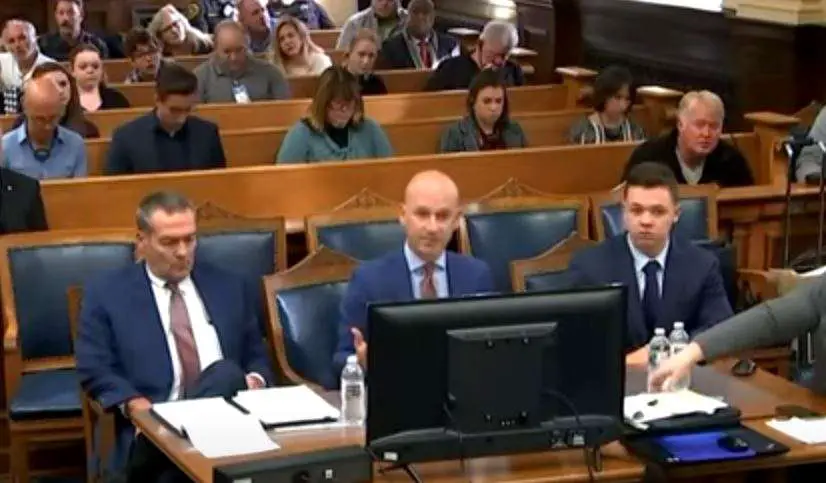 This is a court case for the people. Make no mistake, while you and I are not on trial right now, our rights to self-defense are on trial right now. Anyone who goes into this case with a clear and open mind without politics involved can see that this kid was only trying to help others and then ultimately defend his own life.
Before I go on, nothing I say here should be construed to be legal advice. I'm not a lawyer nor do I pretend to be one on TV.
The prosecutors make every point to say that Kyle did not act appropriately as if they'd rather have Rittenhouse hand over his gun to people who clearly wanted to hurt him.
I want to be perfectly clear about something: If he did not take the shots he did, he'd be dead, or seriously wounded. I believe that to be true.
Make no mistake, this is a political trial. The defendant used an AR-15 for self-defense, and they're trying to nail him for it with as much as they possibly can.
It doesn't take a genius to see that this is a political trial, and it is one that will have an impact on all future self-defense cases going forward. This is important stuff and The People are paying attention.
During the closing arguments, the prosecutors kept saying that the people who attacked Rittenhouse were unarmed. And he said that, because they didn't have a gun Rittenhouse didn't have the right to self-defense.
But any person with a fully functioning brain can understand the following:
A kick to the head can kill someone.
Being hit with a skateboard can kill someone.
Being shot with a Glock 27 can kill someone.
Let's look at each one more in depth.
Skateboard as a weapon:
I have first-hand experience when I watched one of my childhood friends hit his brother in the back with his skateboard. Because it was in the back he thankfully didn't die, though he did get really hurt for quite some time from the incident.
And who knows, maybe he would have died if he was hit in the head. After all, skateboards have things called "trucks." And because their job is to hold the wheels to the board itself, they have to be made of metal and be strong enough to not break under the stress of someone standing on them, jumping, flipping, etc.
All that being said, my friend's kidneys were damaged and he said he began to urinate blood. Why? Because a skateboard can be used as a club. If something that is hard and heavy is swung it becomes a weapon.
Fists and feet as weapons:
What about fists and feet? Well, some other info we're privy to and follow are FBI statistics regarding murders. Per the FBI, more people are killed with hands and feet each year than with an AR-15. So, that also utterly demolishes the prosecution's argument about a kick not meeting the requirements for imminent threat.
We go much further into depth about the FBI's stats, here.
Glock 27:
And as we all know, a Glock 27 is chambered in 40 S&W and is quite a capable gun for self-defense and is a popular option for off duty police officers.
Other ridiculous points from the prosecution:
The prosecutors made several idiotic, untrue comments throughout the entire closing argument segment that I really didn't know where else to put.
At one point in the closing arguments from prosecutor little finger, he called the rioters heroes. Just to be clear, those folks were rioting and burning the city to the ground. They were damaging property and were out of control. Had the police and the people in charge of them done their jobs we wouldn't even be having this discussion right now.
At another point, the prosecutors start to talk about guns. In all honesty, they really shouldn't have done that because they clearly have no clue what they're talking about.
The Assistant Prosecutor at one point said that there is no such thing as left handed or right handed guns. You and I know that this is entirely false. There are totally handguns and rifles designated for those who are left and right handed.
In fact, Joe does a review on the left-handed Stag AR-15 right here on our humble little blog.
Then, little finger himself picked up the AR-15 in question and broke numerous safety rules as he pointed the gun at a room full of people with his finger on the trigger. That was one of the most dangerous displays of firearm handling I think I've ever seen.
That man is an utter idiot.
Finally, little finger claimed the following: You can't claim self-defense if you're the one bringing the gun.
Well, I bet the millions of permit holding concealed carriers would beg to differ on that one, since they're always bringing a gun to any scenario.
Conclusion:
As this trial unfolds and verdicts come out, I'll make an attempt at keeping the blog updated as my time allows. Stay tuned, this could get bumpy.