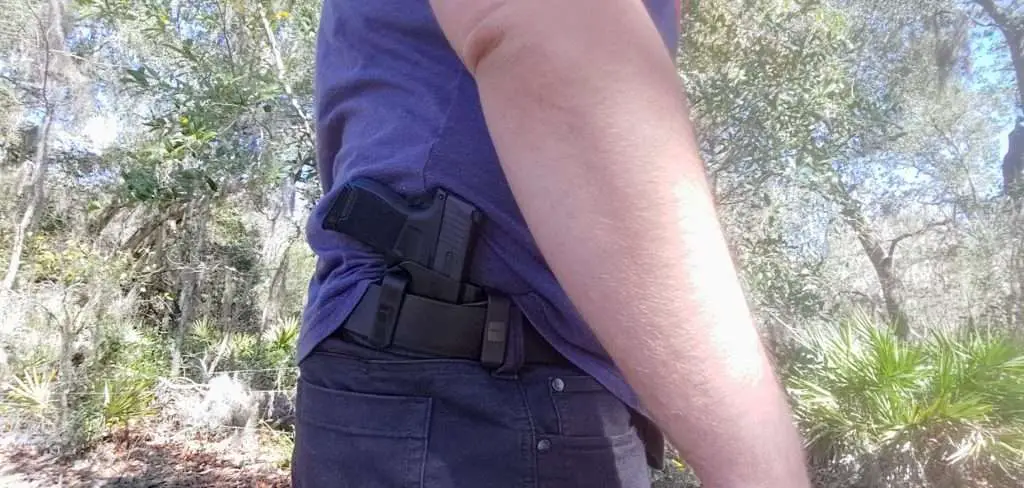 This article will take a more in depth look at the two different modes of carrying a gun for self-defense: Open carry VS Concealed carry, which one is better?
To be sure, each type of self-defense has its own positives and negatives associated with it. Our goal is to look at each method more in depth to help you decide how you want to carry your gun.
Concealed Carry Positives:
The main benefit to the concealed carry of a firearm is that nobody knows you're armed. Therefore, it allows you to maintain some sort of element of surprise in case you're ever attacked.
The thought here is that because your attacker doesn't know you're armed, he won't be able to attack you because you'll be able to defend yourself first.
Of course, there is an added benefit that some folks hold, which you'll have to decide for yourself. And that is, that if people don't know you're armed you don't purposefully make yourself a target.
I'll cover this more in detail in the open carry section.
Concealed Carry Negatives:
The main negative with concealed carry guns, is that they are a little harder to get out of your holster. Because they have to be under some sort of clothing, usually a shirt or jacket, they're a bit harder to draw.
You have to pull whatever piece of clothing that is out of the way before you can get your gun out. This is an added step, and one that people don't practice enough and are unprepared to do.
Open Carry Positives:
The positives to open carry will vary greatly from one person to the next. For example, someone who doesn't see the point of open carry will only see one benefit. People who think open carry is the only way to carry, see more benefits.
I'll do my best to lay them all out for you so you can make a better decision.
The benefit that cannot be disputed is that open carry is easier and somewhat faster than concealed carry is.
Because you don't have to get your gun out from under any clothing before you draw it, it eliminates an entire step.
The benefit not agreed on by all, is that you become less of a target when you're open carrying. Or, the bad guys see you and decide that you're not worth the trouble because you're a hardened target and he won't know your level of expertise with your gun.
I'll also cover this in the negatives below.
Another benefit of open carry, is that because you're not trying to hide the gun, it is often times a lot more comfortable for the carrier.
Open Carry Negatives: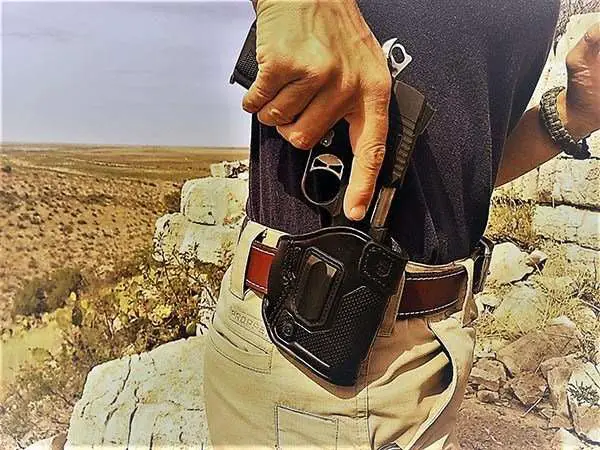 The main negative to open carry, is also its pro which is that everyone knows you're armed.
What I mean is that someone who is open carrying may just make themselves a target. The bad guy may think that if he takes you out he takes out a big opposition. If he takes you out first, before he makes his intentions known, he has a greater chance of succeeding.
The other negative to open carrying, is that guns are stolen off hips more often when they're open carried, as opposed to when they're concealed.
Because the bad guy can see your gun he stands a better chance at stealing it from you when you get distracted. This, sadly, happens way more often than it should.
So if you're going to open carry your gun make sure you're using a proper holster so you can keep it.
Conclusion:
Which did you choose? Do you open carry your gun or do you conceal it? Let us know in the comments below.