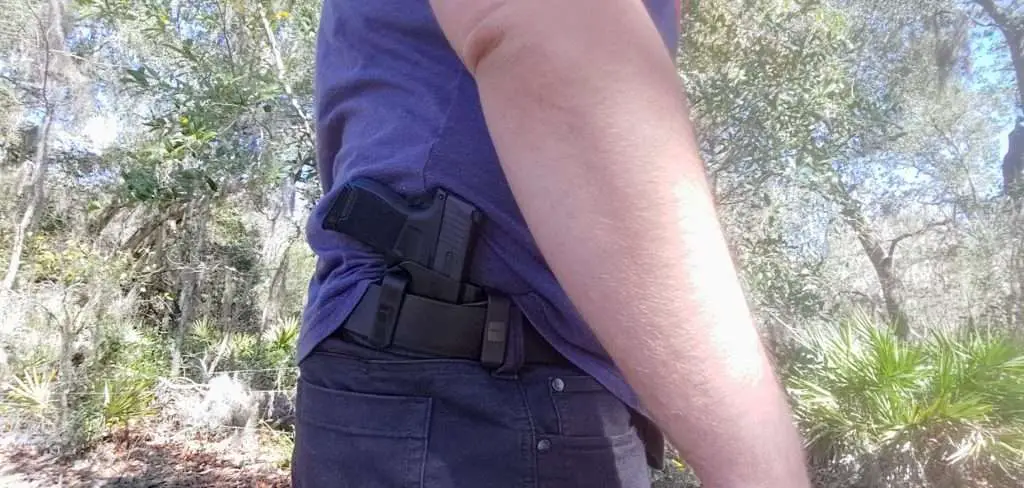 Recent history has shown us that there are more gun owners than ever before. We're also being shown that there are also more concealed carriers than ever before. At least a part of the reason why this is, is because of the pandemic and a certain amount of uncertainty that came with it.
8.5 million gun owners were recently added to the lineup over the course of just one year and a good portion of them are concealed carry newbies. This is a perfect time for me to write an article geared towards people who need to know more information about concealed carry.
Let's get started:
How do I get my concealed carry permit?
Each state has different rules for how to get a concealed carry permit. Many states, like North Carolina, require the individual to sit through a class, take a test, and then show proficiency with handling a handgun. Other states, like Pennsylvania, only require you to pass a background check in order to qualify.
Most of the time the county Sheriff is involved and they're the ones who are fingerprinting you and running the background check.
Where can I carry my concealed gun?
It is recommended that you check out a list of off-limits places in the state you're in, whether you live there or are visiting. The reason why is because it is different from one state to the next. For example, Pennsylvania has no restrictions on carrying in a bar, but Texas does.
What is a good first concealed carry gun?
A good first concealed carry gun is one that you can shoot well, is reliable, and conceals well on your body. Something like the SIG Sauer P365xl works great for this. Read my review by pushing that link.
Do I really need to carry my gun in a holster?
Yes you need to carry your gun in a proper holster. If you do not you run the risk of an unintentional discharge while you're carrying it. You could also drop your gun if you don't have it in a holster.
Do I really need a concealed carry gun belt?
If your mode of carry is on your waistline, then you do need to have a gun belt. The reason why is because a gun belt is meant to hold the extra weight of a gun on your waist without sagging down. A gun belt is sturdier and keeps your gun where you put it.
How much is a concealed carry class?
Concealed carry class prices will vary from one state and instructor to the next. But the range is generally between $25 and $75 for the concealed carry permit class.
Do I need to take a concealed carry class?
Certain states require a person take a concealed carry class if they wish to carry a concealed gun. Some states do not. North Carolina, for example, requires a person go through a class to carry a concealed gun. Pennsylvania, on the other hand, does not require you take a class to carry.
While that may be true, I'm a huge advocate of training and taking classes and advanced classes. If you don't take a class, and at the very least if you don't train properly, you're just a danger to yourself and those around you.
How much is a concealed carry permit?
The price of a concealed carry permit will vary from one state to the next. The range is from $0 to over $100 depending on the state you're getting your permit in.
Do I need concealed carry insurance?
Having some sort of coverage makes sense if you ever need to use your gun for self-defense. The chances are excellent that your gun would be confiscated and you'd be tried in court as a criminal. For this reason, having concealed carry insurance is a good idea.
What is concealed carry insurance?
Concealed carry insurance is a type of program or legal coverage that helps you after you need to defend yourself with your gun. CCW Safe, USCCA, and US Lawshield tend to be the best programs out there with actual trial experience.
Can I use my purse for concealed carry?
You can use your purse for concealed carry, but it is only recommended as a last resort. There are too many problems with carrying like this because the gun is not attached to your body. If you're in the grocery store, for example, and you put your purse down in the cart you lose control of your gun.
Read this post by my good buddy Eve on women and concealed carry options.
What is concealed carry reciprocity?
Concealed carry reciprocity is when states honor the permit of other states, and allow people from the reciprocal state to conceal and carry a gun on their person. For example, I live in NC and have an NC concealed carry permit and carry in SC whenever I go there.
The best tool for this that I've found is the concealedcarry.com reciprocity map builder.
Which states allow concealed carry?
To my knowledge, all states in the union allow some sort of concealed carry. However, some of those states only issue a very limited number of concealed carry permits. Hawaii and New Jersey, for example, don't issue many.
What is shall issue?
A shall issue state is a state in which a person doesn't need a reason to apply for a concealed carry permit. Shall is another word for "will" in this instance. So, if you apply for a permit in a shall issue state, they will issue you a permit unless you fail the background check.
What is may issue?
A may issue state is usually one where a person needs to prove that they have some circumstance that warrants a person to exercise their right to carry a concealed firearm. In those states, like Hawaii and New Jersey, it isn't actually a right but a privilege held by select few.
What is constitutional carry?
Constitutional carry is that which doesn't require you to apply to get a concealed carry permit, but allows you to carry just as long as you are legally able to do so. This is growing. Check out our Constitutional Carry Map Page for more info.
Concealed carry for fat guys
Fatter people can carry a concealed gun on their person, it just may take some creativity to get you there. We have a more in depth article on concealed carry for fat guys that you should press that link to check out.
Concealed carry for runners
Yes you can conceal and carry a gun when you go running, and it's a good idea to do. When you're running you're often distracted, and this is a good time for a mugging to occur. Learn more about concealed carry holsters for runners in that article.
Concealed carry in gym shorts
Yes you can carry and conceal a gun using gym shorts by utilizing a belly band type holster, like this one, that doesn't require the use of a belt.
Should I carry spare ammo?
You should carry spare ammo if you train for such an event that will require spare ammo. Most instances of self-defense will not require more than the ammo in your gun, but there are always outliers and some people carry spare ammo for those reasons.
One of the reasons why people carry spare ammo is because the magazine is the weakest point in any concealed carry gun, and if you experience a malfunction, the magazine stands a good chance at being the culprit.
Should I carry medical equipment?
If you carry a gun for self-defense it makes sense that you also carry some sort of trauma gear and learn how to use it.
I tend to recommend Mountain Man Medical for my trauma gear needs and have a review forthcoming on one of their trauma kits. It's good stuff put together by a Navy Corpsman with experience patching up Marines in battle.
Should I carry with one in the chamber?
Yes, without a doubt you should carry your gun with a round in the chamber. If you're not comfortable doing so it is your duty to get to the point where you are comfortable doing so. There are plenty of examples of people being unable to get their weapon into the fight quick enough and end up dying as they tried to chamber a round.
Learn how to be safe with your gun so you can be confident that you won't shoot yourself, while being more prepared to protect yourself if that dreaded time ever comes.
Conclusion:
If you have anything to add to this list of things people need to know about concealed carry, please add it in the comments below.