If there is one thing you'll find out as you go on through your career as a concealed gun carrier, it's that there are as many concealed carry gun holsters as there are firearms manufacturers.
Trying to figure out which one is best for you, your method of carry, your body type, and everything else that one must consider when it's time to conceal your gun, is not an easy task.
Now, before we move on to bigger and better things, like the different types of gun holsters you'll find on the market today, let's go over what a good holster is supposed to do for you.
If you didn't know, the thing that you carry your gun around in every day is supposed to do a few important things, very well. Here are some of those must haves in your tactical gun holster:
It doesn't allow you to shoot yourself
It protects your gun
It protects you
It doesn't move around on you
It keeps your gun secure
Let's go over those bullet points independently:
Don't shoot yourself:
I'm sure you've seen or heard of people who have "accidentally" shot themselves because they had a defective holster or their holster just didn't have a sturdy part that protected the trigger.
Here's the deal, your gun holster should be sturdy enough that you can't manipulate the trigger. If you can manipulate it, you need a different one.
Sometimes, good holsters just get old and need to be replaced with a newer one. There's nothing wrong with this, and you should be doing random, periodic inspections of your gun holster to make sure that it's still functional. I plan to cover this more in detail in a later post.
Protect your gun:
Many people don't realize this, but your holster should protect your gun from you. What do I mean? Your body, if it's anything like mine, is sweaty and has bodily oils. That stuff can damage your gun if you're not careful.
A good firearm holster actually has some parts to it that protect it from you.
Protects you:
This is twofold. First, as we already stated, your concealed carry holster should prevent you from shooting yourself. No-brainer, hopefully. What else? Well, ever have an uncomfortable holster rub you the wrong way?
Or, ever have the grip of a gun with such an aggressive stippling job on it that rubbed your love handles the wrong way?
I have and it sucks. A properly fit gun holster won't allow that to happen as much. And, I do want to state here, that what works well for me in this area, may not work well for you. A lot of it depends on your body type.
It shouldn't move:
A rookie mistake is when you have to adjust your gun because it's not comfortable. Look, your gun is concealed for a reason …  you want it to be hidden. If you're constantly adjusting it because it's moving around on you, that's a no-go situation.
Why? Because you're giving away your position! Think about it, if you were behind enemy lines and you saw an advancing army, would you stand up and wave? Heck no … you'd hide your butt until the coast was clear.
In the case of concealed carry, it's when you get home.
What if I open carry? Trust me when I say that if you're open carrying your gun the last thing anyone wants to see is you reach for it. Talk about awkward!
Secure:
On a slightly different note, your gun should also stay put. Your concealed carry holster moving around on your body is one thing, but if the gun works its way out of the holster that's something totally different.
If it comes out at all, you need a new holster ASAP. The last thing you could ever want to happen is to be bending over at the grocery store and your gun plop out on the ground.
Now that we've gotten that part out of the way, let's talk briefly about the different types of holster materials that are used to make them.
Leather:
Leather gun holsters are classic, reliable, sturdy, long lasting, etc. You really can't go wrong here. They don't damage your gun with hard plastics that can mar up a finish (specifically found on plastic injected pieces), and they can be formed to fit your gun perfectly.
Though, there can be rub marks on some finishes depending on the specific gun, because there is contact between the holster and the pistol itself.
There are a plethora of different gun holster manufacturers out there, and most of them are master leather crafters who've perfected the process of holster making over the course of many years. The above pictured leather holsters are from JM4 Tactical.
Kydex:
Again, you can't really go wrong with kydex. Still not as abrasive as certain plastic injection pieces, and very sturdy. Many Kydex gun holsters can be found in hybrid form that are combined with other materials, like leather.
These work well, and are a dime a dozen. Most of them are fine.
Plastic Injection:
Some plastics are fine. Others can hurt the finish on your firearm, so make sure you read a lot of reviews on a company before you decide to make a purchase. I own a few different plastic gun holsters, and can say that the cheaper ones I own did hurt the finish on one of my guns.
Nylon:
There are essentially two different types of nylon used in concealed carry holsters. The first one is just a regular, soft nylon that allows you to pull the trigger through the holster, which, as previously stated, is a no-go.
The other kind of nylon used in gun holsters is ballistic nylon and much sturdier. Many times there is something between two layers of inner and outer layers to help give it more strength.
Before you buy a concealed carry gun holster: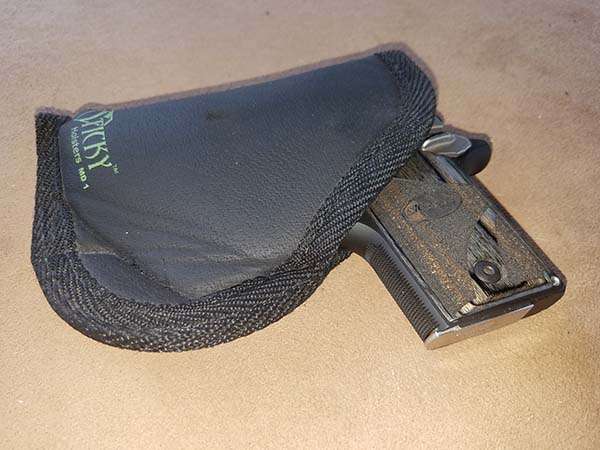 Make sure you do a proper amount of research, beforehand. Check out your favorite gun blogs and read up on some reviews. Go to YouTube, and check out some reviews there as well.
Then, once you've narrowed things down a bit, go ahead and research each company individually. Some companies aren't all what they seem.
Finally, there is almost no getting around the dreaded box (or sock drawer) of holsters that you'll accumulate. All the research in the world won't prepare you for a holster that doesn't fit you right.
Some companies will let you return and get something else, while others force you to be stuck with your purchase. Either way, there is no getting around the box of holsters that you don't touch.
In the end, all that matters is that you carry your self-defense gun so you can use it should the need arise. Stay safe, God bless, and stay tuned for more.